How to Record 4K Video on the LG G4
The new LG G4 is a powerful smartphone packed with lots of features like a big 5.5-inch display, and one of those is a very capable 16 megapixel camera that takes some of the best photos of any smartphone. It even has the option to record in full Ultra High Definition, also known as 4K video recording.
With screens getting bigger and higher resolution, video recording is doing the same, and the LG G4 can shoot in full 4K for playback on UHD HDTVs. If you want to capture some truly HD video with the LG G4 below we'll explain just how easy it is to do.
Read: 30 LG G4 Tips & Tricks
LG's new G4 smartphone is available on all carriers in the United States starting this week, and the link above will teach you how to use all the best features. Then read on past the break to learn how to enable 4k video recording on your new smartphone.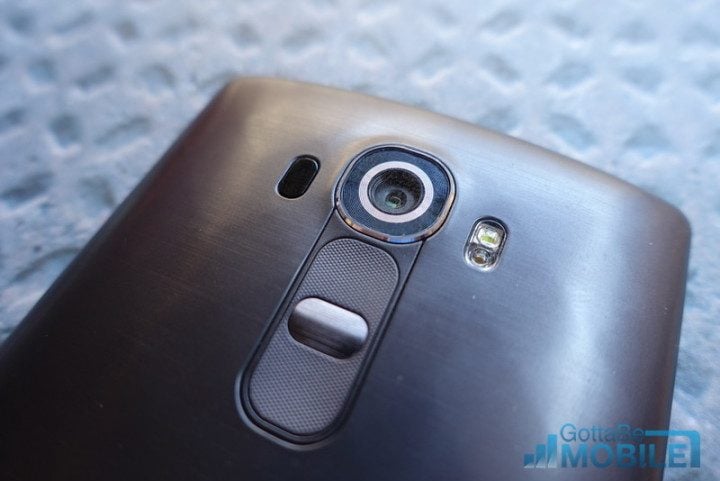 In order to preserve the 32GB of internal storage on the G4, 4K video recording isn't enabled by default. Not to mention it's a feature not everyone has the need for. It makes sense to have UHD 4K video recording disabled by default, but switching the camera from regular HD to UHD is extremely easy.
Read: How to Use the LG G4 Camera: Everything You Need to Know
New LG G4 owners can learn everything they'd possibly need to know about the camera from our link above, then the instructions and screenshots below will explain how and where to find the 4K video recording settings.
Instructions
With the LG G4 the camera app is extremely easy to use and navigate. All the settings are nicely placed on the left side, but they aren't labeled making it hard for some to know what everything is. That said, users will start by opening the camera app, tapping the gear-shaped settings menu on the bottom left, and you'll see a second row of settings appear, as shown below.
This is the secondary list of settings and options for the LG G4 camera. Oddly enough, the second icon which is a "16:9" aspect ratio button is what you need to tap to find video settings. Once selected another window will popup with more controls for the camera sensor size, as well as video options.
The first option is UDH, which is 4k video recording. Th second option (enabled by default) is full 1080p HD, then there's also regular 720p video, and a fancy new 120 FPS Slo-Mo video capture tool. Simply press the gear-shaped settings menu, tap 16:9, and select the "UHD" icon. That's all there is to it.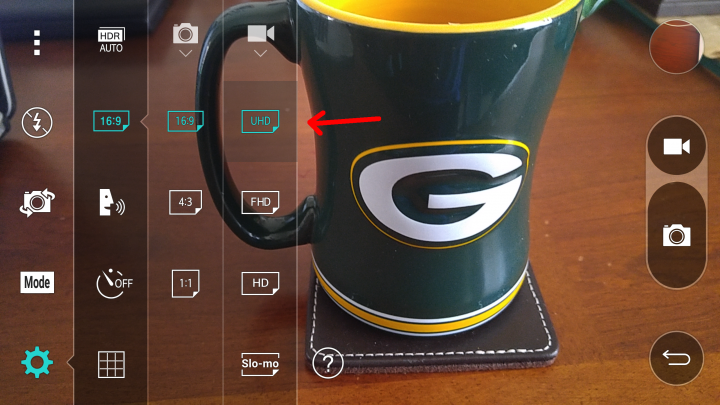 As you can see in our screenshot highlighted in cyan blue we've gone ahead and went into the settings and done the same. And now the camera recording has been manually changed to UHD (4K) recording. Now all you need to do is simply press the video record button right above the camera capture, and it will instantly start recording in full 4k video.
This eats up tons of storage so you may want to add a micro-SD card for additional storage, especially if users plan on recording lots of video. It's a good idea to change this back to regular HD when you're done, otherwise you'll accidentally be taking videos with a huge resolution and taking way more internal storage space that ever needed.
There is a lot to love about the LG G4 and its extremely capable camera. We've compared it to the Galaxy S6 and found it to be as good or better, and it has arguably some of the most advanced controls of any smartphone camera to date. Enjoy all it has to offer, and shoot some 4k video.

As an Amazon Associate I earn from qualifying purchases.