LG G4 Android 6.0 Update Arrives in the U.S.
The LG G4 was one of the first Android smartphones to receive an update to Google's latest Android 6.0 Marshmallow software release, but for regions outside the US. Earlier this year it started rolling out in Poland, and then in Europe, but today we have good news. Those with the Sprint LG G4 are receiving Android 6.0 Marshmallow starting today.
Google released its new Android 6.0 Marshmallow software update back on October 5th, and the first non-Nexus device to receive an update was the G4 just three weeks later. Since then we've been waiting for it to arrive elsewhere, and it looks like a wide array of US carriers are preparing to push the update out for owners.
Read: LG G4 Touchscreen Problems Fixed in New Update
The last LG G4 update in the US was for the touchscreen issues for the Verizon variant, but late last night and early this morning that changed. Users with the LG G4 on Sprint have confirmed they've started to receive Android 6.0 Marshmallow, and Sprint confirmed the details as well with a small changelog and other details.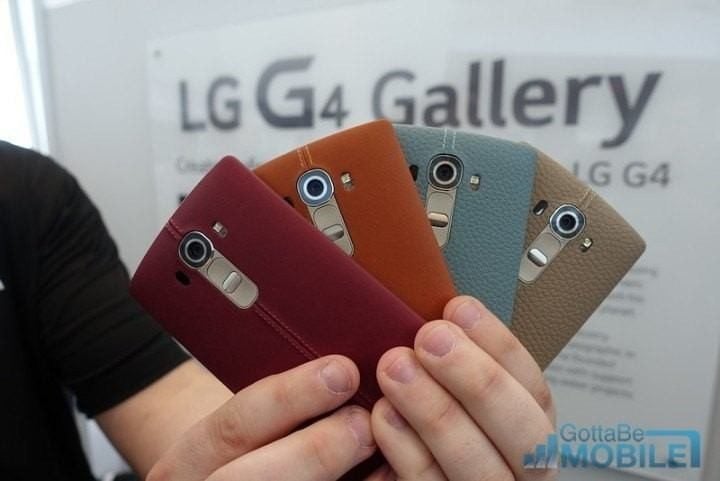 Sprint is one of the few US carriers that announces nearly all software updates for its devices, rather than just occasionally confirming big updates (like AT&T) and this morning they've announced the G4 Android 6.0 update for all customers. According to Sprint the update first started yesterday, but most can expect it to arrive today, tomorrow, or in the next 48-72 hours.
This means the LG G4 Android 6.0 update has arrived for South Korea, Poland, Europe and now the United States, making it one of the first phones to receive the software update in so many different locations. The Moto X Pure Edition is another getting Marshmallow, while millions of Samsung and HTC owners wait for an announcement from their carriers or the company who makes the phone.
Speaking of the LG G4 Android 6.0 update, owners will have a lot of changes and new features waiting for them. We're hearing the large update takes about 10 minutes to complete, and Sprint owners will go from Android 5.1 to Android 6.0 Marshmallow. This is not Android 6.0.1 that arrived last week.
Read: Android 6.0 vs Android 5.1 Lollipop: What's New in Marshmallow
The update doesn't change too much in terms of visual changes, but owners will have a lot of new features and content waiting for them once the update completes. Above is a detailed breakdown of everything that's new in Android 6.0, but LG likely has a few changes and new features added as well. Sprint confirmed this is Android 6.0, and mentioned Sprint Global Roaming support, and that's all.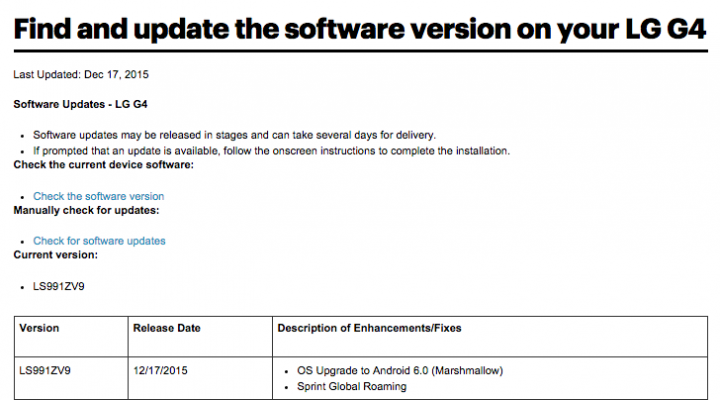 However, we know owners can expect Google Now on Tap (long-press the home button to opt-in) improved performance and battery life, better security with app permission controls, improved copy & paste features, a new look to volume controls, and the new feature called Doze which can add nearly 30% improved battery life.
Android 6.0 Marshmallow also changes how Android works with micro-SD cards, so users with a 128GB of 200GB micro-SD card on the G4 will see improvements on that front as well, as the phone recognizes external storage better post update.
For now we have no other details from Sprint or LG regarding the update, but know it's available now and could take a few days to arrive for all owners. Users can head into settings > about phone > and manually check for updates, or download the LG Bridge PC software suite that can help you check for updates, backup your device and more. LG Bridge is a helpful app for updates, which can better prepare owners for a big software change such as this.
So far Sprint is the only carrier confirming any details, but expect to hear more from T-Mobile, AT&T, and even Verizon in the near future regarding their LG G4 Android 6.0 Marshmallow updates. Some could arrive before the end of the year. Then the older LG G3 and new LG V10 should be up next.

As an Amazon Associate I earn from qualifying purchases.