How to Use the LG G4 Camera: Everything You Need to Know
This guide will tell users everything they need to know about the LG G4 camera, and show you how to use it to the fullest in order to shoot the best photos and video possible. You'll learn all about the LG G4 camera settings and advanced controls, as well as some tips from LG themselves. We'll also show you our favorite LG G4 camera tips.
The LG G4 and its camera is the same from all carriers and version around the globe, so these details should work for all G4 owners. And while some carriers may tweak the look of the settings menu, all the options should be the same worldwide.
Read: 30 LG G4 Tips & Tricks
Often times taking a good looking photo with your LG G4 is as simple as leaving the camera set to auto mode, or changing a few settings with the tap of your finger, as long as you know what everything does. We'll go over all the settings and more below.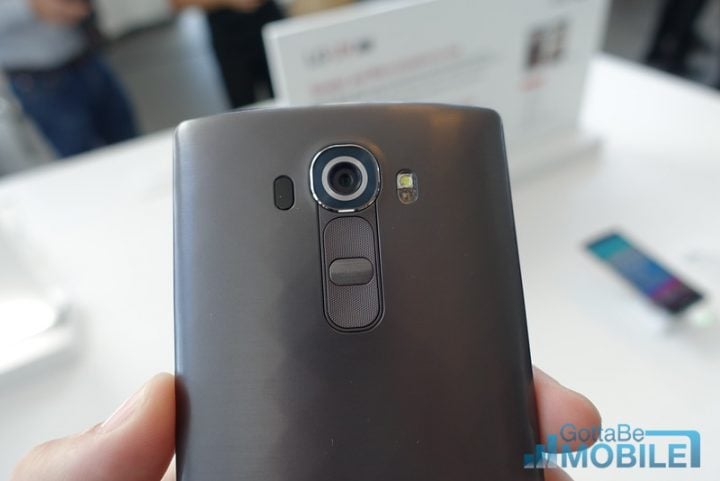 With the LG G4 owners will have one of the best and most capable smartphone cameras on the market. It has an improved 16 megapixel f1.8 lens that shoots great in any situation, has a fast laser auto-focus, and a newly improved optical image stabilization to prevent photos from being blurry. It all blends together to make this one of the best cameras around.
Read: LG G4 vs Galaxy S6: Camera Comparison & Samples
Below we'll walk-through all the LG G4 camera settings and advanced controls, list what they all are, and where you can find them to improve your experience.
LG G4 Camera Tips & Tricks
The LG G4 camera launches into auto mode by default which has the usual settings and options to control the flash, switch to the front 8 megapixel lens, change modes (like panorama, or dual photo) a general settings button, as well as buttons to snap a photo, record video, go to gallery and more.
However, LG added two other modes worth knowing about. While in the camera app tap the three dots near the top left and select  "Simple" or "Manual" to make things easier, or give you total control. Simple mode removes everything and lets users simply tap the screen to focus and take photos, and leaves the device to do everything else. Auto gives you average options and controls that is best for most users, and manual mode gives you control of the white balance, manual focus controls, ISO levels, shutter speed, and even the option to snap photos in RAW format, like professionals use, to tweak and edit photos on a computer.
https://www.youtube.com/watch?v=rj_tLS8hiAQ&et_cid=23585259&et_rid=1531927080&linkid=pro-level+results
Before we list what all the buttons do, here's some of the options, settings, and tricks available on the LG G4.
Quick Shot Camera – Double tap the volume down button when the phone is off (even locked) to launch the camera fast, so you can take a photo. It will instantly snap a photo within 0.7 seconds. You can turn this off in settings > shortcut key > uncheck "Quick Shot" to still launch the camera, but not take a photo.

Voice Control – With Voice Control turned on in the settings, you can say "Cheese", "Capture", "Smile", "LG", "Whiskey" and other words to instantly take a photo hands-free without touching the screen.

Volume Shutter –  Use any volume button to take a photo, even while recording video.
Switch to Front Camera – Swipe across the screen anywhere (up/down or side to side) to quickly switch between the front and rear camera. 
Burst Photos –  Press and hold the shutter button to take burst photos very fast.
Video Modes – Tap the gear-shaped settings button > 16:9 > and under video choose UHD 4K video, 1080p "FHD", regular 720p HD, or even Slo-mo.
Help – Hit the settings button while in the camera and tap the ? for a big list of 11 helpful tips.
LG G4 Camera Basics & Features
Compared to some smartphones the LG G4 is rather basic even with the regular mode. It doesn't have as many settings as some, but this keeps things from being too difficult and convoluted. Everything is simple and easy to understand, then there's the manual mode for the pros who truly want it.
The photos and lists below outline what each of the LG G4 camera buttons and options do.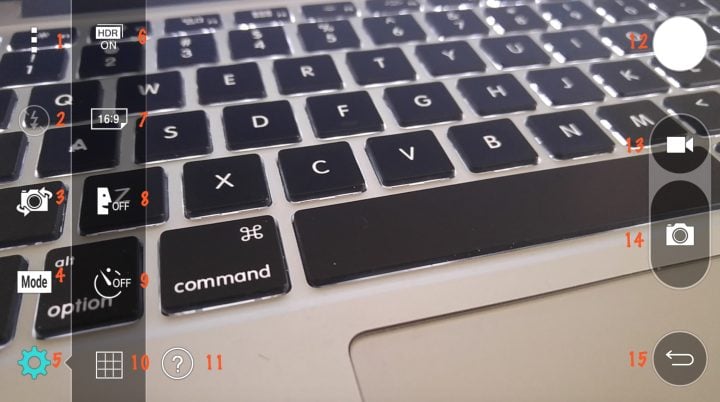 Menu
Flash – On, Auto, Off
Switch to Front/Rear Camera
Mode – Auto, Panorama, Dual (capture with front and rear cameras at once)
More Settings (6-10)
HDR – On, Auto, Off
Image Size, and video settings
Voice Shutter – Say Cheese, Smile, LG, Capture, Whiskey, and others
Delayed Shutter Timer – Off, 3 seconds, 10 seconds
Grid View
Camera Help Tutorial (recommended reading)
Gallery to view images
Record Video
Take Photo
Go Back
After hitting the gear-shaped settings button (5) you'll be greeted with more options. Each one of those as shown above can be tapped for more options. Everything from changing HDR, tweaking image size, enabling voice shutter controls, adding a timer, and accessing video controls. This is where you can take 4K video, or even slo-mo video recording.
The LG G4 also features an excellent 8 megapixel front facing camera. It's better than many rear cameras on popular phones last year, and has a few options as well.The same gear-shaped settings button brings up similar advanced options, timers, and the ability to shoot up to four photos in succession to capture the perfect selfie.
Turning on the "flash" brightens the screen to full blast to help add more light to the photo, or there's a "Beauty Shot" slider that will smooth skin and remove blemishes. It works great, but might make men look like they're wearing makeup if turned up too high. This feature works great around the middle mark, improving the skin tone of any faces in the photo.
LG G4 Camera Settings
Sadly there's no dedicated menu outside of the camera app to change and customize the camera settings, and everything is handled inside of the camera application. Other devices let you choose the megapixel count, turn off the shutter sound, tweak quick launch controls, enable location and more. However, none of those are available on the LG G4. What you see above is what you get. That said, it's all very simple and straightforward.
Manual Mode
To take things a notch further, LG has an advanced manual mode that offers more features and controls than any other smartphone available. In manual mode owners can control white balance, manual focus controls, ISO levels, shutter speed, and even the option to snap photos in RAW format. Here's a video example of what some of these settings can do, and how it compares to the Galaxy S6 and iPhone competition.
In here you'll have absolute control over the LG G4 camera. RAW format lets you take photos and upload them to a computer for editing, and all the other controls are useful as well, so long as you know how they work and what it all does. Everything from increasing the white balance and ISO to get more lighting for the perfect photo indoors or out, or changing the shutter speed to capture fast moving objects, or even doing long shutter exposures for some of those neatly blurred photos typically reserved for professional cameras or DSLR's.
Without trying to explain all of this, here's some photos from the LG G4 Camera cheat sheet that explains it all in simple terms for owners to understand.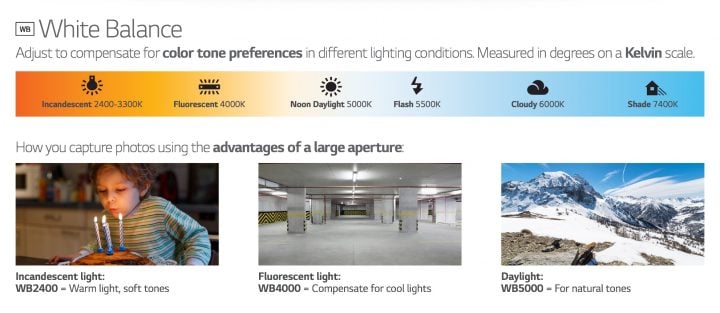 Conclusion
As you can see the LG G4 camera has a lot to offer, yet is very simple for those who'd just like to shoot photos for social networks and special moments. You can instantly launch the camera and take great photos, enable HDR mode to get all the brightness and shadows at once for the perfect photo, take photos with your voice, or head into manual for absolute control.
Read: LG G4 Release: Everything You Need to Know
LG's new camera is very fast, capable, and powerful. All the information provided above should detail what owners need to know, hopefully explain anything you didn't understand, as well as show you some tips with the videos and information provided by LG.
The new LG G4 is available today in select regions around the globe, and the first week of June it will be available from all carriers in the United States. Read everything above and enjoy everything your LG G4 and its 16 megapixel camera has to offer.

As an Amazon Associate I earn from qualifying purchases.