LG G4 Deals & Release Dates Emerge
The new LG G4 is one of the best smartphones announced in 2015, and set to finally hit carrier shelves the first week of June in the United States. With the phone coming soon, multiple impressive LG G4 deals and discounts are starting to surface as the release date nears. At the same time, we may have just learned the release date for three of the five major carriers in the US.
Late last month LG took the stage in New York City and announced the all-new redesigned LG G4 after months of rumors, speculation, and small teasers. It went on sale in Korea the very next day, and will eventually launch in the U.S. from Verizon, AT&T, T-Mobile, Sprint and US Cellular.
Read: LG G4 Review
Earlier this morning Sprint confirmed the LG G4 will be released on June 5th, and along with it some free accessories will be included for the initial batch of buyers, but now we've learned this deal will be available for all LG G4 buyers in the United States, along with another LG G4 deal from Best Buy.
The entire LG G4 release has been a mystery with no one having any details, or any leaks confirming when it would arrive. Then, last week T-Mobile accidentally tweeted they'd release their version of the phone on June 2nd, but that post on Twitter was quickly deleted. That was followed by Sprint's confirmation this morning, and now Best Buy has joined in on the fun.
LG's new smartphone sports an impressive 5.5-inch Quad-HD display, a powerful 6-core processor with 3GB of RAM, 32GB of internal storage, a micro-SD slot, a large 3,000 mAh battery, and is highlighted by a new 16 megapixel camera on the rear and six genuine leather colors around back. The leather look is one of the best aspects of the new phone, but the deals below will give prospective buyers even more reason to get LG's G4.
Those looking to buy the new LG G4 smartphone will be able to get it from all major carriers in the United States, and according to a new promotional page by LG, all buyers will get some free goods with their purchase.
Read: 30+ LG G4 Tips & Tricks
This particular LG G4 deal will give all who buy the phone between May 22nd and June 21st double the storage and double the battery life, as well as an additional charger. To be specific LG is giving out a free 32GB micro-SD card to double the storage, a second 3,000 mAh battery and a charger to power up the spare battery. Letting users swap out the micro-SD card for more storage, or replace an empty battery on the go.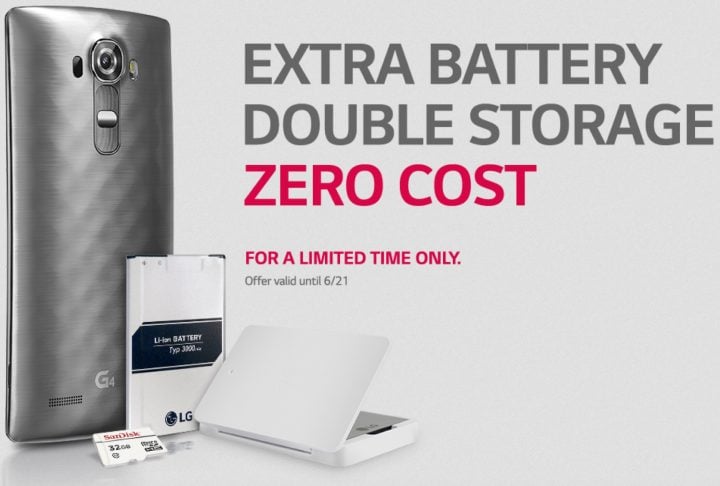 It appears that LG will be letting buyers send in a copy of the receipt, and the IMEI number confirming they've purchased the phone, and will ship out the free accessories within 4-6 weeks of purchase. This is one of the best release date deals we've seen for any smartphone in a long time.
This afternoon we also received some additional details and potentially the release date for some carriers in the United States. Best Buy posted a pre-order page for the G4, and revealed some carrier release dates, but then quickly removed them.
According to Best Buy the LG G4 release date will be June 4th on Verizon, June 5th from Sprint, the 12th on AT&T, with no details for T-Mobile, although earlier reports suggested June 2nd.
That isn't the only LG G4 deal coming soon either. This morning Best Buy has confirmed they'll be giving buyers $100 back in the form of a Best Buy gift card, essentially taking $100 off the cost of the phone. Users can then use that $100 for cases, accessories, an additional charger, screen covers and more. Or anything else for that matter.
The LG G4 is expected to be $199 with a new 2-year contract or $599 outright, not to mention be available via payment plans from all major carriers. Getting it through Best Buy will get buyers a $100 gift card on top of the free battery and storage provided by LG. Watch out Galaxy S6, the LG G4 release is coming up quick, offering some good deals on a great phone.

As an Amazon Associate I earn from qualifying purchases.