LG G4 Deals You Need to Know About
The impressive new LG G4 smartphone is now readily available in the United States from all five major carriers, and along with it are some awesome LG G4 deals that buyers need to know about. Here we'll detail the four best deals currently available for US buyers.
Back in April LG took the stage in NYC and announced the new LG G4 after months of rumors and speculation, and it was released the first week of June here in the United States. Now that it has been available for a few weeks, buyers are getting there hands on it, and people are likely looking for good deals or additional savings.
Read: 30 LG G4 Tips & Tricks
Ahead of the LG G4 release date we detailed some impressive deals, and today all four of those are still currently available, two have been extended, and you'll want to know everything about these deals before buying the LG G4. Read on for four impressive deals worth considering.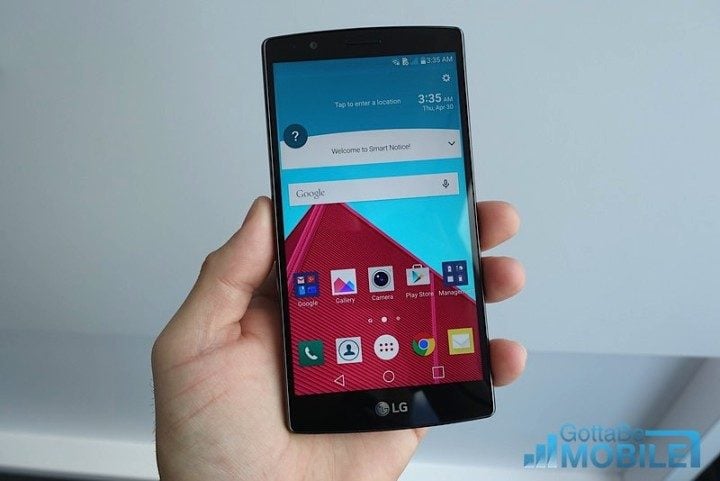 With the release of the LG G4 in the United States came a rather unique deal from LG aimed at getting the attention of millions of buyers considering the Galaxy S6. The focus was on the removable battery and micro-SD slot for expandable storage in the LG G4, mainly because the Galaxy S6 offers neither of those for the first time in Samsung Galaxy smartphone history.
In favor of a beautiful brushed aluminum and all glass design, Samsung's Galaxy S6 no longer offers a micro-SD card slot for users to expand and swap storage, and they no longer allow owners to remove the back and replace the battery. This has been a staple of Samsung Galaxy phones, but not with the Galaxy S6.
Free 32GB Micro-SD Card & Spare Battery
As a result of Samsung's Galaxy S6 design decision, LG announced they'll be giving all buyers in the United States who get an LG G4 a free 32GB micro-SD card (doubling the device storage for free) as well as a second 3,000 mAh battery and charging cradle so it always has a full charge.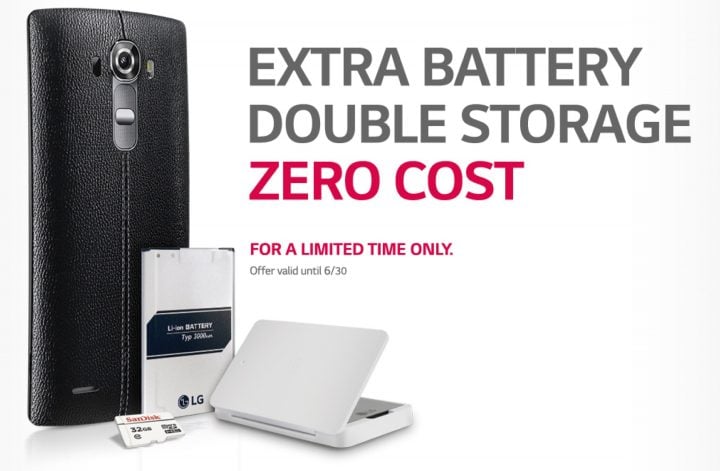 LG revealed that this impressive battery and micro-SD card LG G4 deal would be available to all LG G4 buyers from the end of May, to June 21st. Giving prospective buyers a few weeks to decide if the LG G4 was right for them.
Today though, LG confirmed this deal has been extended until the end of the month. Meaning you have until June 30th to buy a new LG G4, head to this promotional website, fill out a form, and get a free 32GB micro-SD card, a spare battery, and a charging cradle. This is limited until supplies last, but apparently LG has plenty available as they've just extended this awesome deal for another nine days. Get one now before it's too late.
Free Leather Back
As many of you know, the LG G4 comes in three plastic color options, as well as potentially six different colors offering handmade genuine leather on the removable back and battery cover. This gives the phone a beautiful look and feel, and makes it rather unique. Our favorite was the light blue in our LG G4 Review, and right now you can get a free leather back for the LG G4.
A few weeks ago LG opened up pre-orders for the LG G4 leather backs, and announced a buy one get one free deal. This is currently still available, while supplies last, and you'll want to get two beautiful genuine leather backs before they're all gone.
This limited time offer also runs from now, until June 30th. Users have a few more weeks to decide if the LG G4 is right for them, and if so, if it's worth spending $69.99 to receive two replacement backs for the G4 in two different genuine leather colors. These are perfect for matching an outfit for a night out, changing things up, or just having more options than other smartphone owners.
These are currently available for pre-order, and the two leather backs buyers choose should begin shipping on or around June 30th.
T-Mobile 128GB Micro-SD Card
Another impressive deal that you can do alongside of everything mentioned above, is from T-Mobile. Those who grab the stunning new LG G4 from T-Mobile in the United States can head to this website, show proof of purchase, and will receive a free 128GB micro-SD card to use in the LG G4. This is one of the best deals we've seen for any smartphone release, as 128GB micro-SD cards certainly aren't cheap, and this brings the storage limit to 160GB inside, all for the same price as the 32GB model. Something that can't be matched by Samsung or Apple and their 128GB phone options.
The T-Mobile 128GB micro-SD card deal is available while supplies last, or until July 15th, whichever comes first. Get one now and submit your proof of purchase while this awesome LG G4 deal is still being offered.
Best Buy $100 Gift Card
Last but not least is the Best Buy $100 gift card deal that's still going on at BestBuy.com and select retail locations. The retail giant is currently running a deal where they'll give a $100 Best buy gift card to anyone who gets the new LG G4 from their store, vs going to a carrier location or buying it online.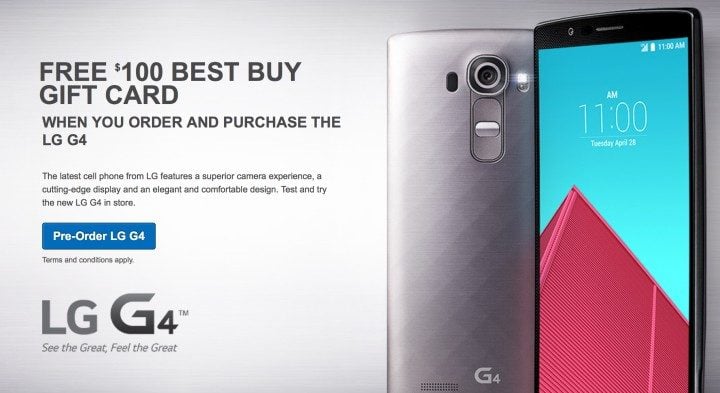 This deal is good both online and in stores, and will net you a $100 gift card buyers can use to get cases, accessories, chargers, screen protectors and more from Best Buy, or anything else for that matter. There's currently no expiration date listed for the Best Buy deal, but it likely won't last much longer.
The best part about all of these deals is they can be used with one-another. You can get the free 32GB micro-SD card and battery from LG no matter which carrier you get the phone from. It's available on AT&T, Verizon, Sprint, T-Mobile, and US Cellular. Then, if you buy a T-Mobile LG G4 you can get an additional 128GB micro-SD card, and buyers who choose to pickup the phone from Best Buy will get the $100 gift card and still be eligible for the other freebies. Essentially offering $100 back and tons of free goods.
The LG G4 is arguably the best Android smartphone available to date. It has an excellent camera, good battery life, the latest Android 5.1 Lollipop, and then all of these deals are just a few more reasons why it's worth buying this summer.
11 Best LG G4 Cases
LG G4 Folio Flip Case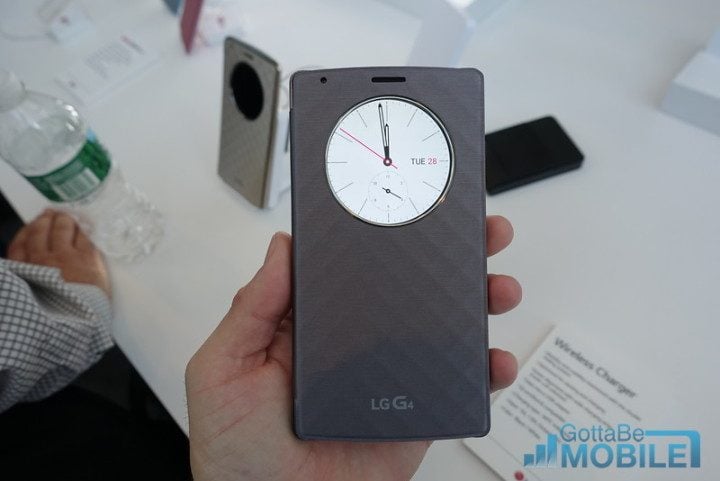 Just like last year, LG is offering an official Folio Circle Case that offers multiple levels of protection, additional neat features, and a Flip cover to protect that big 5.5-inch screen. The trademark circle window cutout in the flip cover shows a clock, the weather, incoming call or text message information, quick access to the camera and more all without ever opening the case.
Flipping open the case instantly wakes up your device, but you can do everything mentioned above without even opening it. This case makes your phone durable, offers additional features, and protects the screen all in one. Last but certainly not least, there's also a second version of the Folio Case that enables wireless charging, making it more than worth the more expensive price point.
LG hasn't announced pricing for the G4 Folio case and it's still listed as coming soon on LG.com, but last year the G3 Folio case was $49, and the wireless charging enabled case was $59.99. We'll update once it actually goes on sale.