LG G4 Hands-on & First Impressions
Thanks to a slew of leaks and LG making tons of announcements leading up to today, the reveal of the all new LG G4 this morning came with no surprises. Live in New York City LG took the stage at the beautiful World Trade Center One Tower to unveil the new LG G4, and now that we've had a few minutes with the device here our some first impressions. Spoiler, it looks and feels amazing in the hand, and the leather is beautiful.
The LG G4 has a sweet new genuine leather hand-stitched leather back (select models) an impressive new 16 megapixel camera, a large and beautiful 5.5-inch display and more. We knew all of that before the announcement, but now that we've got our hands-on it, here's what we think.
Read: LG G4 Camera Takes on iPhone and Galaxy S6 (Video)
Last year the LG G3 was a decent smartphone that had a lot to offer but fell short in a few areas. With stiff competition from Apple, HTC, and Samsung, we knew LG had something good coming. And while they didn't change anything major with the design, this is an all-new smartphone that all buyers should consider, and the best LG smartphone to date. The G4 is all about the camera, ease of use, and that vegetable-tanned leather. Here's our first impressions.
Everything we didn't like about the LG G3 has been completely revamped and improved this year with the G4. The screen, camera, and design all saw changes. And while the general aesthetics are nearly the same, there is a lot to see (feel, and do) with this phone. LG needs to compete with an aluminum Galaxy S6, HTC One M9, leather Moto X and more, and they've done exactly that with the G4. They think they have a winner on their hands, and so far we'd have to agree.
The biggest difference with the new LG G4 over older models, and other devices, is how it feels in your hand. There are three plastic versions that carriers in the US will likely have; White, Silver, and Black, all with a ceramic infused plastic design, but it's the six new genuine leather backs that catches your eye. The camera and leather are the highlights of this phone, not to mention a more simple and cleaner version of Android 5.1 Lollipop, and it's a well rounded package that should entice plenty of buyers once it becomes available.
In the hand the LG G4 feels nice, lightweight, but not cheap. Something all LG's have been known for. Maybe it's the bright and crisp new screen, the diamond-etched plastic, or that fancy vegetable-tanned leather. We're not sure, but we like how it feels in the hand. My first words were, "ohh, this is nice" which is something I rarely say these days about a smartphone, since I own them all.
Depending on the leather color you get, a different texture is featured. For Black, Light Blue, Yellow and Beige, you get textured rough leather on the back. For Maroon and Tan, the back is smooth. Personally, the smooth backs feel the best. I want smooth back with blue, but beggars can't be choosers. They all look and feel great, and buyers will be happy with any color they choose.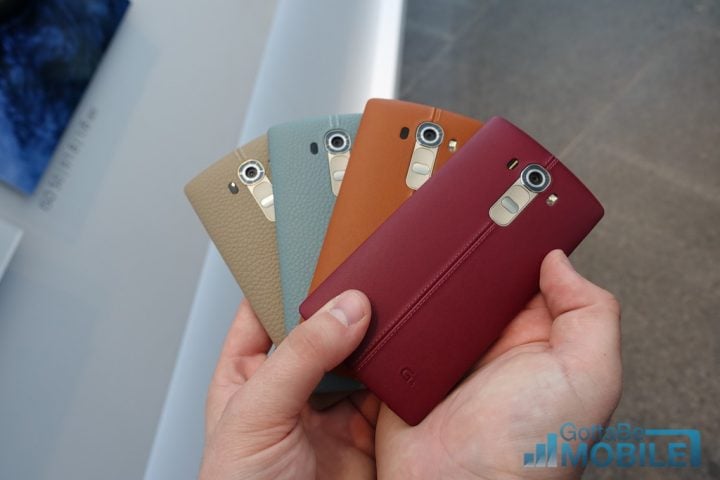 With the leather you have a unique design that looks and feels great. It's a harder feel in the hand than the Moto X, which should be more durable, but we'll have to see how it holds it to the test of time. It's neither cold or warm when you pick it up, and makes it that much nicer when you hold it.
LG G4 Specs

5.5-inch 2560 × 1440 Quantum-HD (2k) display
6-core Snapdragon 808 processor with 3GB of RAM
32GB internal storage (Micro-SD expansion, up to 128GB)
16 Megapixel F1.8 camera with OIS+, laser auto-focus, and an 8 megapixel front camera
Android 5.1 Lollipop with a revamped LG 4.0 User Interface
WiFi, Bluetooth, NFC, 4G LTE, FM Radio Antenna, and Infrared laser for remote control
Three colors in plastic, six all-new Genuine leather back options
3,000 mAh battery (removable) and wireless charging built-in
Of course these are only numbers, and we'll have to spend more time than a few minutes with it before we say more. So far the G4 is promising, and Android 5.1 Lollipop runs extremely smooth on the device. Buttery smooth, even. Having top-tier specs is important, but having a device that's smooth, stable, and gets good battery life is key. LG claims the new Snapdragon 808 is more efficient, as is the screen, so the same 3,000 mAh battery will yield much better all-day battery life than last years LG G4.
The G4 has a great look and feel, a sweet camera, a micro-SD card slot and much more. This is one of the best phones to date, and should compete nicely with the Galaxy S6 and HTC One M9. So far we're experiencing zero problems or lag, and are rather impressed with the interface. It's similar to the G3 Android 5.0 update, but runs much better and has many of the key Android 5.1 fixes Google delivered back in March. All other LG devices are on Android 5.0 or Android 5.0.2 Lollipop.
With the G4 LG added a new "arc design" to the shape of the phone. What that means is there's a slight arc or curve to the screen. Nothing like the Galaxy S6 Edge or the LG G Flex 2, but it has a small curve that protects the screen while face-down, and makes it even more comfortable to hold, if the leather wasn't enough. We can't stress how comfortable this device is in our hands. I'm really liking what LG's done this year.
The other star of the show is LG's impressive new camera. At the top of the page is a link with more details, samples, and video showing it off vs the iPhone and Galaxy S6, and LG has a winner here too.
LG introduced laser autofocus last year on the G3, and of course that's carried over to the G4. This time around, it's paired with a 16 megapixel, 1/2.6-inch sensor that's 40-percent larger than what the G3 delivered, with an f/1.8 lens and a second-gen optical image stabilization system (OIS). Now, the camera's OIS can handle twice the vibrations, as well as 3D movements.
The F1.8 aperture lens is fast, which works wonderfully in low light, it's fast, and the laser autofocus and optical image stabilization both promise to deliver stunning images. Our initial impressions are favorable, but we're not yet sure if this is better than the Galaxy S6. The advanced controls for ISO, Shutter Speed, and more certainly are, but the end result can be a mixed bag. We'll update once we've had more time with the camera.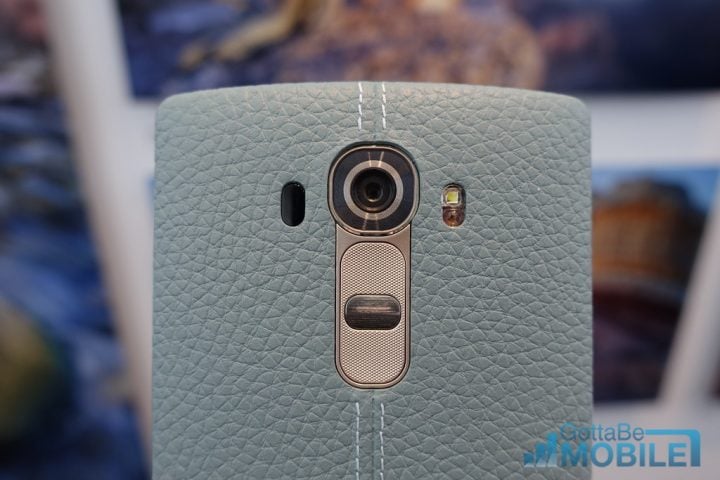 The design still has the same sleek small bezels around the 5.5-inch screen, and sadly there is only a single speaker on the rear. We were hoping for front-facing speakers, but that didn't happen this year, so there's at least one thing we can look forward to from the LG G5 in 2016.
A few things that didn't make the announcement on stage as they were focusing on leather and the camera, are some Samsung-like features. A new LG Health app aims to track fitness, then Smart Settings , Quick Remote, and Q-Slide are all still here, just like last year.
All said and done the LG G4 has a lot of competition these days, and they hope all the effort into this new camera, a Quantum HD display, and genuine leather materials will be enough. Time will tell, but our initial impressions are extremely favorable. Give me wireless charging and that blue leather on AT&T, and this could very well be my next smartphone. For those who don't want a large Nexus 6 or the small 5.1-inch Galaxy S6 with no micro-SD slot, the LG G4 delivers. The screen is big, the design is better, it has a micro-SD slot, and runs the latest Android 5.1 Lollipop. There's nothing not to like, not yet at least.
LG didn't announce a release date, but we're hearing late May to early June. They also didn't reveal which carriers will offer what, when it comes to colors and leather, but most likely they'll all be available one way or another. We've just received the LG G4 so stay tuned for plenty of additional coverage, vs, comparisons and more in the near future. If you have any questions, drop us a comment below and we'll do our best to answer them all.