LG G4 Problems Fixed in New Update
LG's new G4 smartphone is one of the best Android devices available on the market right now. It features a big and bright 5.5-inch 2k display, stunning genuine leather build materials, the latest Android 5.1 Lollipop and arguably the best camera on any smartphone. However, it does have a few problems, and an issue with the touchscreen is a big one that is reportedly getting fixed with an incoming update.
Now that the LG G4 is available around the globe and from all five major carriers in the United States, more and more reports are starting to surface about LG G4 problems. Issues ranging from the touchscreen not noticing touches or turning on with the tap to wake, LED notification blinking for no reasons, and countless others.
Read: LG G4 Review
The biggest issue is with the touchscreen not always recognizing taps, which appears to be a pretty big issue at the moment. That said, only a select few are experiencing this, and most likely it can be fixed via software updates. This week we learned one of many was released, and below is everything you need to know.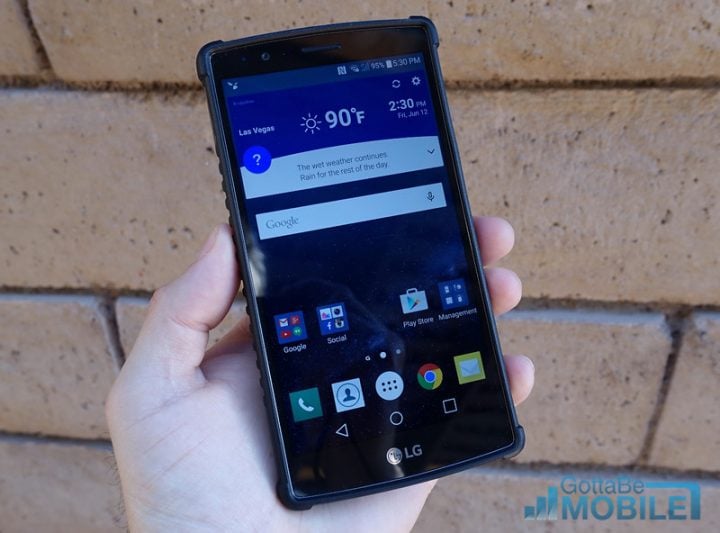 Along with a few reports of the screen having some funny colors, bluetooth issues, and some quality control problems, the biggest issue is with the touchscreen. The LG G4 has a beautiful 5.5-inch 2560 x 1440 Quad-HD display that's one of the best on the market, but we're hearing a few horror stories about it not recognizing taps, swipes, and general usage.
This is causing problems for users trying to interact with apps, type with the LG keyboard, or even unlock or wake the phone with tap to wake and KnockCode. We have good news though, at least one update is on the way to fix some of these issues.
https://twitter.com/buzzjensen/status/612019723744612353
Shown above is a tweet by Buzz Jensen, head of mobile marketing at LG Mobile and T-Mobile. According to him, a software update is either already available or coming soon to all versions, and the T-Mobile model, aimed at fixing some of these touchscreen problems.
Heading into the app update center users are only seeing an update for the LG Keyboard, which should solve a few issues with it being unresponsive, but that isn't the only problem. Outside of the keyboard the G4 sometimes doesn't recognize taps. His response was somewhat vague, and he didn't clarify if there's an actual software update coming, or if he meant the keyboard update, so we'll have to wait and see.
That said, many users are reporting that the LG Keyboard update fixed their problems, so those still experiencing it should at least give that a try.
Read: 30 LG G4 Tips & Tricks
However, a post over at XDA Developers claims there are more than just a few problems going on, and a keyboard update isn't all that needs to be done. We could see an actual software update come later that fixes these issues, but for now this appears to be one of the only solutions.
Developers are suggesting owners head into the hidden developer options menu and enable the setting called "Force GPU Rendering" which will fix the touchscreen issues, and disabling the LG dual-window feature could also speed up the smartphone, for those who are experiencing lag and other slowdowns.
At this time we're not sure if Jensen's comments were regarding an actual over the air software update, or just a tweak to the keyboard. That said, head into settings > about phone > and check for updates to see if your LG G4 has the latest software. Are you experiencing issues with the LG G4 screen? Drop us a comment below if so, and if the recent LG software update or keyboard update solved your problems.

As an Amazon Associate I earn from qualifying purchases.