LG G4 Release: 6 Things You Need to Know
This morning the brand new LG G4 has finally been announced after months of leaks, rumors, speculation and teasers from LG themselves, and we now know all the details about this impressive new flagship smartphone. With the LG G4 now official and coming soon to take on the iPhone, Galaxy S6, and anything else from the competition, below are six things buyers need to know.
Last year the LG G3 was announced in late May and arrived over a month later, far behind the competition. However, that release was earlier than the G2 before it, and the G2 arrived even earlier than the original Optimus G. Here in 2015 LG is doing the same thing again, and announced the new G4 today, with a release date expected to be in late May.
Read: 5 Reasons to Wait for the LG G4
In early February the new LG G4 smartphone was somewhat confirmed by LG themselves, following some early rumors, and now those have all been put the rest. It has a stunning new 5.5-inch 2560 x 1440 Quantum HD (2k) display, a powerful 6-core processor, and a camera they claim to be the best of any phone around. Read on for everything you need to know about the latest device from LG Mobile.
Today in six countries simultaneously and at an event in New York City the brand new LG G4 was completely revealed for the first time. We knew exactly what to expect though, as LG has slowly announced the new display, the 16 megapixel F1.8 camera, genuine leather and more leading up to the event. That said, there's still things you'll want to know about this great new smartphone for 2015.
The leather offers a completely unique and custom look to take on the Moto X, while offering something premium while being different than Apple, Samsung, and HTC with metal, and is a great new option for potential buyers. The phone's camera should be among the best, it runs the latest version of Android, and has tons to offer prospective buyers.
Design
As you now know, the LG G4 looks nearly the exact same as last year in terms of the overall design, but has received a complete overhaul in all aspects. The screen is better, the design has been improved and gained a new diamond-cut faux metal design, along with six completely brand new genuine leather hand-stitched backs that cover the removable battery and micro-SD slot. Yes, it has a removable battery and a micro-SD for expandable storage, something the Galaxy S6 is sorely lacking.
The new LG G4 will stick to the same thin bezels around a 5.5-inch device, improve the camera, and keep the buttons on the rear. It will still be made out of plastic. Similar to the Moto X leather LG has a new design material. Below is an image of the three regular color options; Silver, Black and Gold, as well as the all new six leather options. They look and feel amazing, but we'll have to see if they hold up to the test of time, wear and tear, etc.
All said and done it will feature nearly the same design as previous years, only with some changes to the look, textures and finish. Not to mention everything has been upgraded across the board. The only thing that isn't improved is we have the same 3,000 mAh battery, but with Android Lollipop and a more efficient Snapdragon processor we can expect better battery life than the G3. You'll still have sleek bezels, buttons on the back, and a single rear facing speaker. We were hoping for a slight redesign, but maybe that will happen in 2016. For now though, we're loving the slim bezel, bright display, and new leather look.
Display
Some early rumors suggested a crazy curved display similar to the LG G Flex 2, and others claimed it would feature a smaller 5.3-inch screen with an extremely high 3k resolution display. However, that didn't happen. LG played it safe (which was probably a good thing) and we have a perfectly sized 5.5-inch screen with such slim bezels that the device is barely bigger than the Galaxy S6, a phone with a much smaller 5.1-inch screen. It's the same size, but it's vastly improved. There is a new LG "arc design" where there is a slight curve, but we wouldn't go as far as to call it a curved display. This should keep it safe from drops, make the device more durable, and gives is a comfortable curve while in the hand.
The G4 comes in the same same size and resolution as last years LG G3, but delivers big improvements. According to the LG press release this new 5.5-inch Quad-HD display achieved a "quantum jump" in color gamut and brightness. They're even calling it a "Quantum HD display".  The G4 screen is be brighter, features extremely rich and stunning colors, and inky blacks. It's a joy to use from our limited hands-on time with it. All of this while still being more efficient and easier on battery life. Not to mention it's thinner, and offers improved touch function and precision.
It has a new Advanced In-Cell Touch technology that allows it to react to touches, even with water on it. Finally, LG promises more accurate colors over last year's QHD panel in the G3 by offering a 120% color gamut, 50% increase in contrast, and 30% jump in brightness. It may not be as good as the Galaxy S6 as it's slightly bigger with the same resolution, but this is hands-down one of the best displays on any mobile device to date.
The slightly washed out screen from the LG G3 has been ditched, viewing angles are much better, and those looking forward to the LG G4 can rest assured knowing it has one of the best smartphone screens available on the market.
Leather, Battery & Micro SD Slot
The brand new LG G4 comes in three regular plastic colors, but it also has a new genuine leather back that has been hand-stitches and takes 12 weeks for each one to be made to completion, vs the 4 days for regular plastic backs. It comes in six colors, and looks great. LG keeps saying See the Great, Feel the Great, and that's true. You have to see and use this phone to truly appreciate the new leather materials. It's like the Moto X 2014, only better.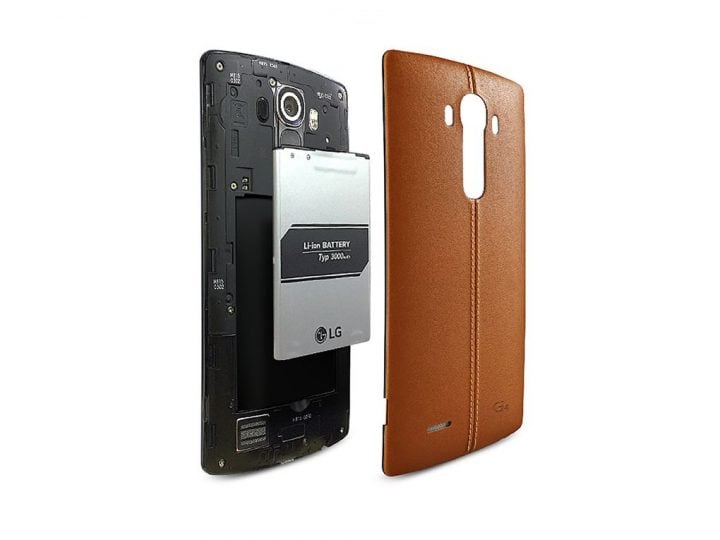 The LG G4 will have a large 3,000 mAh battery that is removable just like last year, a micro-SD slot for storage expansion up to 128GB, and all this is possible because the back will still be removable. Something many aren't happy about losing on the new Galaxy S6. It has an improved screen, a new graphic RAM chip that lets yo view photos without wasting CPU battery, and more. They're claiming some of the best battery life of any phone available. If you're looking for an alternative, the G4 is worth considering.
And as you can see above, while the back is still plastic, there will be leather options. So far we're seeing six different colors, but that could change in the near future. The six colors shown off today are stunning, and hopefully they'll all be available from all carriers in the US.
Camera
Speaking of specs, one extremely important aspect of any smartphone is the camera. The LG G3 had a decent 13 megapixel camera with optical image stabilization, and debuted a new laser auto focus promising some of the best and fastest camera performance around. It was great, but the new Galaxy S6 with its F1.9 lens is one of the best of any smartphone to date. Most phones are over 2.0 with the f-stop, which is the speed of the sensor and how well it captures details and light.
The G4 one-ups Samsung and the new G4 has an F1.8 lens, the same laser auto-focus, and an even better optical image stabilization than that of the G3 in 2014. It promises to have the fastest auto focus around, one of the quickest sensors to always be able to capture any precious moment, and you can snap photos with your voice, the volume keys on the back, and more. We've only spent a little time with the G4 so far, but the camera is proving to be rather capable, and one of its best features.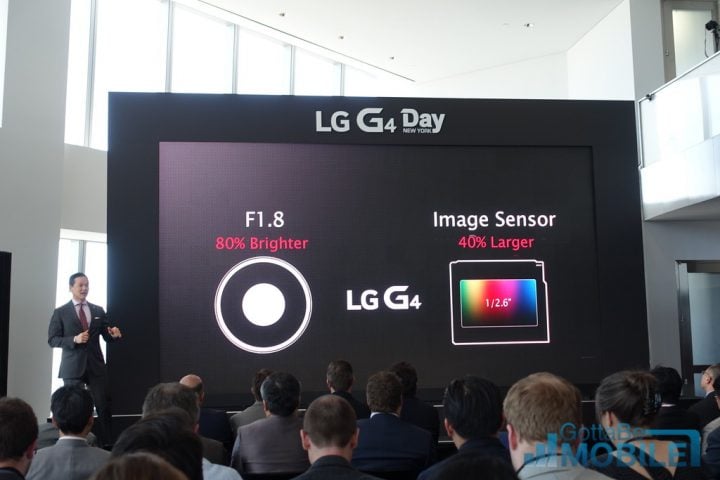 With an F1.8 camera lens the LG G4 should shoot insanely fast and accurate, be great in low-light situations, and deliver crisp and sharp images no matter the situation. Oh, and we can't forget about the front. The Galaxy S6 has an excellent 5 megapixel front facing camera better than most phones rear camera, and LG beat them here too. The LG G4 has an 8 megapixel front camera for selfies, and wide-angle selfies, along with tons of software tweaks to deliver fun photos for social sharing. They've addedmore gesture controls for hands-free shutter options, and more.
Specs
While specs and numbers on a paper aren't everything, and a device that's stable, smooth, and has good battery life is more important, some do still enjoy seeing the cold hard facts. So with that in mind, here's everything that's inside of the LG G4 smartphone.
LG G4 Specs

5.5-inch 2560 × 1440 Quantum-HD (2k) display
6-core Snapdragon 808 processor with 3GB of RAM
32GB internal storage (Micro-SD expansion, up to 128GB)
16 Megapixel F1.8 camera with OIS+, laser auto-focus, and an 8 megapixel front camera
Android 5.1 Lollipop with a revamped LG 4.0 User Interface
WiFi, Bluetooth, NFC, 4G LTE, FM Radio Antenna, and Infrared laser for remote control
Three colors in plastic, six all-new Genuine leather back options
3,000 mAh battery (removable) and wireless charging built-in
Of course these are only numbers, and we'll have to spend more time than a few minutes with it before we say more. So far the G4 is promising, and Android 5.1 Lollipop runs extremely smooth on the device. Having top-tier specs is important, but having a device that's smooth, stable, and gets good battery life is key. The G4 has a great look and feel, a sweet camera, a micro-SD card slot and much more. This is one of the best phones to date, and should compete nicely with the Galaxy S6 and HTC One M9.
Price & Release Date
The event is still ongoing, and LG is busy talking about the impressive new F1.8 camera lens, the leather materials, and more. So far we've been hearing a late May release date, one that may push into June, but we'll have to wait and see. We'll update the moment LG announces pricing, availability, release dates, or anything further.
Most likely we can expect the traditional $199 with a new 2-year contract and $599 outright pricing, but no official information has been released yet.
Developing…

As an Amazon Associate I earn from qualifying purchases.