LG G4 Release Details Continue as Launch Nears
The LG G4 release date is quickly approaching, and with the competition launching their smartphones in the United States starting tomorrow, April 10th, LG is wasting no time by releasing teasers of its upcoming smartphone. Over the past week they've revealed plenty about the G4, and today we've learned more details ahead of the release date.
Last year the LG G3 was announced in late May and arrived over a month later, far behind the competition. However the past few years each new phone has arrived over a month earlier than the model before it. This year they'll do the same, and the launch is officially set for April 28th. Today though, LG has announced an impressive new camera will be on the front and back of its flagship smartphone.
Read: LG G4 Release: 5 Things You Need to Know
In early February the new LG G4 smartphone was somewhat confirmed by LG themselves, following some early rumors. Those will all be put to rest soon though, because LG has confirmed the phone will be revealed on April 28th at simultaneous events in six countries, and shown off in New York City. We don't know exactly what to expect, but LG is announcing parts of the phone one by one, and today we learned about the camera.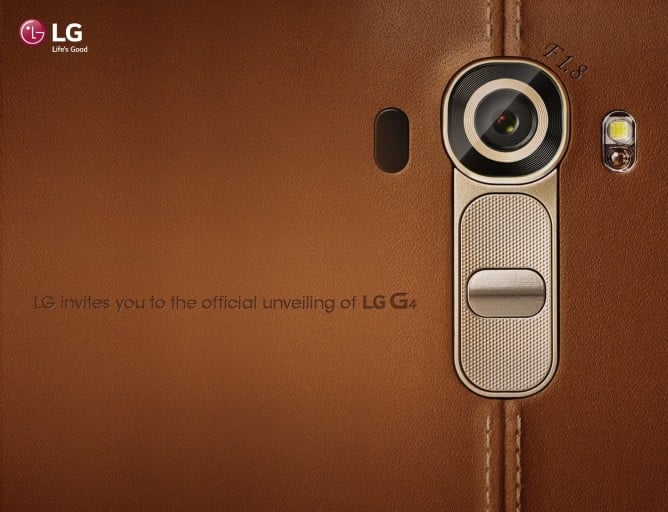 This morning an arm of LG Electronics took a moment to announce the brand new and highly improved 16 megapixel camera that will be inside of the all-new LG G4 smartphone. Both the G2 and G3 had a 13 megapixel camera, so this year they're finally improving the sensor to compete directly with the Samsung Galaxy S6, a device which may have one of the best cameras of any smartphone released in 2015.
The LG G4 will feature an improved 16MP camera with an F1.8 aperture, offering the "widest aperture camera developed" for a phone by LG Innotek. Most phones have a slower F2.2 or so aperture, and the new Galaxy S6 is one of the fastest being F1.9. Meaning the new LG G4 will have the same 16 megapixels with a faster lens, one that they claim will be able to capture up to 80% more light than the LG G3.
Claiming 80% light improvements over the G3 is impressive, considering it had one of the better cameras available last year. Add in the laser auto focus, optical image stabilization, and the fast F1.8 aperture and this is shaping up to be one impressive device when it comes to photography. The sensor is bigger, faster, and much more capable than any LG smartphone to date.
That isn't all either, they also confirmed an 8MP front-facing camera with an "ultra-thin IR filter" to keep infrared light from getting in the way of good selfies and group photos while using the front camera. Pretty impressive right?
Over the past few weeks they've confirmed the LG G4 will be announced on April 28th, they announced the newly improved 5.5-inch 2560 x 1440 Quad-HD display with better colors, brightness, viewing angles and more, and they've revealed a new leather design in a recently released video and the announcement emails for the launch event. Meaning the G4 is quite loaded, and will have some new design elements to go with it. Here's what to expect from the G4 based on LG announcements, and leaks, combined into one.
LG G4 Specs (Unconfirmed)
5.5-inch 2560 x 1440 Quad-HD Display
Snapdragon 810 processor with 3GB 0f RAM
32GB of storage and micro-SD storage expansion
Android 5.0.2 (or Android 5.1) Lollipop
16 megapixel rear and 8 MP front camera setup
IR Port for Remote Control
3,300 mAh battery
Possible curved display
New Leather Design or limited edition
more
At this point the LG G4 is shaping up to be a rather impressive smartphone. One that will be able to compete with the iPhone 6 or 6s, the Galaxy S6 and more. Most the details above are unconfirmed aside from the camera, display, and leather design.
For now all we know for sure are the few details LG has announced over the past week or so, but will know all the details in the coming days or weeks. The LG G4 launch date is April 28th, and rumors suggest it will hit shelves and launch globally and in the United States sometime in mid to late May.