LG G4 Release: Everything We Know So Far
The brand new LG G4 release date is almost here. After a slow release of information one by one by LG over the past two weeks teasing aspects of the phone, not to mention a huge leak this weekend that revealed nearly everything, we know exactly what's coming when LG announces the new G4 later this month.
Between all the details from LG themselves, leaks and rumors, and then the major leak from a micro-site made by LG over the weekend everything is coming into focus, and below we'll go over everything we know so far and what prospective buyers will need to know about this new smartphone.
Read: 5 Reasons to Wait for the LG G4
In early February the new LG G4 smartphone was somewhat confirmed by LG themselves, following some early rumors, and soon those will all be put to rest when they officially announce the new device. With a release date quickly coming and more and more teasers being released by LG, here we go over a few things buyers need to know about the LG G4 release.
Last year the LG G3 was announced in late May and arrived over a month later, far behind the competition. However, that release was earlier than the G2 before it, and the G2 arrived even earlier than the original Optimus G. Here in 2015 LG is doing the same thing again, and releasing the new LG G4 earlier than the model before it. The launch is officially set for the end of April.
On April 28th live in six countries and at an event in New York City, LG will officially unveil the new LG G4 smartphone aimed at taking on the new Galaxy S6, HTC One M9, and even the Moto X with some new leather designs and more. The phone is stacking up to be one of the best in 2015, and here's what we know.
Design
The design has been somewhat of a mystery as multiple leaks suggested a few different things. We saw images of a curved smartphone, leaks suggesting an all metal design to battle the iPhone and Galaxy S6, but now we know that was all false. The huge leak this weekend confirmed the LG G4 will be shaped nearly the exact same as last year, but have a lot of new features and designs that will differentiate it from last years model.
The new LG G4 will stick to the same thin bezels around a 5.5-inch device, improve the camera, and keep the buttons on the rear. It will still be made out of plastic, like prior versions, but this year they've introduced six new leather back options. Similar to the Moto X leather, only LG is keeping the back removable so users can replace the battery or expand storage with a micro-SD slot.
The LG G4 will come in three main colors: Black, White and Gold, with a new diamond-shaped design to the brushed aluminum looking (but still plastic) housing. Then, there will be real genuine leather options in six colors. We're not sure if these will be optional backs you can buy, or offered directly from carrier shelves. Most likely both will be available, as well as separate purchases from LG's store, but we'll have to wait and see.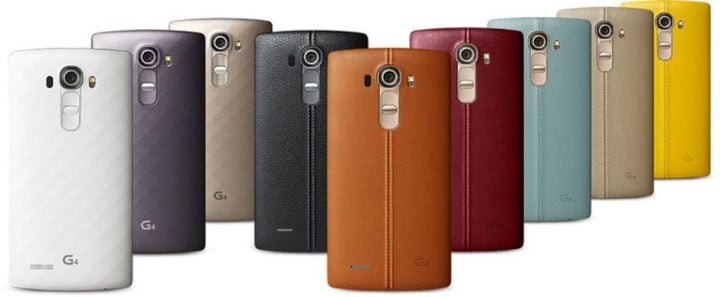 All said and done it will feature nearly the same design as previous years, only with some changes to the look, textures and finish. You'll still have sleek bezels, buttons on the back, and a rear facing single speaker. We were hoping for a slight redesign, but maybe that will happen in 2016.
Display
Recently rumors have been back and forth regarding what to expect from LG in the all-new G4 for 2015. Some rumors suggested a crazy curved display similar to the LG G Flex 2, and others claimed it would feature a smaller 5.3-inch screen with an extremely high 3k resolution display. However, that doesn't appear to be the case. The screen will be the same 5.5-inch size as the last model, but be much improved.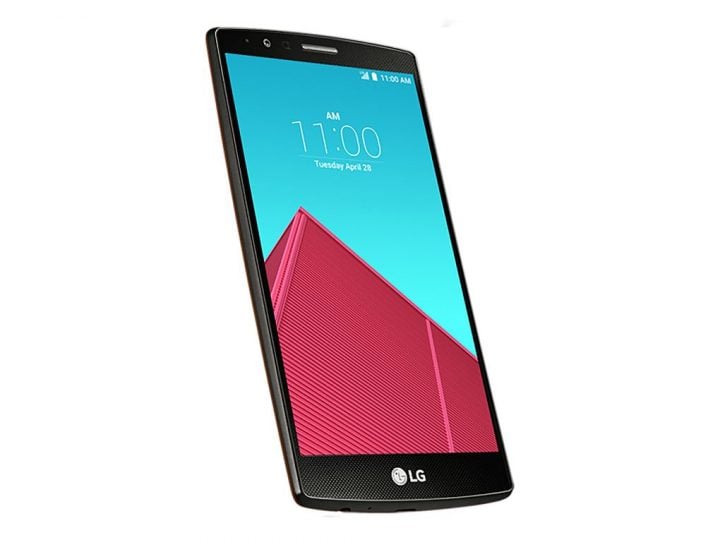 Last week LG announced its new 5.5-inch 2560 x 1440 Quad-HD display. This is the same size and resolution as last years LG G3, but they promise big improvements. According to the LG press release this new 5.5-inch Quad-HD display achieved a "quantum jump" in color gamut and brightness. The new LG G4 screen will be brighter, feature extremely rich and stunning colors. All while being more efficient and easier on battery life. Not to mention be thinner, and deliver improved touch function and precision.
It has a new advanced In-Cell Touch technology that allows it to react to touches, even with water on it. Finally, it's expected to show even more accurate colors over last year's QHD panel in the G3 by offering a 120% color gamut, 50% increase in contrast, and 30% jump in brightness. It may not be as good as the Galaxy S6, but we'll have to wait and see.
All this means is that the slightly washed out screen from the LG G3 has been ditched, and those looking forward to the LG G4 can rest assured knowing it should have one of the best smartphone screens available on the market. Of course we'll have to see it first, but LG is promising a lot of improvements this year.
Leather, Battery & Micro SD Slot
Going along with the design aspect above, the leak this weekend confirmed some key details that had a few potential buyers worried. Samsung ditched the removable back that lets you swap a micro-SD card for more storage and replace the battery, and many though LG would do the same. Thankfully, they didn't.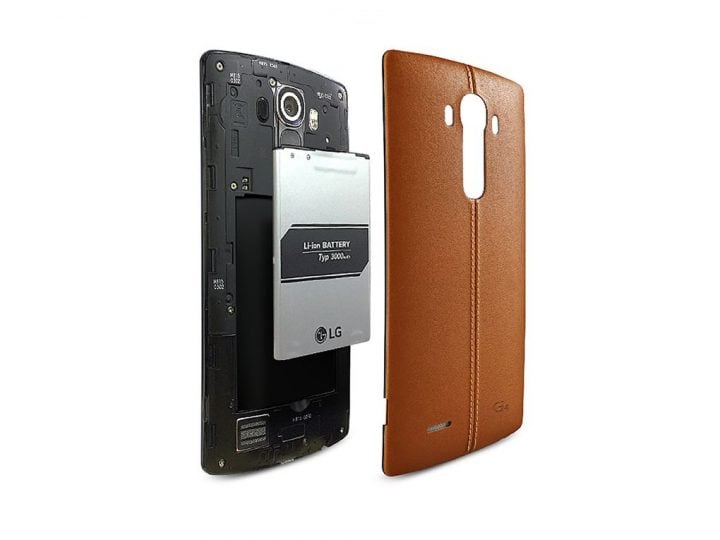 The leak confirmed the LG G4 will have a large 3,000 mAh battery that is removable, micro-SD slot for storage expansion, and all this is possible because the back will still be removable.
And as you can see above, while the back is still plastic, there will be leather options. So far we're seeing six different colors, but that could change by the time the April 28th announcement comes around. We're not sure which carriers will have what, or if LG will sell them separately, but we'll know soon enough. If the lack of a removable battery and micro-SD slot has you down on the Galaxy S6, wait for the LG G4.
Camera
Speaking of specs, one extremely important aspect of any smartphone is the camera. The LG G3 had a decent 13 megapixel camera with optical image stabilization, and debuted a new laser auto focus promising some of the best camera performance around. It was great, but the new Galaxy S6 with its F1.9 speed camera is one of the best of any smartphone to date. Most phones are over 2.0 with the f-stop, which is the speed of the sensor and how well it captures details and light.
Today LG is teasing an all-new F1.8 camera for the LG G4. The video just released by LG is rather short, but is obviously teasing that the camera should be excellent.
https://www.youtube.com/watch?v=yZdWPqpVbEk
With an F1.8 camera lens the LG G4 should shoot insanely fast and accurate, be great in low-light situations, and could prove to be one of the best smartphone cameras in 2015. Add in the laser auto focus and optical image stabilization, and this is looking very promising. This will be a 16 megapixel camera, and the front will be increased to an impressive 8 megapixel shooter.
Specs
While specs are only numbers, some still want to know what's coming. It looks like we'll see a 5.5-inch 2560 x 1440 Quad-HD display, 32GB of storage and a micro-SD slot, 3GB of RAM, 16 megapixel camera, and a 3,000 mAh battery. The processor is actually listed as a Snapdragon 808 6-core processor, not the 810 from the HTC One M9. This uses two high power chips. One being a dual-core high power chip for heavy tasks, and an efficient quad-core for everything else. Promising great performance, while improving battery life at the same time.
It should be faster, smoother, last longer, and run the latest version of Android. We're not sure if that will be 5.0.2 Lollipop, or Android 5.1 which was announced in March.
Accessories & Wireless Charging
Previously LG G smartphones had wireless charging, but not all carriers received it. With the G2 it was exclusive to the Verizon model, but the new G4 appears to fully support wireless charging. The microsite leak revealed the popular Flip-cover circle case from the G3, a wireless charging dock, and more.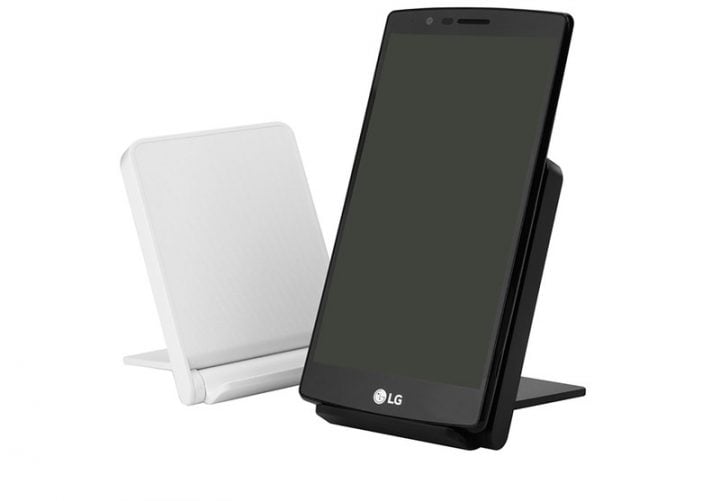 Users will be able to charge the device wirelessly with many 3rd party options or LG's own charger, and the circle case protects the device yet lights up a circle part of the display for quick actions. Answering calls, launching the camera and more all without ever opening your case.
We've seen most of these accessories before from LG, but they've been confirmed for the G4 launch too. The case is coming in multiple colors, and will probably replace the back of the phone and be an all-in-one battery cover with leather and flip case in one package. Similar to Samsung's flip cases.
Release Date
Another important aspect of this phone is the release date. The HTC One M9 and Galaxy S6 hit carrier shelves in the US on April 10th, so LG needs to make a splash and get buyers interested, or at least waiting to see what LG has in store. In the video above they confirm the all-new LG G4 will be announced on April 28th, which matches earlier reports.
Sadly, at this point we know nearly everything about this phone, aside from the release date. It will be announced on April 28th, likely come to all four major carriers in the United States, but we're not sure when. Last year it took over a month to launch and after the late May announcement it hit shelves in early July.
We don't know when the LG G4 release date is, but we've heard multiple reports and comments from LG that they want it on shelves as soon as possible, earlier than last year, and giving it the best opportunity to compete with Samsung and the rest of the competition. Most likely it will be announced on April 28th, and released near the end of May or very early in June. We'll keep an eye out for leaks and further information, and report back once we know more about the LG G4 release date.
All said and done, it's shaping up to be one of the best phones in 2015. Will you get the Galaxy S6, or wait for the LG G4?

This article may contain affiliate links. Click here for more details.