LG G4 Release Nears as Launch Event Confirmed
With the Samsung Galaxy S6 and HTC One M9 both official and now available for pre-order, the next major release will be the LG G4. We've seen a few leaked images already, but come late April the company will officially announce the new smartphone. Invites have started going out today teasing the G4, and potentially revealing one of its features.
Last year the LG G3 was announced in late May and arrived over a month later, far behind the competition. However, that release was earlier than the G2 before it, and the G2 arrived even earlier than the original Optimus G. Here in 2015 LG is doing the same thing again, and releasing the new LG G4 earlier than the model before it. The launch is officially set for April 28th.
Read: 5 Reasons to Wait for the LG G4
In early February the new LG G4 smartphone was somewhat confirmed by LG themselves, following some early rumors, and soon those will all be put to rest when the officially announce the new device to take on the Galaxy S6, One M9, iPhone 6 and more. Below is the invite going out, a quick teaser, and a few additional details.
Last week some images surfaced of what's reportedly being called the LG G4 Note, a device coming later this year to take on the Galaxy Note 4, iPhone 6 Plus, and anything else, but today we're also getting a potential release date for the highly anticipated LG G4.
A few weeks back we received what could be our first images of the new LG G4, and they showed a device that's wrapped in a familiar plastic frame, buttons on the rear, but surprisingly had a curved display similar to the LG G Flex series. No other LG G flagship has had a curved display, but that could finally change here in 2015. And while we don't know what to expect, and have seen rumors of an aluminum design, pictures of a plastic device and more, today's announcement shows leather.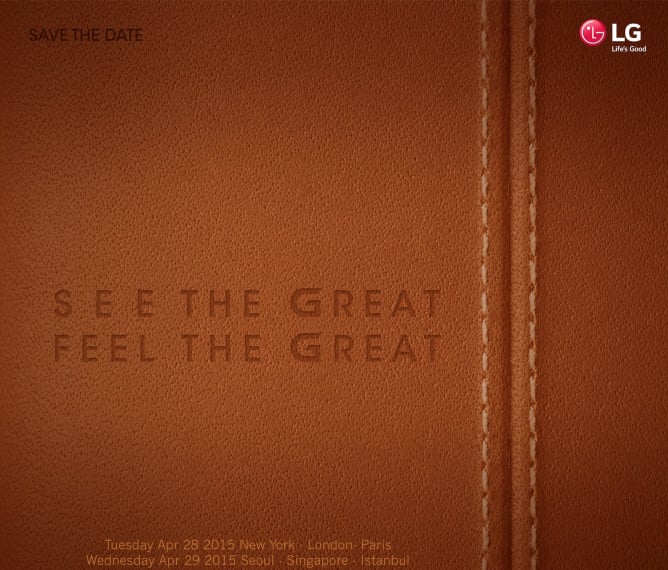 See the Great, Feel the Great.
Shown above is the official LG G4 launch event reminder and "save the date" image being sent to select members of the press. They're clearly putting the "G" out there, confirming this will be about a new LG G smartphone, one which will most certainly be the new G4 we've been hearing about.
It comes as no surprise that the invite doesn't show a device or shape of what's to come, but they are hinting at one major design change, or at least an option. Similar to the new Moto X released in late 2014, the new LG G4 could be made out of leather on the back. Or at least a limited edition could have leather vs the plastic we've seen in leaks. They mention you'll be able to feel the greatness of the new phone, suggesting the leather materials, not to mention the entire invite has a nice stitched leather backdrop.
On Tuesday, April 28th, LG will be hosting an event in 6 cities: New York, London, Paris, Seoul, Singapore and Istanbul, to announce something new. That's about all we know right now, but we'll update the moment more details start to emerge.
Read: LG G4 Rumored to Take on Galaxy S6 Design
Most likely leather won't be the only option available, as we're not sure how durable that will be nor if all potential buyers will want to take that route. Motorola offers regular plastics, wood, and leather on the 2014 Moto X, and it (along with others) will have some competition come late April or early May as the new LG G4 arrives.
Reports and rumors suggest a curved 5.5-inch 2560 x 1440 Quad-HD display, an 8-core processor with 3GB of RAM (Snapdragon 810 or maybe the 808) 32GB of internal storage with a micro-SD slot for expansion, and new to the G line, a curved display. The leaks of a curved device may not be accurate, so we'll have to wait and see. What we do know is that the LG G4 will potentially be announced on April 28th, and rumors are suggesting a mid-May release date. Stay tuned!