LG G4 Release Teased in 4 New Videos
Now that the all-new LG G4 smartphone has been officially announced and is coming soon, we've got our hands-on it and given you our initial impressions, and now LG is busy teasing the G4 release ahead of the rumored late May and early June release date. Today they released four new videos showing off the stunning new phone.
Last year the LG G3 was announced in late May, and arrived over one month later sometime in July for smartphone buyers around the United States. This year they've announced it over a month sooner, and hope to get it on the market in time to compete with the new Galaxy S6 and HTC One M9.
Read: LG G4 vs Galaxy S6 Camera Comparison & Samples
The impressive looking LG G4 comes with a stunning 5.5-inch HD display, a better camera, and some genuine leather backs that look and feel amazing. LG wants to share its device with the world, and are doing so ahead of the release with the four brand new commercials embedded below for potential buyers.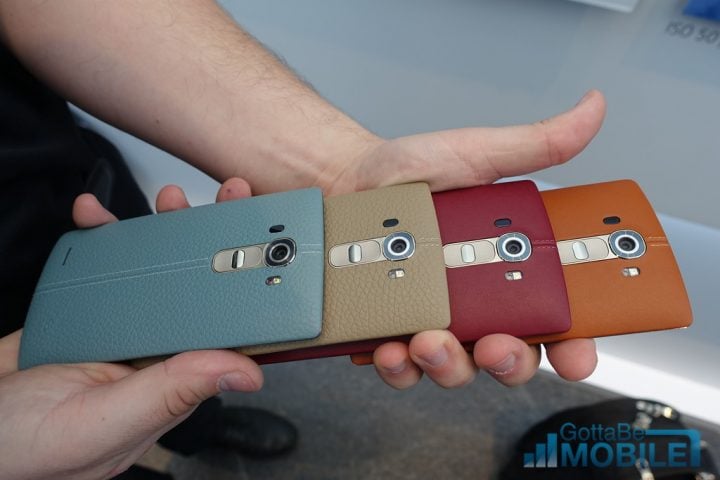 Before the unveiling on Tuesday LG had already released information about the new 5.5-inch Quantum 2560 x 1440 Quad-HD (2k) display, talked about the new 16 megapixel f1.8 camera lens, and even teased the six new genuine leather hand-stitched leather backs.
And while a few questions remain regarding where and when we can get one, and if it'll come in leather from US carriers, below are some videos to give you a better look at the phone before it arrives. The new commercials will likely be shown around the globe and here in the US. They're 15 seconds, or 30 seconds, and highlight key selling points. Things like the camera, display, and the leather. Check them out below.
https://www.youtube.com/watch?v=IE6uAgyecM4
Here we see the stunning new vegetable-tanned brown leather back for the new LG G4. This process takes 12 weeks to make each backplate, and will be well worth it once they become available. We're hearing some carriers will have leather options on contract, and LG may charge upwards of $40-50 for the other colors on their own website, but we'll have to wait and see.
https://www.youtube.com/watch?v=-cgR4QuTH-s
https://www.youtube.com/watch?v=84Ow8dcUmkQ
The two videos above highlight the powerful new 16 megapixel camera with an f1.8 aperture lens that's capable of some impressive low-light photography, shutter speed options for long exposure, and much more. Then we're also getting a look at the Black leather option. It comes in three plastic colors, and six genuine leather backs.
https://www.youtube.com/watch?v=PwOwRURHRcQ
Then last but certainly not least is a 30 second clip showing off the improved 5.5-inch Quantum (Quad-HD) display inside of the phone. It still features sleek bezels, and now has a slight curve to protect the screen if sitting face-down on a table. The screen is leaps and bounds better than the LG G3, brighter, has better colors, but still may not be able to match the Galaxy S6. We'll have more details on the screen in the coming weeks.
Again, the all-new LG G4 was announced this week and is coming to all five major carriers in the United States, and maybe more. Those being Verizon, AT&T, T-Mobile, Sprint and US Cellular. We'll be learning more about pricing, availability, leather options and more in the next few weeks as the end of May nears. We're hearing early June is the carrier release date, but T-Mobile will likely launch it a week early just as they did with the Galaxy S6 and HTC One M9. Stay tuned.

As an Amazon Associate I earn from qualifying purchases.