LG G4 Release Teasers Continue
Over the course of the past month or so LG has been busy teasing small bits and pieces of its upcoming flagship smartphone, the LG G4. A Phone that aims to take on the Galaxy S6, HTC One M9, and anything else from the competition. The official launch date where they planned to reveal the phone is scheduled for April 28th, but leaks have spoiled all the details. And now today, LG has released another image and teaser video to keep the hype train moving.
Last year the LG G3 was announced in late May and arrived over a month later, far behind the competition. And while this year the new LG G4 will be released later than its competitors again, it should be much sooner than last year. We know almost everything already, but today a video is teasing it again, and a photo on LG's Facebook confirmed some key information.
Read: LG G4 Release: Everything We Know So Far
Lately LG has announced the new 5.5-inch Quad-HD display, teased the new camera, and invites were showing some sort of leather design for the rear of the smartphone. That was all just little teasers, and they were saving the rest for April 28th. That said, a leak this weekend spoiled all the details well ahead of the release date. Read on for a few new details and LG's latest video.
Along with everything we've already seen, LG isn't letting up. They posted a few images on Facebook, showing off the leather, and a new video has dropped as well. The image has a few details with it that confirm the leather will indeed be real, genuine leather. Not a faux leather like we've seen in the past from Samsung.
All the leaks and images prior to this were showing off a leather-look, but we weren't sure if it was genuine leather or not. Apparently there will be three regular colors, and six leather options, all while the back is still removable. The image below is the luxurious vegetable-tanned leather option.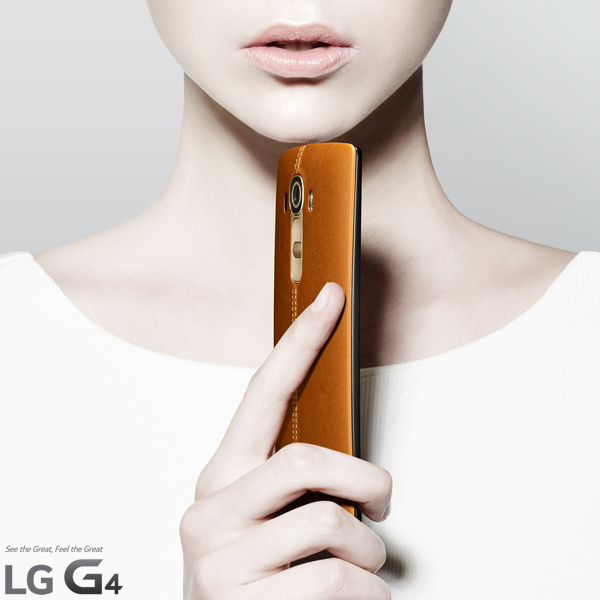 Always have authentic luxury in hand.
The brand new LG G4 with vegetable-tanned leather cover.
See the great, feel the great.
The Facebook post calls this a "leather cover" so we're not sure if the LG G4 will be released with actual leather options that can be purchased, covers that are made of leather, or replacement battery covers and backs that are made of leather. Things are still a bit unclear, but one thing we do know is these are genuine leather and look pretty sharp.
Then, another video was released teasing the new 5.5-inch 2560 x 1440 (Quad-HD) Quantum IPS display that will be inside this phone. LG promises 25% better colors, way better brightness, and just all around a better viewing experience than the LG G3. It's quad-hd display wasn't the best, washed out at times, and had poor viewing angles. LG is promising a much improved visual experience this time around. "See the great, feel the great" focusing on the display, and the new leather materials.
https://www.youtube.com/watch?v=TVQT1lDukZU&feature=youtube_gdata
As of right now we know nearly everything about this new phone. The LG G4 will have a 5.5-inch Quad-HD display, a 6-core Snapdragon 808 processor with 3GB of RAM and 32GB of storage. A micro-SD slot for storage expansion and a removable 3,000 mAh battery, and introduce a brand new f1.8 stop super fast and capable 16 megapixel camera with laser auto-focus and optical image stabilization.
All we need to know now is when it will be released, which they'll likely unveil on April 28th during the actual launch event, how much, and if all carriers in the US will be offering this impressive new phone. LG hopes to compete with Samsung and HTC, so they need to get it released as soon as possible. We're hearing the end of May, but we'll update once we learn more.