LG G4 Release Date: What You Need to Know
The LG G4 release date is quickly approaching for those in the United States, and this weekend some key new details emerged sharing pre-order info, LG G4 deals and more as the release date nears. Below are five things buyers need to know about the LG G4 release this week.
Late last month LG took the stage in New York City and announced the all-new redesigned LG G4 after months of rumors, speculation, and small teasers. It went on sale in Korea the very next day, and will eventually launch in the U.S. from Verizon, AT&T, T-Mobile, Sprint and US Cellular.
Read: LG G4 Review
Over the past few weeks we've received some release details from Sprint, as well as confirmation about an impressive LG G4 deal all US carriers will be offering that will double the storage and battery life, but now we have even more information ahead of the launch date.
Last week Sprint confirmed the LG G4 will be released on June 5th, and along with it some free accessories will be included. Those being a 32GB micro-SD card, a spare 3,000 removable battery, and a battery charger so owners can swap out an empty battery for a fully charged one whenever, wherever.
However, it appears that this deal isn't exclusive to only Sprint, and all carriers in the United States will be offering this for a limited time as LG has a website dedicated to exactly this. Giving users twice the storage and battery life for free with their purchase, for the first few weeks of June.
Read: 30 LG G4 Tips & Tricks
That isn't all though, below are some details regarding almost all carrier release dates, some deals, pre-order dates and more.
LG G4 Release Date
Last week Best Buy announced a deal where buyers who choose to get LG's new G4 from their store will get a $100 gift card free to buy accessories, cases, or anything else from Best Buy. While they were at it, Best Buy accidentally revealed the release date for most carriers.
A few of these dates have been confirmed, while Verizon and AT&T are still unknown, but this is what we know about the release date thus far.
T-Mobile – This morning T-Mobile confirmed the G4 will go up for purchase from them starting tomorrow, May 27th, and will start shipping ahead of its June 3rd in-store release date. T-Mobile will be the first carrier to offer the phone.
As an added bonus, for a limited time while supplies last T-Mobile will be giving buyers a 128GB micro-SD card free with their purchase. That's one of the best free gifts with any smartphone purchase we've seen in a long time. This deal ends on June 21st.
Sprint – The LG G4 will be available from Sprint starting on June 5th, confirmed by the carrier themselves, and along with it is the same deal mentioned above with the free micro-SD card and extra battery.
US Cellular – This weekend US Cellular announced  it will be kicking off its presale for the LG G4 this Friday, May 29 online and in stores. It will be available for purchase on June 4. They will offer the device in Gold, Genuine Black Leather and Metallic Gray.
Verizon – While we've yet to hear from Verizon or AT&T at the time of writing, the Best Buy leak last week suggests Big Red will release the LG G4 on June 4th, so release details should emerge any day now.
AT&T – Last but not least is AT&T, who's typically been first to offer LG smartphones and tablets. According to Best Buy they'll be last, and the LG G4 from AT&T will hit shelves on June 12th, but we'll update once we hear from AT&T themselves.
LG G4 Price
LG's G4 smartphone will be $199 with a new 2-year contract from most carriers, as well as $0 down with payment plans from Sprint, T-Mobile, and likely on Verizon Edge and other payment plan options. The leather options will be more, but we're still waiting for more details.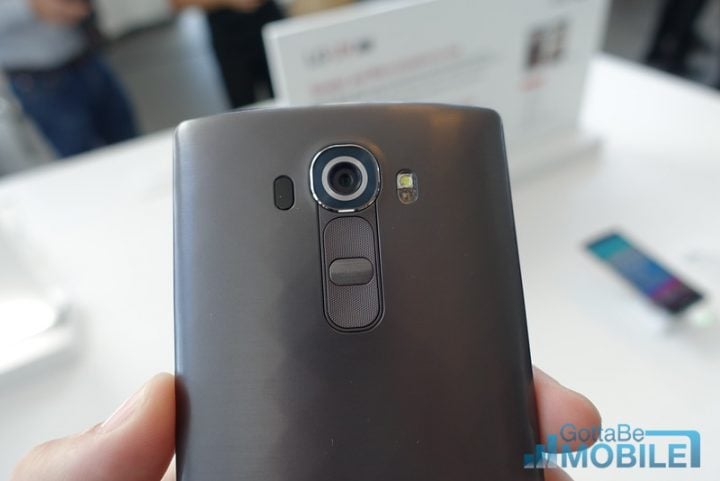 US Cellular is offering the phone for $29.50 a month, or $30.50 a month for the leather variant. So pricing shouldn't be too much higher for the beautiful genuine leather coming in six different colors, which will vary by carrier.
LG G4 Leather
The LG G4 comes in Black, White and Titanium silver plastic options, as well as six genuine leather handmade options that are truly worth waiting for, and paying a little extra. LG has confirmed the six leather backs will cost more, and likely be sold separately for those who'd like them, but carriers will also be offering leather back versions as well.
So far the only carrier to confirm a leather G4 is US Cellular, who will be selling the Silver and Gold model, then offering the Black genuine leather. So only one of six options in leather.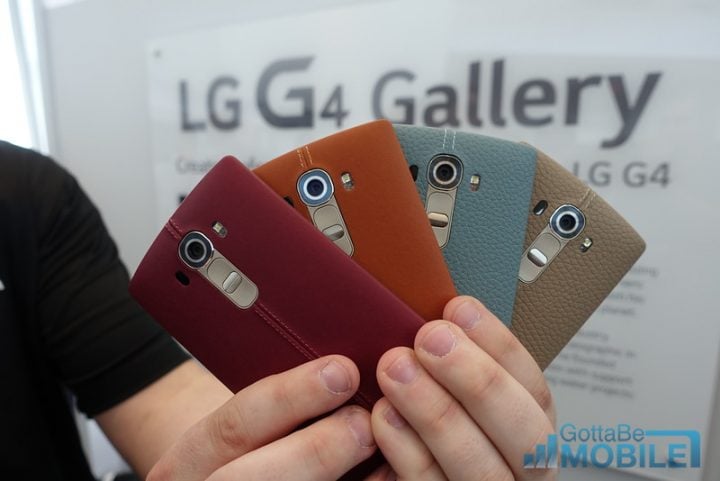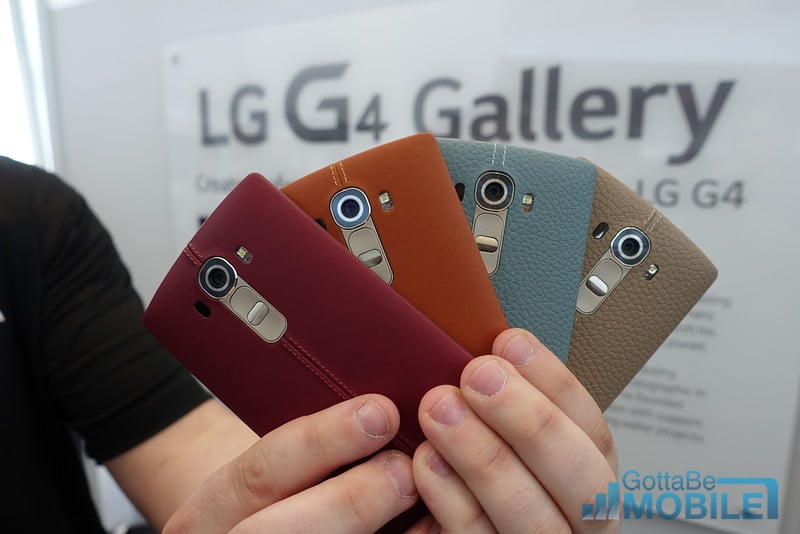 Most likely other carriers will have at least the black leather, and possible other colors, but so far we've yet to hear anything official. The leather was one of our favorite aspects of the phone, so hopefully more information on that front arrives soon enough.
Read: 15 Best LG G4 Accessories
LG G4 Deals
We mentioned a few LG G4 deals above, but they're worth repeating again so everyone knows what's available. LG will be giving most buyers who register the device on their promotion webpage a free 32GB micro-SD card, an extra 3,000 mAh battery, and a external portable charger for that spare battery. This deal will be available until June 21st, and the accessories should start shipping within 4-6 weeks of the date buyers send in the receipt confirming they've bought the phone.
As you can see above, Best Buy will be giving all buyers a $100 gift card to use in its store for purchasing the G4 from them, vs carriers. This will essentially make the phone $100 off, as users will be able to buy cases, screen protectors, hopefully leather back options and more all with that gift card.
Then last but certainly not least is the stunning free 128GB micro-SD card deal from T-Mobile. That's worth at least $80 if not more, as 128GB micro-SD cards are expensive, and buyers will still be eligible for the 32GB card from LG. This will deliver 160GB of internal storage on the LG G4 for those on T-Mobile, all for the same low price. All these micro-SD deals are likely aimed at Samsung, since its latest Galaxy S6 no longer features a micro-SD slot for user expandable storage.
For now it looks like the LG G4 release date will kick off tomorrow with T-Mobile, and be in US carrier stores the first week of June from almost all carriers. We'll update the moment we have more information.

This article may contain affiliate links. Click here for more details.