The LG G4 is one of the best Android smartphones ever released, featuring an excellent camera and a big, impressive display. Premium versions of the LG G4 feature genuine leather backs, replacing the cheap plastic textures found on most phones. I can recommend the G4 without hesitation.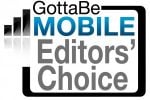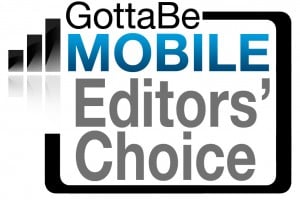 It delivers several features that are lacking in Apple and Samsung's flagship smartphones. Unlike the competition, the LG G4 has a removable back that makes it easy to swap out batteries and upgrade storage with inexpensive micro-SD cards rather than forking over hundreds of dollars up front. The LG G4's ease of use, exceptional camera, and beautiful leather design earned this device a Gotta Be Mobile Editors' Choice Award.

Read: LG G4 Release: 6 Things You Need to Know
Running the latest Android 5.1 Lollipop the G4 provides all the best of Android while maintaining a level of simplicity that doesn't overwhelm users with features and apps they'll never use. It should be on the radar for all premium smartphone shoppers as it's certainly in the same class. Read on to see why I recommend the LG G4.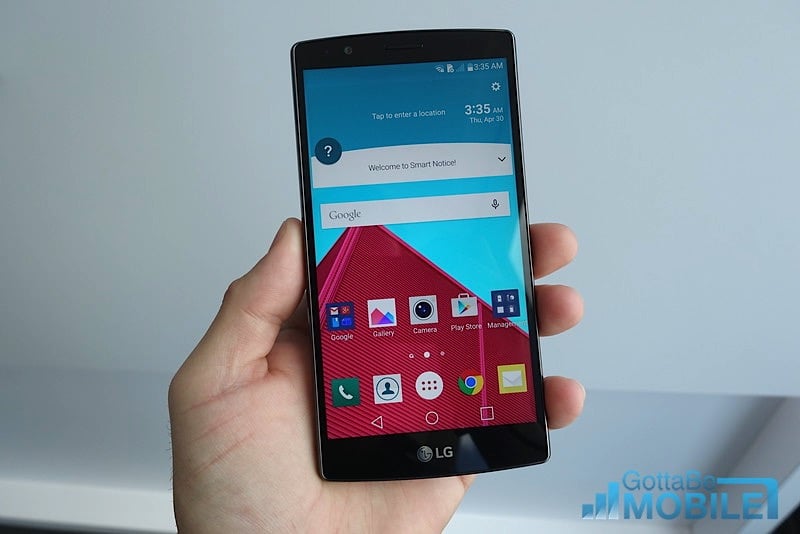 What We Like:
Beautiful 5.5-inch 2560 x 1440 Quad (2K) Display
16 Megapixel Camera that's great for beginners & advanced enough for photography enthusiasts
Gorgeous genuine leather materials and design accents that add form to function
Micro-SD slot for expandable storage
What We Don't Like:
The display brightness and viewing angles could be better
Squared edges can be uncomfortable at times, and the plastic model is very slippery
Battery life is average at best
Bottom Line: The G4 is certainly a device worth considering as your next phone. This year LG finally put together a smartphone that is well-rounded and can compete with Samsung or Apple. The LG G4 offers more than enough to convince consumers to buy, it instead of picking up a phone by the competition.

LG G4 Display
LG has found a perfect middle ground when it comes to the LG G4 screen. It isn't as small as the iPhone 6, nor is it as big as the Google's Nexus 6. The 5.5-inch screen is a good size right in-between most of the competition. The screen is large enough to make watching movies or playing games enjoyable, and the 2560 x 1440 Quad-HD resolution IPS display delivers crisp text and vivid colors. The slim bezels around the screen keep the physical size down even though it has a bigger screen than most phones available.
The new LG G4 screen is more power efficient than the LG G3 from last year. And while the colors and brightness are better than its predecessor, and better than most other Android phones, it still isn't quite as good as Samsung's Galaxy S6.
Viewing angles initially concerned me, as the LG G3 would wash out quickly if not viewed straight on. The new LG G4 has improved the viewing angles a lot, but I still expect a little more out of a flagship smartphone.
Another area the LG G4 display excels is outdoor usage. When compared to the Galaxy S6, DROID Turbo, or Nexus 6 which all have Quad-HD screens, the LG G4 handles direct sunlight best.
LG claims the G4 screen has a 120% color gamut, 50% increase in contrast, and 30% jump in brightness over prior models. Even with all of that, the Galaxy S6 screen still offers a better viewing experience.
I don't like the larger size of the LG G4 that results from LG's decision to make the top and bottom bezels bigger without adding new features to the space. LG could have added front-facing speakers or made the screen bigger, which would warrant the increase in size.
LG G4 Camera
The LG G4 has a new 16-megapixel camera with an industry-leading f1.8 aperture lens. This fast speed helps low light situations and delivers crisp images with ease. It also has optical image stabilization and fast laser autofocus on the back.
The biggest highlight and best aspect of the all-new LG G4 is the camera. Simply put, it's extremely powerful and very impressive. The camera is one of the most used apps of smartphones these days, and the G4 delivers a great experience. All LG's high-end phones have good cameras, but LG took things up a notch this year and introduced one of the best cameras on any smartphone I have ever used.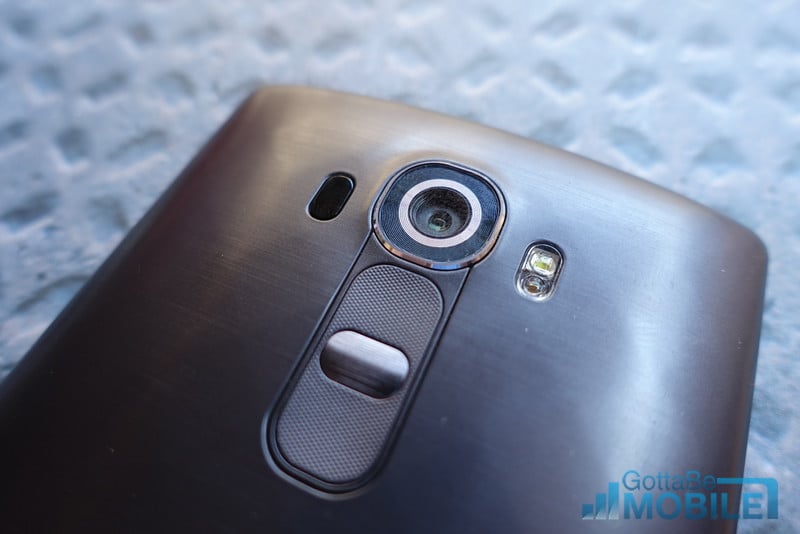 For starters, the G4 camera fires up extremely quick, and the default "Auto" mode shoots excellent photos right out of the box. There are no settings to mess with, and users won't have to Google tips to improve the camera. The G4 does everything on its own, getting the technical stuff out of the way and letting the user quickly snap photos as they go. LG even has a simple mode where there are no settings at all, not even turning on or off the flash. Making it as simple to use as point and shoot camera.
If the auto mode isn't enough for advanced users, a new "manual" mode has options to change the white balance, ISO levels, manual focus controls, shutter speed, and more. All of this makes the LG G4 a very capable camera. Below are two videos we captured at the G4 launch event highlighting the camera.While these situations were presented by LG and played to its strengths, it's still a good representation of what to expect.
In this video, LG shows off the G4 "Quick Camera" setting. This useful feature allows the G4 to go from being locked to taking a photo in less than one second. With a quick double tap of the volume down button the phone turns on and launches the camera in 0.07 seconds, then takes a photo. It works amazingly well and will ensure users never miss a quick photo opportunity.
After the 16-megapixel camera launches in less than a second, the laser auto focus allows it to get focused on any object or person extraordinarily quickly. The f1.8 aperture lens delivers excellent photos even indoors or without good lighting conditions. Below are camera comparison photos and some sample images taken from the Galaxy S6 and the LG G4, for those considering the two.
Read: LG G4 vs. Galaxy S6 Camera Comparison & Samples
The LG G4 takes great photos, and will be more than enough for all owners. In fact, I used it during my entire trip to New York and left my Nikon D5200 in the hotel. Yes, it's that good.
LG also added an 8 megapixel camera to the front for selfies and video chat. It takes wide-angle selfies, and new gesture or voice controls will snap a photo by saying, "Cheese" or "Smile". A wave of a fist at the display will start a 3-second countdown timer, allowing time for the perfect selfie pose. The software even has a rapid selfie mode where it snaps three photos in succession, in order to capture the perfect selfie.
Everything from landscape photos, low light photography, fast moving objects, selfies, and even macros, the LG G4 camera can do it all, and do it all well. For consumers looking for a good camera phone, the LG G4 should be at the top of the list. Below we have sample photos taken with the LG G4 on auto mode. It strikes a fairly even balance of color, light, and shadow, not to mention the always-on HDR mode is excellent. HDR mode captures the dark and light parts of any picture with two photos, then merges them into one perfect image.
Hands down this is one of the best camera phones around, but it does have a few flaws. The camera interface is rather plain, it can be sluggish, and we did notice the G4 sensor and software is a little aggressive with processing. The noise reduction and sharpening can be a bit too aggressive at times, and some photos don't look as natural as one would expect. For most situations though, it produces great results. The LG G4 is perfect for shooting quick photos for Facebook and other social networks.
LG G4 Design & Leather
There are no buttons on the front or sides and instead the power and volume up/down rockers are nicely placed around back. Each volume button is textured, and the protruding rectangle power button is easy to find and tap. This layout works perfect, and it's a design LG has continued for three years because users love it.
The natural resting position when most people hold a phone has their index fingers on the back, and that's right where all three main buttons are. LG has a neat software trick called KnockOn that allows users to simply double tap on the screen to instantly turn it on without hitting the power button.Turning it off is the same simple double-tap on any blank part of the screen.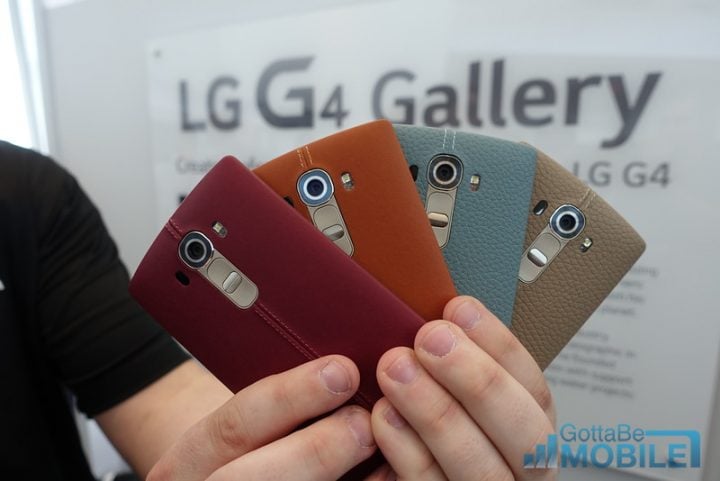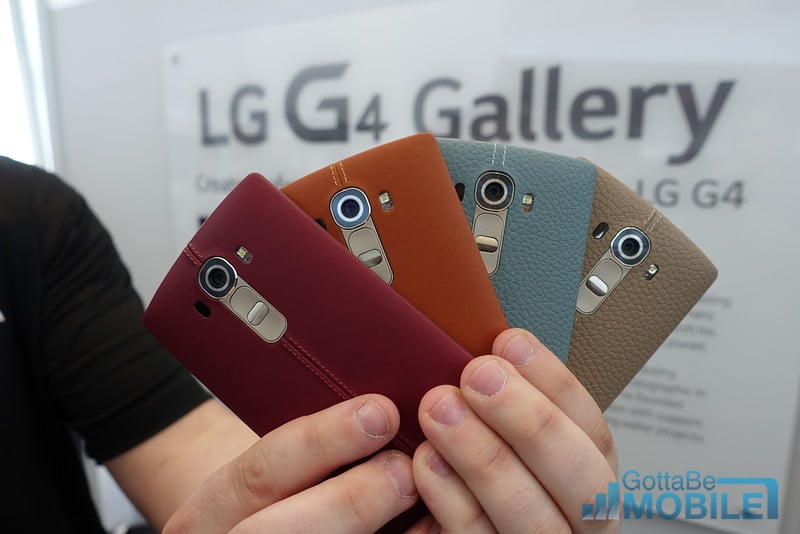 One complaint about the LG G4 design is that it looks very similar to its predecessor. However, LG made one huge change I'm enjoying, and that's the optional genuine leather shown backs.
The G4 comes in six leather colors offering two unique textures. For Black, Light Blue, Yellow and Beige, the leather has a somewhat rough and bumpy texture. For Maroon and Tan, the back is completely smooth. A buyer will get to choose what they like best, and I myself am a fan of the smooth texture.
The Moto X leather is soft and prone to damage or scratches, but that won't be an issue here. LG manufactured a hard and more durable handmade premium genuine leather material. It looks and feels like a top-end premium device. At the launch event I noticed some of the leather stitching isn't perfect, but that's because it's made by hand. This may bother some users, but it makes each and every device unique.
It will be sold by all major carriers with the standard ceramic-infused plastic design coming in White, Titanium Silver, and Gold. LG will then produce six genuine leather backs, but availability will vary by carrier. We've also been told LG will sell each leather back as individual accessories, so owners can choose more than one color, perfect for any occasion or outfit. It's worth noting that the plastic options are extremely slippery and I highly recommend getting a leather-clad G4 or buying a case for the plastic model.
The LG G4 has a removable back, which means the battery can easily be replaced and a micro-SD card can be inserted too. This is a big deal as the Galaxy S6 offers neither of those, giving users one more reason to choose the G4 over some of the Android competition. It comes with 32GB of internal storage for apps, games, music and more, and the included micro-SD slot supports cards up to 128GB. That said, most likely newer 256GB micro-SD cards will work without any problems.
The design may not be as premium as the HTC One M9 or the Galaxy S6, but the leather is much better than the typical plastic LG has used in the past. Not everyone wants a heavy phone made entirely of aluminum, and the LG G4 has found a good happy medium with this new leather approach. The leather will give buyers that premium look and feel many desire. LG's tagline for the G4 is "See the Great, Feel the Great" and I'd have to agree. Customers will need to see and feel it to truly appreciate all the effort put into the design.
While the leather is nice, there is also a slight curve to the entire frame that helps makes it more ergonomic. My only complaints would be the squared corners are a bit uncomfortable at times and I'd prefer them slightly rounded, then the single speaker on the back is still somewhat frustrating.
Read: LG G4 vs Nexus 6: 5 Key Differences
All phones should have front facing speakers. The G4 has big bezels at the top and bottom of the display, and front facing speakers should be in those gaps, but aren't. The single speaker on the back of the LG G4 is one of the loudest I've used lately, but at high levels you start to quickly lose audio quality. It's still good enough for watching YouTube videos or a few episodes of House of Cards on Netflix.

LG G4 Specifications
LG chose a 6-core Snapdragon 808 processor and 3GB of RAM to power the phone, while most of the competition in 2015 are releasing 8-core smartphones. This isn't a concern and shouldn't stop anyone from buying a G4, because it offers plenty of power and should deliver better battery life. A 6-core processor and 3GB of RAM is more than enough for any and all apps, graphic intensive games, and multi-tasking. This is one of the fastest LG phones to date and everything runs smooth.
LG G4 Specs

5.5-inch 2560 × 1440 Quantum-HD Display
6-core Snapdragon 808 processor with 3GB of RAM
32GB Internal storage (Micro-SD expansion)
16 Megapixel f1.8 camera with OIS+, laser auto-focus, 8 megapixel front camera
Android 5.1 Lollipop
WiFi, Bluetooth, NFC, 4G LTE, FM Radio Antenna, and Infrared laser for remote
3,000 mAh battery with wireless charging (carrier-specific)
Genuine leather in 6 different colors
The LG G4 has a 3,000 mAh battery, just like models in previous years, but we wish this year LG made it even bigger. Our LG G4 review unit doesn't support wireless charging but the G3 did last year, a feature more and more phones are coming equipped with lately. However, LG tells us some U.S. carriers may tweak the removable back design and offer wireless charging on their versions of the G4.
Thanks to some new technology the G4 battery charges much faster than older devices. It turbo charges from 0-50% at a very fast rate, then slowly throttles down to regular speeds to preserve the life of the battery. This is called Quick Charge 2.0, a selling point of most phones released in the past six months.
Software & Performance
The LG G4 comes out of the box running Google's latest Android 5.1 Lollipop software, and a newly redesign and more simplistic LG UX 4.0 interface. In past years the software has always been the weakest link of all LG phones. With the G4, that is no longer the case. Just like Samsung TouchWiz and HTC Sense, LG covers stock Android with its own tweaks, but ones that don't get in the way of the experience.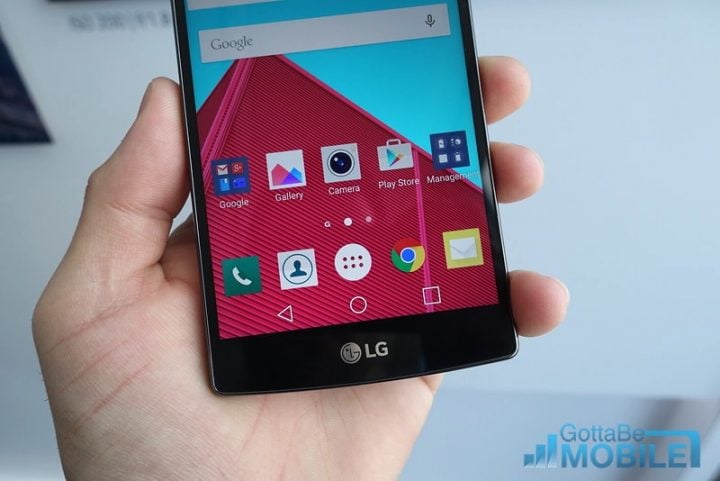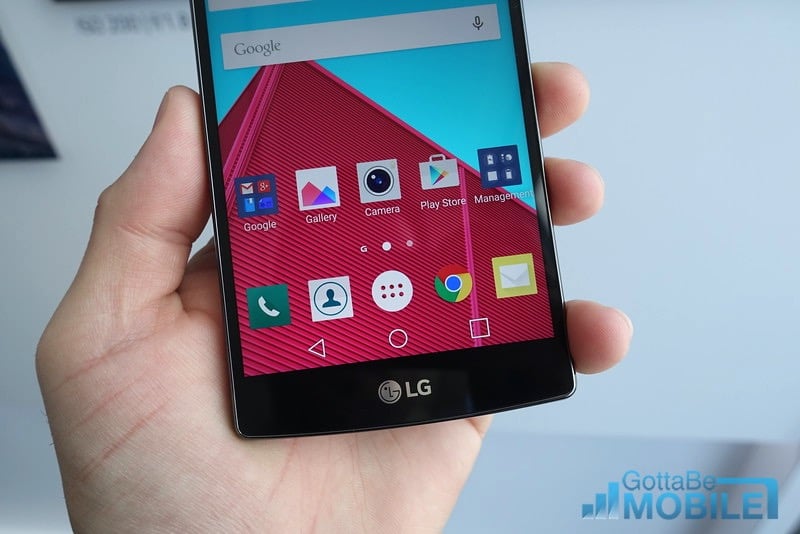 The G4 has fewer changes to stock Android when compared to older LG phones. With Android 5.1 Lollipop the software has a beautiful look and feel full of smooth and lively animations, something Google calls Material Design. There are quick settings in the notification bar, easy to understand options in the settings menu, improvements to what info apps show on the lockscreen, and much more.
With the phone on a quick swipe down reveals a revamped notification bar that displays all incoming notifications. It has instant access to things like enabling WiFi, turning on Bluetooth to pair to a car or speakers, a flashlight app, screen brightness controls and more. No more fumbling through settings like on an iPhone. LG made the notification bar very simple and clean, easy to understand, and user friendly.
Read: Android 5.0 vs Android 4.4 KitKat: What's New in Lollipop
Apps are neatly displayed right on the main screen, and making a folder with multiple apps inside is simple. Just long press an icon and drag it onto another, and it makes a folder that can instantly be named. This allows users to create one icon for all social apps, another for sports, and maybe one for productivity. Open the folder with a tap, rename it, and that's it. Again, everything is easy, and the interface is smooth and efficient.
There is also a dedicated Google Search bar right on the main screen, also known as Google Now. Tapping this enables searching the internet in seconds instead of opening the browser, or tap the microphone to use voice controls to ask for directions, make calls, set an alarm, and more.
Read: Fun Google Now Tips & Tricks
Starting with KitKat, LG's added its own customizations, including a flat modern user interface, a number of integrated apps and other enhancements. The LG G4's UI has a more mature appearance compared to Samsung's more convoluted affair. Overall, the G4 feels less cluttered than other Android interfaces and it is indeed simpler, as LG promised.
LG's software designers also added tons of features like the LG Health app, QRemote to control a TV or home theater and more. Some of the features are useful, and others aren't. One in particular is called Smart Notice. The widget rests on the home screen and comes to life when there's important information that users should act on. For example, the Smart Notice area alerts users when the battery drops down to 20% and offers to turn on power saving mode. If it sees rain in the forecast a popup will appear and suggest to dress warm or bring an umbrella. Smart Notice will also remind users to call back declined calls if that number received a text message shortly after the incoming call was dismissed.
LG also has Smart Cleaning and Smart Tips. Smart Cleaning will try to clean up and remove unused files or old apps, almost like old Windows computer defrags. It helps keep the device running fast and will free up space, but seems a bit too much and something most users won't need. Smart Tips shares info about how to use the phone, and after a day or two I quickly disabled this, but new owners will find it useful.
With the G4 a swipe to the left of the main screen brings up LG Smart Bulletin. An area that shows tons of information all in one area. Information from the LG Health app like steps and calories, the Remote control app, music, tips, cleaning suggestions and more. This is convenient and customizable, yet can be turned off, freeing up that screen for owners to add apps and widgets. Again, it's all about being smooth and simple, while also giving users multiple choices.
The font size and type can quickly be changed or increased in settings, the visual effect seen while swiping between homescreens can be altered, and the on-screen buttons on the bottom can be rearrange with more or less buttons to tailor the experience around each individual user. LG has a lot of little customizable things that will make the phone more personal for those who buy it. LG also offers dual-window mode, allowing two apps to run simultaneously for improved multitasking.
https://www.youtube.com/watch?v=EExBLxX14KE
All said and done, the software is excellent. The LG G4 is fast, fluid, smooth, and we've had no real slowdown or complaints with the software or daily performance. Personally I find the Smart Bulletin and Smart Notice features to be a bit pointless, but everyone has different wants and needs. For newcomers to Android they are super helpful, but seasoned Android owners will probably disable them. I've taken things even further and switched to the Google Now Launcher to take over my homescreen, but to each his own.
LG struck a good balance between software changes and stock Android with the G4 to deliver an improved yet still simple overall experience. LG UX 4.0 is the company's best yet, on LG's best phone, which makes this one well-rounded smartphone.
Battery Life
I have no real complaints about the G4 battery. While I'd like all phones to have a bigger battery and feature wireless charging by default, the 3,000 mAh removable battery is enough to get through an entire day. Then the Quick Charge technology mentioned above charges the phone extremely quick if the battery drains a lot during busy or heavy usage days. Thirty minutes on the charger takes the G4 from 15% remaining to over 50%, which is enough to finish any busy evening at work.
Today I've used the G4 for almost four hours, with around 58 minutes of actual screen-on time, and the phone has 88% remaining. It was moderate usage, but still, battery and standby life is pretty favorable with the G4.
One Saturday morning I unplugged the LG G4 at 8:30 AM and used Google Maps to navigate to an auction in Las Vegas about 30 minutes away from my house. I browsed the web for a while waiting for it to start, checked Facebook and Instagram, made a few phone calls, sent about 50 text messages, snapped some photos, played Clash of Clans and was on it quite often. By 3PM the phone was down to 61% with nearly 2 hours of screen-on time. That isn't the best, but more than enough for a full day at work or a busy Saturday afternoon. Then the drive home was all it took to get back to 100%, and I was good for the rest of the evening and well into Sunday morning.
All users have different needs or usage habits, so everyone will have different results. That said, I've had a relatively good experience when it comes to battery life. Better than the Galaxy S6, and better than the LG G3 from last year. But like all smartphones, we always want a little more. This isn't a G4 problem, this is a smartphone problem and the lack of innovation in battery technology as as whole.
Competition
When comparing the LG G4 to others from Samsung, HTC, Google and more, it's right up there with the best of them. It might not have a fingerprint scanner for enhanced security or a huge 6-inch screen, but it's all about what each buyer needs.
The LG G4 sits right in the middle of smaller flagships and big phablets, and delivers a top-tier premium experience across the board. It gives the iPhone 6, Galaxy S6, HTC One M9, and Google's Nexus 6 all a run for their money, if not beating most of them in at least a few categories. Here's a few comparisons for those weighing all of their options here in 2015.
LG G4 vs Galaxy S6: 5 Key Differences
LG G4 vs LG G2: Worth the Upgrade?
LG G4 vs Nexus 6: 5 Key Differences
Verdict
Making a phone that is excellent in almost every category, with no real "weakest link" in an excellent package that does everything well, is hard to do. With the LG G4, that's exactly what is delivered. It may not have the best in class brushed aluminum design of others, a fingerprint scanner like Samsung or Apple, or some other bells and whistles, but it does everything a smartphone should do, and makes it easy.
I've been enjoying the phone over the past few weeks and I'll be buying the light blue leather G4 if it's available from my AT&T.
In the end I feel like something is missing, but I'm not sure what it is. Maybe it's too similar to the LG G3 from last year in terms of the look, maybe I wanted front facing speakers and an aluminum design for durability. I'm not sure what it is, but I feel like LG could have done more. All of that said, as it stands right now, the LG G4 is still one of – if not – the best Android smartphones available today.
The LG G4 release date and availability in the United States is still up in the air, but the latest reports and rumors suggest the first week of June is the launch windows starting with T-Mobile, then AT&T, Verizon, Sprint and US Cellular. If any questions about the LG G4 were left unanswered, drop us a comment below.

As an Amazon Associate I earn from qualifying purchases.