LG G4 Rumors & Specs Emerge
This year the LG G3 was one of the best Android smartphones released thanks to some impressive specs and a big 5.5-inch HD screen. It was right up there with the Galaxy S5 and iPhone 6, but all good things eventually get replaced. Today new rumors and details have emerged about what could be the LG G4.
In 2013 LG changed things up from previous years and released the LG G3 earlier than each previous model by a few months, in an attempt to directly compete with the top Android manufacturers. Aimed at devices like the Samsung Galaxy S5, the HTC One M8, and the Moto X. All of this was likely an attempt to be first to market and gain some traction, and it appears they'll do the same in 2015 while also aiming at Samsung's Galaxy Note 4.
Read: Nexus 6 vs LG G3: Size Comparison
According to multiple unconfirmed reports and new rumors the LG G4 will be coming in early 2015, possibly earlier than the May unveiling of the LG G3, and even sport a stylus to directly compete with not only the Galaxy S6 and others, but the Galaxy Note 4 and anything that arrives from Apple. Read on for more details and rumors about the upcoming LG G4.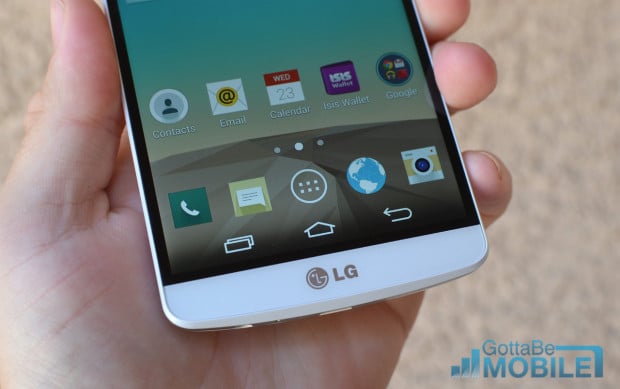 A few small rumors and reports have surfaced about the LG G4, but so far no solid details or potential information regarding what will be available with the smartphone has emerged, until now. And while we can't confirm the information being shared, it comes from somewhat reliable sources in the past and lines up nicely with how many expect smartphones to be in 2015.
Rumor has it the LG G4 will actually slightly lower the size of the display compared to the G3 this year, and instead the LG G4 will have a 5.3-inch QHD 2560 x 1440 screen. It's odd they'd lower the screen size, but the company is also planning thinner bezels and making the device even slimmer and more portable than ever. That while also delivering better specs, and a stylus to battle the Galaxy Note 4.
The details aren't all clear or remotely confirmed, but if what we're hearing is accurate here's what initial rumors are expecting from the next smartphone made by LG.
LG G4 Specs (Rumored)
5.3-inch QHD 2560 x 1440 Display
8-core Snapdragon 810 processor with 3GB of RAM (possibly 4GB)
32/64GB storage and micro-SD support
Built-in stylus
more
As you can see above the LG G4 sounds like an impressive device, but we still don't know the rest of the story. That's saying the above information is accurate in the first place. The LG G3 had an impressive 13 megapixel camera with optical image stabilization, rear buttons for ease of use, slim bezels, and a huge battery for all-day usage.
Most likely we can expect an increase in the camera to 16 or 20 megapixels, and improved design possibly with more durable materials over the usual LG plastics, and possibly even a bigger battery. That being said, if the screen and physical size is going to be smaller while also packing a stylus, it's possible we'll see the same 3,000 mAh battery as the LG G3 released earlier this year.
Read: LG G3 Review
Earlier this month LG filed for a trademark to name a new device the LG G Pen, which could be a different device entirely, but certainly lends credence to the idea that LG will be releasing some flagship smartphones in 2015 with a stylus built in, just like Samsung's popular Galaxy Note series.
It's too early to tell what we can expect from the LG G4, but most likely the company will look to take on the Galaxy S6, HTC One M9, Moto X3, and anything else from the competition. In recent years LG has bumped up the release date with each new smartphone, so we could be looking forward to an announcement and release date before May of 2015. Stay tuned for more details.

As an Amazon Associate I earn from qualifying purchases.