The impressively powerful LG G4 smartphone has a ton of features, and owners can master their new phone with our list of helpful LG G4 tips and tricks, helping users get the most out of the device. The LG G4 tips and tricks outlined below and shown off on video will teach you all you need to know about LG's new smartphone.
This guide will show LG G4 owners everything from software tweaks and customization, lockscreen shortcuts, little features you probably didn't know existed, and other cool things that will help you get the most value for your money.
Read: LG G4 Review
Buyers don't need to read the manual or spend weeks learning everything about the LG G4, because below we detail all of the most helpful features, and show you all the big or little tips and tricks this phone has to offer. Many of these were carried over from the LG G3 last year, but all of them are worth knowing so when owners pull the LG G4 out of the box they'll know everything it can do.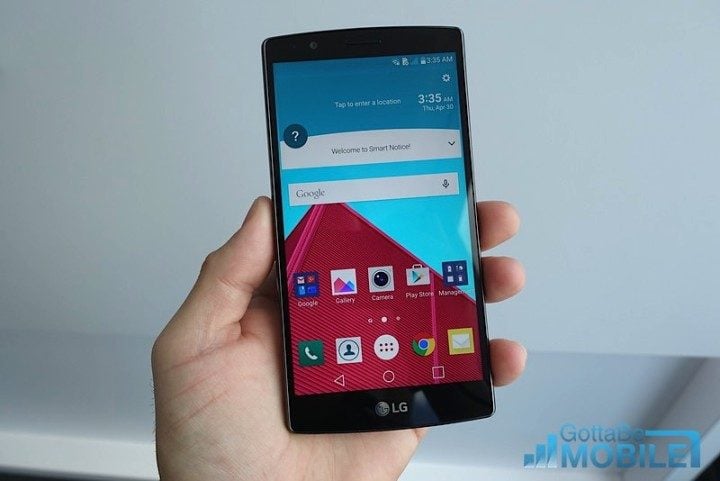 Buyers may see some of these tips in ads, but we'll actually show you how to use and find all of them. Many of these LG G4 tips and tricks are buried in the settings and hidden away behind another tap that most users will miss, or simply don't know even were an option to begin with.
You won't need to buy apps or accessories, download 3rd party software, root the LG G4, or flash custom ROMs, this is all available right out of the box the moment you put in the battery and turn on this smartphone.
Read: Top 10 LG G4 Settings to Change
We are using the international LG G4 given to select press as a review unit, and some of these features may or may not be available on the device from any of the five major US carriers offering the LG G4. That said, most should be included, so lets get started.
30+ LG G4 Tips & Tricks
As we said above some of these features were available on the LG G3 last year, so not everything will be new to everyone. However, the vast majority of smartphone owners will be able to take advantage of tons of the things we'll be showing you here today.
Our video covers everything from double tap to wake the screen, hide notification information on the lockscreen for privacy, changing animation effects, how to take a screenshot, changing the buttons on the bottom of the screen, customizing the quick settings in the notification bar, quickly launching the camera, adding battery percentage to the notification bar, using the keyboard with one hand, changing the default text messaging app and much much more. Take a peek at the video below.
Use the LG G4 as a WiFi Hotspot
The LG G4 can act as portable internet connection that can be shared to a laptop or tablet. Letting owners connect to the internet anywhere there is a cell phone signal. This is called a mobile hotspot, WiFi hotspot, tethering and more.
Read: How to Use the LG G4 Mobile Hotspot Feature
Using your G4 as an internet connection just like you sign into WiFi at home, Starbucks, or at a hotel is very simple. Head into settings > tethering > and select WiFi Hotspot. You'll want to create a name and password so it's easy to recognize yet secure.
Your tablet or laptop can now simply search for a WiFi connection just like you always do, find the LG G4 hotspot with the name just created, enter the password and that's all there is to it. You're now using its internet connection on another device. If you don't have an unlimited data plan be careful, as tethering can quickly eat through an entire one month data plan in less than one day.
Change The Default Text Message App
There are many great Android text app alternatives that can deliver a better texting experience than the carrier or built in LG G4 messaging app or even Google Hangouts.
Download the app you want to use and open it. This may prompt the G4 to let you set it as default. If not you need to go to the Settings.
Go to Settings > Device > Default message app > Tap on the app you want to use.
That's all you need to do to change the default message app on the LG G4.
Turn Off the LG G4 Notification LED
On the front of the LG G4 there is an RGB LED notification light that will pulse or blink when you miss a call, have a text message waiting to be read, incoming emails and more. This is nice and third party apps will let you make each notification type a different color for absolute control, but many just want to disable it.
If you don't want this bright blinking LED bothering you all the time, or at night, disable it completely. Go into Settings > Sound & notifications > and turn it off as pictured above. Alternatively you can set it to only blink with something important, like a missed call. Just tap the setting and you'll be able to select what apps use the notification LED.
Run Two Apps at Once
Something we've seen from LG and Samsung in the past is running two apps simultaneously. This is called Dual Window Mode, and works great.
On the bottom of the G4 display are three buttons out of the box. A circle for home, a back arrow, and a square which is the "recent apps" or multitasking button. This is what you want to press. Tapping the square shows all your currently open and running apps. Once you tap on the square and see all your recent apps the bottom right is a button that says "Dual Window" and just select this. Or watch the video below.
Once selected you'll see a window pop-up with arrows pointing up or down, instructing you to long press and drag the icon of the app of choice to the top or bottom of the screen. Slide Gmail to the top and another app of choice to the bottom. Any app can go on top or bottom, so this all varies based on the users needs. Go ahead and slide one app to the top and another app to the bottom and you're all done. Now both apps are running at the same time. Pretty neat right?
Camera Quick Launch
In this video, LG shows off the G4 "Quick Camera" setting. This useful feature allows the G4 to go from being locked to taking a photo in less than one second. With a quick double tap of the volume down button the phone turns on and launches the camera in 0.07 seconds, then takes a photo. It works amazingly well and will ensure users never miss a quick photo opportunity.
After the 16-megapixel camera launches in less than a second, the laser auto focus allows it to get focused on any object or person extraordinarily quickly. The f1.8 aperture lens delivers excellent photos even indoors or without good lighting conditions. Below are camera comparison photos and some sample images taken from the Galaxy S6 and the LG G4, for those considering the two.
Read: LG G4 vs. Galaxy S6 Camera Comparison & Samples
Hide Info On Lockscreen
When you get a message, email, or notification Android shows a small preview on the lockscreen if you have a lockscreen security measure enabled. While this is nice, some users may not want sensitive information to be shown. While settings up a PIN, pattern, or Knockcode you'll be prompted to choose what type of information it shows. I've disabled some, but not all.
As you can see above once I enabled a PIN for security it let me choose what is shown on the lockscreen. Choose whatever works best for you.
Smart Lock
With Android 5.1 Google added a new feature called Smart Lock, which basically only enables lockscreen security like your KnockCODE or PIN to be used when you actually need it. There's no need for a PIN code or lockscreen security if you're home, in your car, or somewhere you trust.
Smart Lock disables the lockscreen security if the LG G4 notices the user is home based on location, connected to a Bluetooth device like a smartwatch, speaker, or even a car stereo.
This is extremely useful as you won't have to put in that pincode or password to use the LG G4 at home, but once you leave a trusted area the security is enabled, giving owners peace of mind. Head into settings > Lock screen > Smart lock > and set up trusted places or devices as you see fit. You'll thank us later.
Power Saving Mode
A feature becoming more common is power savings mode. This is where the phone recognizes the battery is under a certain percentage and will disable certain features to prolong battery life for when you truly need it.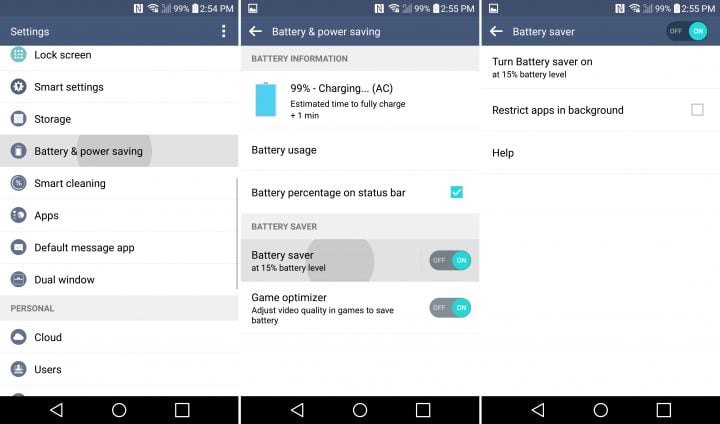 Once the phone hit 15% the screen will dim, background data will turn off so you can't get online, receive emails, or other battery intensive tasks. This aims to save that last 15% for texts or phone calls in case of emergencies, or to just get a few more hours out of the last bit of battery left. This is very helpful, and something you'll want to turn on in settings.
Find a Lost LG G4
If your LG G4 is lost at home or a friends house the Android Device Manager will let you crank the volume to 100% and ring at full blast to help you find it, or wipe out all the data and lock the screen if you fear it has been lost or stolen. These are essential to protect your information, so lets get started.
To activate your new G4 head to the Google Play Store and download the official Android Device Manager application. Not only will this application explain how the ADM works, let you setup the device you've just installed it on, but you can also manage and access other devices right from this app on a mobile device. Meaning you can use your smartphone or a tablet to track, find, lock, or wipe your smartphone all with the Android Device Manager. It's quite powerful.
Users can also get started and all set up by going to www.google.com/android/devicemanager on your computer. This will instantly launch the ADM service which will let you scroll through your list of devices. Here is where you can name your LG G4, find its location, or wipe all data as mentioned above. Scroll through the list if you have more than one device, and let the ADM do all the work.
Using the ADM on another device, or from a PC you'll navigate to the Android Device Manager page and track your phone. In my case above I'm looking for the Google Play Edition Galaxy S4, but you'll be looking for the LG G4 (or any Android device for that matter) so simply find it from the dropdown. The Android Device Manager uses GPS to track the location, often times down to a few feet, and you're all set.
From here the GPS locate button will track the lost or stolen device for you. Google warns users to never try and retrieve a lost device themselves, and to contact the police. We'd have to agree. Bringing an officer of the law with you to try and retrieve a stolen smartphone would be a good move.
A new addition to this recently released by Google is the option to simply type "Find My Phone" into Google Chrome on a tablet or computer, and it will make you sign into your Gmail and then track any device you'd like. This can be the LG G4, or any Android smartphone or tablet for that matter. This should work even if you never setup the Android Device Manager on your LG G4.
Quick Charging
Last but not least is something called Quick Charging. We can't show you this like we did the other 25+ tips and tricks in the video above, so instead we'll just explain it.
Thanks to some new technology the G4 battery charges much faster than older devices. It turbo charges from 0-50% at a very fast rate, then slowly throttles down to regular speeds to preserve the life of the battery. This is called Quick Charge 2.0, a selling point of most phones released in the past six months. When the phone is under 15% it will charge extremely quick, usually giving users 6-8 hours of use after just 20-30 minutes on the charger.
There are so many fancy features, options and customization on this phone that users will truly need to use it for a while to fully enjoy all it has to offer. Stay tuned for plenty of additional coverage, information, how to guides and more on the LG G4.