LG G4 vs Galaxy S6: Camera Comparison & Samples
The brand new LG G4 and Samsung Galaxy S6 both promise to be some of the best smartphones released in 2015, and also look to deliver the best smartphone camera around. Both companies made a huge effort to offer the best camera experience possible, and have two of the most capable and fastest lenses around. Here we're sharing some sample photos taken by hand with both devices.
Earlier this week LG took the stage in New York City to officially announce and unveil the all-new LG G4. The smartphone features an improved 5.5-inch Quad HD display, a powerful 6-core processor, and a new genuine leather hand-stitched rear design. However, the highlight of the show was the 16 megapixel F1.8 camera that aims to take down the Galaxy S6 and even the iPhone 6 when it comes to camera performance.
Read: LG G4 Camera Blows Away Galaxy S6 & iPhone 6
The link above shows just how impressive the new LG G4 camera is, but were all taken in a controlled environment setup by LG to highlight its cameras features, rather than the competitions. And while it shows some awesome features of the G4 camera, the images below are a better representation of real-world usage by hand will look like.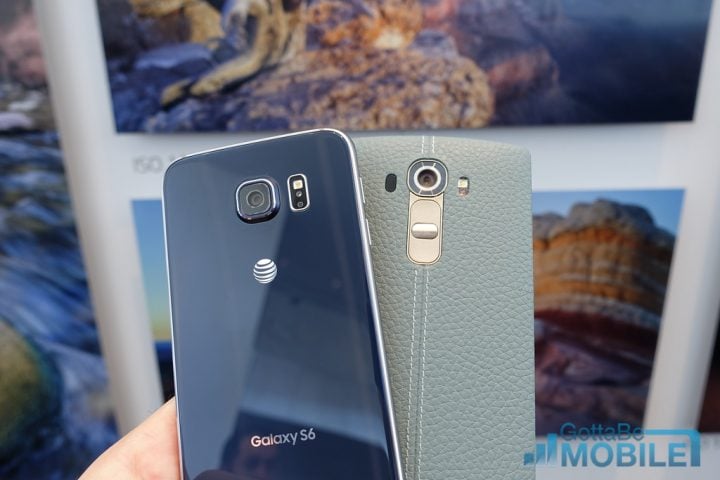 Both the Samsung Galaxy S6 and LG G4 represent some of the latest cutting edge technology when it comes to mobile photography, so naturally we wanted to test out both and see which is better. And while we tried our best to take each photo in the same situation, some may slightly differ.
These phones both give you plenty of potential to work with when capturing the moments that matter to you. Naturally we shot a few different photos in different lighting to see how they handled the job, and it's up to you to decide what looks best. There were moments the Galaxy S6 shined, and others where the color and lighting just didn't look nearly as natural as what was captured on the LG G4.
As a reminder, both phones have a 16 megapixel camera with optical image stabilization. The Galaxy S6 has an F1.9 lens that promises to be extremely quick, and handle low light situations better than any phone to date. The the G4 one-upped Samsung by releasing the LG G4 with a 16 megapixel camera with an F1.8 lens, optical image stabilization, laser auto-focus, and a sensor that's 40% bigger than what came with the LG G3. They both have tons of potential, so lets take a look.
Each photo you see below will be taken with the new LG G4 on the left, and the Galaxy S6 images are on the right.
Click to enlarge & scroll through

Here are some photos of a fountain in New York City. The first is a regular shot from above, and the second is zoomed in using both cameras stock settings. The second image isn't a crop, we've zoomed in to see how well it handles zooming in and working with image stabilization. Everyone's eyes are different, but I see more green in the Galaxy S6 images.
One thing we found rather interesting was while trying to snap a photo in a poorly lit Tiffany Co store in NYC. I pulled out both phones, had stock settings turned out just as they are out of the box, and tried to take a photo of some Tiffany Jewelry. For whatever reason the Galaxy S6 struggled with the low light, glass, and additional lighting, and we ended up with a very unnatural yellow tint to the image.
Below is the LG G4 on the left, and the Galaxy S6 on the right. What we saw in person is shown by the LG G4, while the Galaxy S6 at multiple angles gave us this odd and unnatural yellow glare. I tried multiple angles to get the Galaxy S6 to show a more natural while light, but for whatever reason failed to capture it.
There is plenty to see in New York City. From oddly colored bricks, the Wall Street Stock Exchange, and much much more. Both phones take amazing photos, and have quick launch options so you'll never miss a quick photo moment, but here's what we captured. Again. G4 on the left, Galaxy S6 on the right.
Here while snapping a photo down the road the LG G4 handled the incoming light a little better, while the Galaxy S6 got a little washed out trying to take in all the details. The bricks are similar, with the G4 having a darker result, and the WTC memorial fountain was so amazing I was too busy taking in the moment to capture more than a photo or two. That said, both photos turned out excellent of the fountain.
One area where I don't have a sample but can give my opinion, is with Panorama mode. I took a panorama shot of the WTC Memorial Pools with the G4, and it turned out absolutely awful. The lines didn't match up, it was fuzzy at parts, and was just a mess. The Galaxy S6 panorama mode (and most neat fancy settings) are better overall. The Galaxy S6 makes things easy. The G4 does too, but also has more advanced options in Pro mode for ISO control (more than the S6) shutter speed, long exposures, and more. Something the Galaxy S6 can't do.
Sadly my trip to NYC was coming to a close, and I quickly pulled out both phones and snapped a photo at the airport from the same spot. This was in the shade covered by the overhead structure, with plenty of natural light. The LG G4 manages to do a better job here too, letting more light in to see more detail in the cars, building, and the sky has a natural blue color. We'll let you be the judge.
All said and done this is a mixed bag of results. We tried toggling the always-on HDR auto mode, taking photos from different angles, and even zooming in, and both phones perform rather excellent. At times the Galaxy S6 had better color reproduction, while other moments the LG G4 is the clear winner.
Both of these phones have extremely fast, accurate, and stunning 16 megapixel cameras with optical image stabilization and some of the best low-light performance of any phone I've ever used, and the Nexus 6 in my back pocket was no match, so I didn't even bother trying to compare. From our initial impressions the LG G4 and Galaxy S6 have two of the best smartphone cameras around, and either one will make any owner happy. The LG G4 may have more advanced controls and options, but the Galaxy S6 did a few things better, has some great built-in effects and filters, and more things like slow motion, fast shot, wide-angle and selective focus.
The LG G4 camera interface as a whole isn't as smooth as the Galaxy S6, and lagged at times when messing with settings or options, while the Galaxy S6 is as fast as ever. It's hard to say which is better, but both are excellent, that's for sure. Video samples and even more coverage is coming soon, so stay tuned. Below is a dump of all the photos in one area.