LG G4 Camera Blows Away Galaxy S6 & iPhone 6
The brand new LG G4 was just announced this morning, and LG is taking direct aim at Apple and Samsung with its new camera inside the smartphone. Featuring an improved 16 megapixel F1.8 lens and the most advanced smartphone camera controls around, like shutter speed priority, makes this one capable camera. Here we compare it to the Galaxy S6 and iPhone 6 in a few areas that many will be excited about.
One of many areas where the new LG G4 is better than the G3 last year is the camera, and it isn't just better, it improved by leaps and bounds. They've improved the lens to a 16 megapixel F1.8 shooter, improved the sensor by 40%, and added enough controls to make this a camera that could almost replace your DSLR. Below we show you the new quick launch feature, and the shutter speed options.
Read: LG G4 Release: 6 Things You Need to Know
The F1.8 aperture means you'll get fast photos that still look great even in low light situations, all while getting as much detail as possible. This means the new camera launches incredibly fast, takes great photos no matter the situation, and can even do long exposure images at night for some truly unique photography that can't be matched by the Galaxy S6 or the new iPhone. Lets take a look.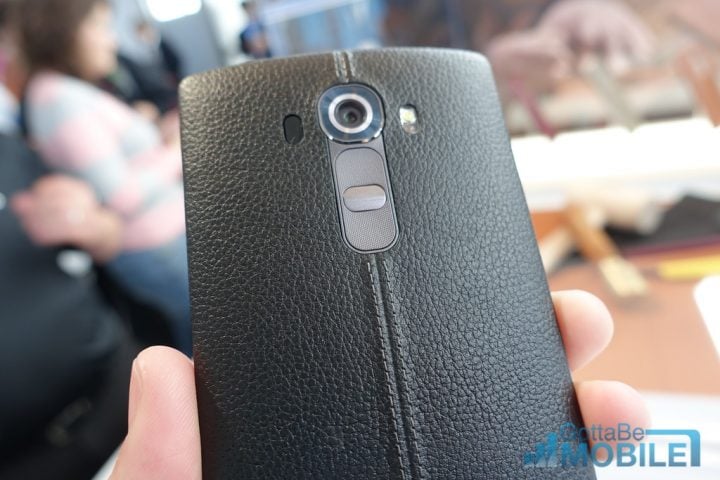 The brand new LG G4 comes with a capable camera, a powerful 6-core processor, and is wrapped in a new hand-make genuine leather design coming in six different color options. Add all of that to the same impressive device from previous years, the latest Android 5.1 Lollipop and more, and this should be a phone on all buyers radar.
One area in particular that LG is making a lot of fuss about — and with good reason — is the new camera around back. While the front camera is great at 8 megapixels, it's the 16 megapixel F1.8 aperture rear camera with optical image stabilization, laser auto focus, and advanced controls that completes this deal. Samsung's Galaxy S6 camera launches extremely quick by double tapping the home button, and LG has something similar highlighted in our video below.
As you saw, the LG G4 can instantly launch the camera AND snap a photo all in less than one second. It's actually done in 0.07 seconds to be accurate. This works amazingly well, but occasionally it will need to focus first, making that "under one second" claim invalid. In our tests though, it worked almost every time and was faster than the Galaxy S6. Now you'll never miss that precious moment.
But wait, that isn't all this camera can do. Along with a faster lens and bigger sensor, advanced OIS and laser auto focus, is the actual settings and controls. LG lets you completely take control of the camera unlike any Android smartphone around. In the video below, we've cranked up the ISO to let more light in during dark situations like night, added a 8-second shutter speed (something other Android's and the iPhone 6 cant do) and captured an image of a moving device. The end result is a long exposure image with stunning colors, and exceptional detail. You can see the train railing, details are crisp, and the lights are really need. You need to see (and use it) to understand, but the hands-on sample below will give you a better idea of what to expect.
Both the iPhone 6 and Galaxy S6 simply capture the moving image, and with the dark environment the photos turn out terrible. And while this is set up by LG and a few things could make both devices take a better image, shooting at night with a moving object is no easy task. However, the LG G4 advanced camera and DSLR-type controls makes getting great images a breeze. We were rather impressed with this one, and can't wait to try it out ourselves.
And for good measure, we've gone ahead and snapped a few extremely quick photos with the LG G4 using stock out of the box settings, with no user input needed, and below are a few samples for those wanting to see just how good this camera can be.
The LG G4 comes with a 5.5-inch Quad-HD display, a great new camera, a large 3,000 mAh battery and a micro-SD slot to expand storage, and is running Android 5.1 Lollipop out of the box. It has a lot to offer, and should start hitting carriers in late May or early June. Stay tuned for more details, hands-on, videos, comparisons and more.