LG G4 vs HTC One M9: What We Know So Far
Last year the LG G3 shocked many buyers will its sleek design and slim bezels around the large 5.5-inch HD display, but this year the company is promising to deliver a similar device that's better in every way imaginable, the LG G4. And it will need to be if it wants to take on devices like the new Galaxy S6 or the impressive HTC One M9.
With the LG G4 launch event near, set to be announced on April 28th, here we want to take a look at how LG's latest phone stacks up to the HTC One M9 based on what we know so far, leaks, rumors, and some of the details LG has confirmed about the LG G4 ahead of the release.
Read: LG G4 Release: Everything We Know So Far
The Galaxy S6 and HTC One M9 are both readily available and two excellent smartphones, but the LG G4 is shaping up to be an excellent alternative. It will have a lot to offer, and have to compete with both of these devices all while being released over a month later, if not more. Read on for more details about the LG G4, and how it'll compare to HTC's all aluminum smartphone.
The past few months all the focus has been on the Galaxy S6 and HTC One M9, while LG has quietly been hiding in the background building an impressive phone that should potential steal some of HTC's sales, even with a late release date. The launch is set for April 28th, and we're hearing a release will follow in May, and these will be two of the best Android phones available in 2015.
When it comes to which smartphone is actually "better" between the HTC One M9 or the LG G4 there are a lot of things that come into play. User preference, software or hardware needs, and of course the size of the device are all things each user will decide on. While we don't have all the answers, nor know what every user needs or wants, below are a five or so key features or differences that separate the two and may help consumers make the right choice.
Display
Many consumers are choosing a smartphone based on screen size. One example of that being a leading factor is shown by Apple finally moving the iPhone like to a bigger 4.7-inch display with the iPhone 6. This year both HTC and LG kept the screen the same size as last year, but improved them overall.
Read: HTC One M9 vs LG G3: Worth the Upgrade
HTC stuck to the same 5-inch 1920 x 1080p HD display, one they think looks great yet will keep battery life in check rather than increasing the resolution. It's a wonderful display, but LG should have them beat. Last year the G3 had a 2560 x 1440 Quad HD screen, but it was washed out, had poor viewing angles, and wasn't the best. But that's set to change in 2015.
According to an LG press release this new 5.5-inch Quad-HD display for the G4 achieved a "quantum jump" in color gamut and brightness. They're calling it a "Quantum HD display". The new LG G4 screen will be brighter, feature extremely rich and stunning colors. All while being more efficient and easier on battery life. Not to mention be thinner, and deliver improved touch function and precision.
It has a new advanced In-Cell Touch technology that allows it to react to touches, even with water on it. Finally, it's expected to show even more accurate colors over last year's QHD panel in the G3 by offering a 120% color gamut, 50% increase in contrast, and 30% jump in brightness. It may not be as good as the Galaxy S6, but should certainly offer more than the HTC One M9.
Read: LG G3 Review
Don't get us wrong, the HTC One M9 and its 5-inch screen looks wonderful, but if you want something bigger that promises some of the best colors and saturation around, the G4 is something to keep an eye on.
Design
LG and HTC couldn't be any different when it comes to the design approach. LG has something that works great with the same overall look and feel as the previous generation, which is buttons being on the back for a sleek design, and lightweight (yet durable) cheap plastic for its smartphone build materials. They've used plastic for years, although the LG G3 actually looks like it's made from aluminum. It has a brushed aluminum look to the plastic housing.
Read: HTC One M9 Review
HTC on the other hand, has continued to deliver some of the best looking and most premium feeling smartphones on the market. The original HTC One was wrapped in a single aluminum shell, and that's continued for two years and is the same essential design in the new One M9. While it barely looks different than its predecessors, it's a big upgrade and one of the most powerful devices around. And now it has a nice two-tone aluminum finish as shown below. That said, the new LG G4 looks to introduce real genuine leather to the back of the G4, something that may sway HTC One buyers over to LG's side.
No one will argue which looks better. The HTC One M9 has brushed aluminum in a few different colors, the best speakers of any smartphone, ones that happen to be front facing (and we're not sure why others haven't offered the same) and overall just feel like a premium device. And with the new One M9 they have a two-tone color option, still in aluminum, that looks wonderful. Below is an image of the Verizon HTC One M9 in aluminum gold and silver.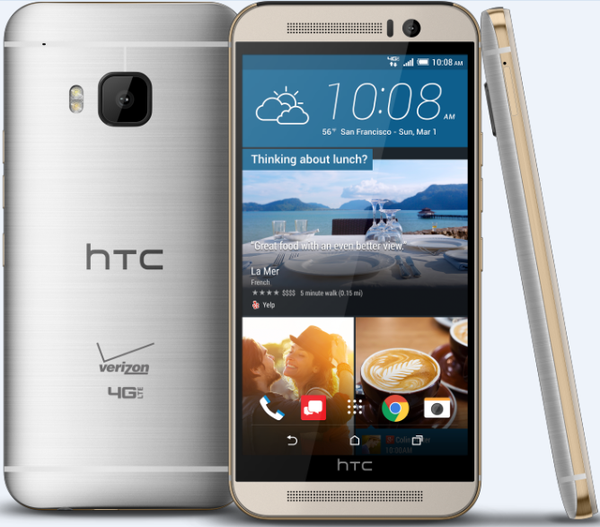 At the same time, the LG G4 is shaping up to be one of the best phones in 2015, and the new leather design should help out with that bezel-free 5.5-inch display.. Looks aren't everything, but it plays a role in many users purchase decision. The LG G4 is rumored to have three colors in plastic, and six all-new handmade genuine leather back options as well.
While we were huge fans of the HTC One M8 and it received an Editors' Choice award, the new HTC One M9 is even better. The LG G4 should be slightly wider, extremely lightweight, and nearly the same height yet have a much bigger and better overall display. The entire design of the G3 was to offer a sleek device that isn't too large, yet pack a massive and beautiful screen inside, and LG is doing that and more with the G4 in 2015.
If the screen size doesn't matter too much and you'd rather have a premium device, the HTC One M9 should be perfect. For anything else, consider the LG G4.
Specs
While specs aren't as important as having a device that's fast, fluid, and will work for years to come, it's still something many consider while making a purchase. Below are the hard numbers for those interested, but it all boils down to these devices being nearly the same under the hood with a few small changes, and software will play the biggest role in how each device performs.
HTC One M9 Specs
5-inch 1920 x 1080p HD display
8-Core Snapdragon 810 with 3GB of RAM (4×4)
32GB internal storage (Micro-SD expansion)
20.7 Megapixel rear camera, and 4 Ultrapixel front shooter
Android 5.0.2 Lollipop and HTC Sense 7
WiFi, Bluetooth, NFC, 4G LTE, FM Radio Antenna, and Infrared laser for remote
Brushed Aluminum design, new two-tone color options
Dual front facing HTC Boomsound Speakers
Qualcomm Quick Charge 2.0 Technology
2,840 mAh battery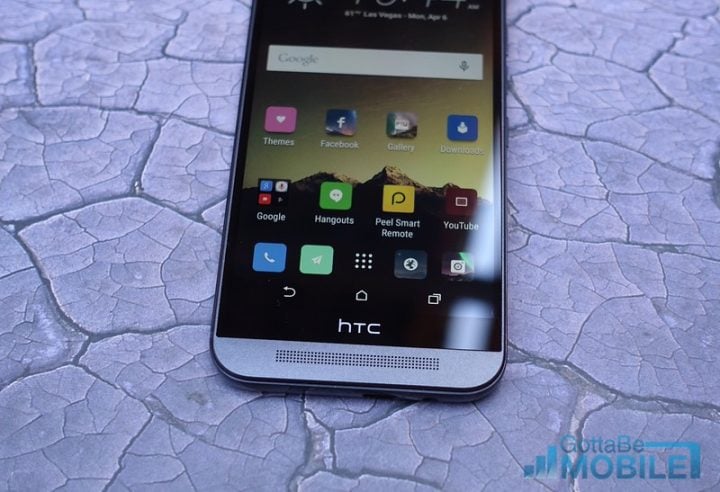 LG G4 Specs (Rumored and some Confirmed)

5.5-inch 2560 × 1440 Quantum-HD display
6-core Snapdragon 808 or 8-core 810 processor with 3GB of RAM
32GB internal storage (Micro-SD expansion)
16 Megapixel f1.8 camera with OIS+, laser auto-focus, 8 megapixel front camera
Android 5.0 Lollipop with a new LG UI
WiFi, Bluetooth, NFC, 4G LTE, FM Radio Antenna, and Infrared laser for remote
Reportedly will have wireless charging
Three colors in plastic, six all-new Genuine leather back choices
3,000 mAh battery (removable)
As you can see from the breakdown above, these devices are extremely similar. Essentially buyers main concerns should be on the the camera, screen size, or simply which manufacturer has the best software and design. And those are in no particular order. Any one of those could and can be the deciding factor. The G4 may not be as premium, even with the leather, but we'll have to wait and see.
Camera
In 2015 the HTC One M9 finally delivered a capable camera coming in with a 20.7 megapixel lens. And while our review left us a bit unsatisfied, it should be one of the better options around. That said, LG kicked things up a notch with the G4, and are aiming for the Galaxy S6 and iPhone in terms of camera performance. The 16 megapixel lens features a fast F1.8 aperture rating, image stabilization, and some of the best software tweaks yet. It takes stunning images, and will give any device a run for its money.
https://www.youtube.com/watch?v=yZdWPqpVbEk
Most phones are over 2.0 with the f-stop, which is the speed of the sensor and how well it captures details and light. Meaning both Samsung and LG are leading the pack here. Today LG even released a bunch of G4 sample photos taken with the camera, which are obviously professional and under the best circumstances possible, so this doesn't represent real-world usage, but are impressive nonetheless.
The G4 has the laser auto focus and this is the third year they've delivered optical image stabilization, while HTC's One M9 does have a 20.7 MP camera, there's no OIS. The Galaxy S6 and LG G4 should have the best cameras in 2015, but HTC's option is pretty impressive and recently received an update to make it even better. We'll have to test LG's camera come April 28th.
Price
Last but certainly not least is the price. The HTC One M9 is a brand new flagship phone made of aluminum, and will probably cost more than the G4. However, both will likely be the same $199 with a 2-year contract, making this choice even harder for potential buyers.
Both come in 32GB of storage with a micro-SD slot, so there's only one option to buy. Unless LG offers a premium leather-made option at a slightly higher cost. We're not exactly sure what they have planned for the leather yet, so it may actually cost more than an HTC One M9 from carriers.
The HTC One M9 is $199 with a new 2-year contract, and $649 from most carriers outright. Not to mention monthly payment options as mentioned above ranging from $25-$28 per month. Expect the same monthly payments on the LG G4, but hopefully a lower outright price.
Final Thoughts
In closing, the only major advantage HTC has is the One M9 available now from carriers around the globe, while the LG G4 hasn't even been announced. The launch date is April 28th, and we're hearing a very late May release date, one that may end up being pushed into June.
Potential buyers will need to decide if the HTC One M9 is right for them, or if they'd like to wait a month or two for the LG G4 to be released from all major carriers in the US, and around the globe. The Galaxy S6 and Edge are another viable option, something that LG is aware of, so expect big things from the G4 when it gets unveiled next week.