LG G4 vs LG G2: Worth the Upgrade?
Now that the brand new LG G4 has been announced and is coming soon, many smartphone owners are looking at their potential upgrade options between it, the Galaxy S6, HTC One M9, and many other smartphones available today. Those with the aging LG G2 are approaching the 2-year upgrade point, and below we'll compare it to the new LG G4 for those considering making the switch.
Last week after months of rumors and speculation LG took the stage in NYC and finally announced the all-new and improved LG G4. The overall design and look didn't change much from the G3 in 2014, but it's a completely revamped phone with tons to offer potential buyers, and will certainly be a welcomed upgrade for those with a G2, and here's why.
Read: LG G4 Hands-On & First Impressions
The LG G2 was the companies first major smartphone released aimed at taking on others like Samsung, and was the first phone from LG with the buttons on the back. Since then, it has been a staple of their design and a selling point, among other things, and all that and much more is coming soon in the G4.
Back in August of 2013 the LG G2 was announced, then released a little over a month later in late September. Since then, each new LG G smartphones has arrived earlier than the model before it, and now the G4 looks to be their fastest release yet, coming in June vs the mid-July release date of the LG G3. The company hopes an earlier release and some stunning new specs will steal buyers away from Samsung, and those with an LG G2 will want to consider the latest G4 before deciding to switch manufacturers.
When it comes to which smartphone is actually "better" between the G2 or the LG G4 there are a lot of things that come into play. That said, of course the newer option should be better. User preference is key, and since they're both LG you know what you're getting software wise. Not to mention one is a few years newer than the other. While we don't have all the answers, nor know what every user needs or wants, below are a five or so key features or differences that separate the two and may help consumers decide if the latest G4 is worth upgrading to.
Display
Many consumers choose a smartphone based off of screen size, and price. One of the biggest differences between the G2 and the G4 is the screen size, and resolution, although it's a better device across the board.
Read: LG G4 vs Galaxy S6: 5 Key Differences
In 2013 the LG G2 came with a decently large 5.2-inch 1920 x 1080p HD screen which was good on paper, but not in real life. It was washed out, had poor viewing angles, and wasn't the best in terms of colors. Each new phone has been better, and the G4 is their best yet.
According to an LG press release this new 5.5-inch Quad-HD display for the G4 achieved a "quantum jump" in color gamut and brightness. They're calling it a "Quantum HD display". The new LG G4 screen will be brighter, feature extremely rich and stunning colors. All while being more efficient and easier on battery life. Not to mention be thinner, and deliver improved touch function and precision.
It has a new advanced In-Cell Touch technology that allows it to react to touches, even with water on it. Finally, it's expected to show even more accurate colors over last year's QHD panel in the G3 by offering a 120% color gamut, 50% increase in contrast, and 30% jump in brightness. Which means it's that much better than the even older LG G2. It may not be as good as the Galaxy S6, but will surely offer a better experience than the LG G3 last year, and most devices released over the past year or two as well.
Read: LG G2 Review
The brand new LG G4 comes with a screen that is bigger, higher resolution, delivers more brightness and better colors, all in nearly the same size package due to slim bezels and a sleek design. If you wanted a bigger or better screen but the same LG experience you've enjoyed, the G4 is your best bet. Our hands-on above talks more about the display, and it's one of the best of any smartphone released in 2015.
Design
When it comes to the design, LG focuses on a few areas. Those being the buttons on the back, and having a huge bright HD display front and center for users. Just like the G2 the G4 has the buttons on the back, sleek bezels making for a huge screen in a small pocketable smartphone, but is all around better than the G4. They've introduced a new ceramic infused plastic design in three colors, and a brand new genuine leather back option that you'll need to try to fully enjoy and be convinced. It may not look wonderful, but it's great in the hand and a joy to use. Below is the G2, then the G4.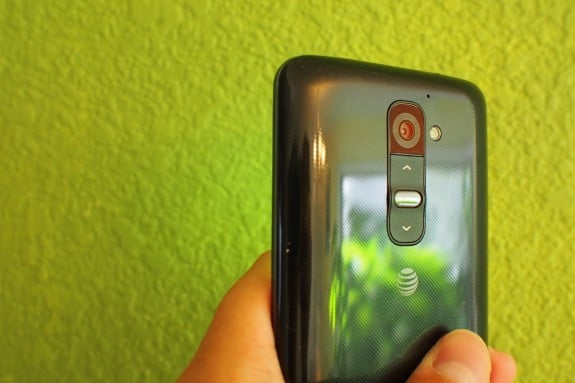 As you can see above the LG G2 has a rather unique design. The rear mounted buttons weren't flush and had quite the hump, which was a complaint of many. That aside it had a great 13 megapixel camera, single LED flash, and tons of other impressive design cues. However, it felt very cheap and plastic. Below is the new G4, and you'll instantly notice the many differences.
The G4 has a flush design for a more ergonomic grip, a beautiful leather design in six options and three textures, as well as an aluminum-looking plastic option in three colors as well. Overall it's a huge change, a welcomed change, and a much better device. If you've enjoyed the LG G2, look no further than the G4. It's a compelling device with plenty to offer.
Overall the LG G4 feels better than its predecessor in every way, and even more so when compared to the aging G2. It's more durable, comfortable, and has a more premium look and feel. There is a slight curve to the display to keep it off a table while face down, something that also improves viewing angles and colors, and overall it's just excellent. The general design is the same as the G2, but the small improvements make a big difference. That said, it's the info below that will make you want to switch.
Camera
The LG G2 had a very capable camera back in 2013 coming in with a 13 megapixel lens and optical image stabilization, one of the first in the Android smartphone space. New for the LG G4 though is a much improved 16 megapixel f1.8 camera lens with optical image stabilization, dual flash, laser autofocus, and our initial impressions are extremely favorable. It could be better than the Galaxy S6, and will surely be a better camera experience than the G2, which was already pretty good considering how old the phone is.
Most phones are over 2.0 with the f-stop, which is the speed of the sensor and how well it captures details and light. LG has the fastest f1.8 lens in the G4. This week we used both the LG G4 and Galaxy S6 in average user "quick shots" with no tripod, no messing with settings, just pulling them out and snapping photos around NYC, and the link below is our comparison. The end results are surprising, and shows the G4 is extremely capable, if not one of the best we've ever used.
Read: LG G4 vs Galaxy S6 Camera Comparison & Samples
If the camera on your smartphone is something you value, or feel the LG G2 camera didn't live up to it's initial hype, know that the LG G4 does, and will be one of the best cameras of any smartphone released in 2015. We've seen it take some amazing photos, and it will be leaps and bounds better than the G2 from 2013.
Specs
While specs aren't as important as having a device that's fast, fluid, and will work for years to come, it's still something many consider while making a purchase. That said, the LG G4 has some of the latest cutting edge technology and is two years newer, so has plenty to offer and is one extremely powerful smartphone capable of running all the latest games and apps.
LG G4 Specs

5.5-inch 2560 × 1440 Quantum-HD Display
6-core Snapdragon 808 processor with 3GB of RAM
32GB internal storage (Micro-SD expansion)
16-megapixel f1.8 camera with OIS+, laser auto-focus, 8 megapixel front camera
Android 5.1 Lollipop
WiFi, Bluetooth, NFC, 4G LTE, FM Radio Antenna, and Infrared laser for remote
3,000 mAh battery with wireless charging
Genuine leather in 6 different colors
more
LG G2 Specs
5.2-inch 1920 x 1080p HD display
2.3 GHz Snapdragon 800 Quad-core with 2GB of RAM
16/32GB storage (no micro-SD support)
3,000 mAh battery
Android 5.0 Lollipop (after updates)
13 Megapixel OIS camera with 2.1 front camera
Stereo Speakers
IR Blaster Remote
Buttons on back
The G2 was a good phone, but with a new 6-core processor, more RAM, higher storage options along with a micro-SD slot so users can add as much storage as they want (not to mention that camera) and this is a huge upgrade worth signing a new 2-year contract over. The G2 is starting to show its age, and the LG G4 should deliver improvements in every area, including battery life, and be better at any area G2 owners had complaints.
If you're debating switching to the Galaxy S6 or iPhone 6 instead, we'd recommend waiting a few weeks and trying the new G4 in stores before making the switch. It's a stunning phone that looks and feels great, it's fast and fluid, and just an all around great phone. The G2 was LG's first phone we thought could maybe compete with Samsung and Apple, the G4 is two years improved, and will certainly give the best a run for their money.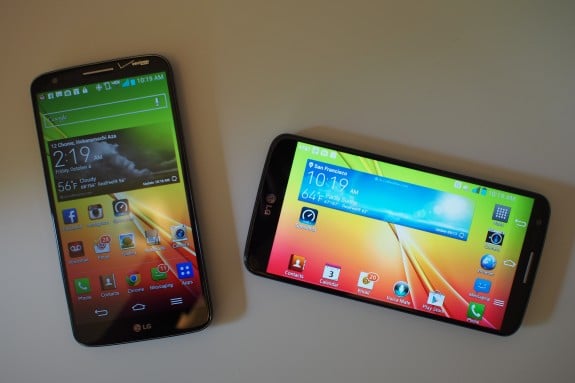 Price
We won't talk about software much, as they are essentially the same and both run Android Lollipop, but the G4 has tons of software and features the G2 will never have. Like the manual camera controls and such. That said, the G4 does run the latest Android 5.1, while the G2 is on 5.0.2 Lollipop. One thing buyers will want to consider is the price, which we'll explain below.
So, last but certainly not least is the price. With the LG G4 being brand new, it will come with what's likely a $199 price tag with a new 2-year contract. That means the G3 will see heavy discounts to its already $99 price tag, and sometimes even less, or free. This may have some G2 owners looking at the G3, but with carriers offering zero down payment plans, the G4 is your best bet.
Most likely the LG G4 will be $199 with a new 2-year contract from all major carriers, and Verizon may offer it for $99 like they did with the G3 to steal customers from the competition. Then of course almost all options come with payment plans in the United States, most notably T-Mobile. That $199 on-contract will get you more storage as the default option is 32GB, a micro-SD to expand it, and just an all around excellent phone.
If you already own the G2 it's still a great phone, but spending $199 and signing a contract for the new G4 may be a good route. It has a lot to offer, a better camera, better battery life and a fancy new genuine leather design. Is it worth upgrading? That's up to you to decide. The G2 is starting to show its age, and some of the updates from LG have left many owners frustrated and wanting to try someone else like Samsung, so the choice is yours.
Final Thoughts
If you're looking for a new phone right now, you're probably trying to decide between the Galaxy S6 and the upcoming LG G4. That's another discussion completely. However, if you have an LG G2, a Galaxy S4 or Galaxy S5, look to the LG G4 to be one of the best phones released this year, one that may be worth signing a contract for and ditching your old device. We certainly think it's worth it.
For now we're hearing the LG G4 release date is set for very late May, but most carriers in the United States likely won't offer it until the first week or so of June. That said, all five major carriers will offer it. It's about one month away. Hopefully by then it will be in carrier stores so you can try it out yourself, then make the best decision possible. If you have a G2, trust us when we say the LG G4 is one of the better phones so far in 2015, and will make any buyer extremely happy.