LG G5: 5 Things I Learned on the First Day
The unique new LG G5 is officially available in the US with a bold new design, three cameras, a fingerprint scanner and much more. Now after spending a little over 24 hour with the LG G5, here are some thoughts, impressions and five things I learned about this device after using it for a day.
A full review is in the works and coming soon, but in the meantime we wanted to go over some things we did and didn't like about the LG G5. The hardware, software, fingerprint scanner and other bits for potential buyers.
Read: 13 Official LG G5 Accessories
The LG G5 is a radical departure from the highly praised LG G4 from 2015. The company completely changed the look, design, materials, screen and battery size, and other things. For better or worse, it now has an all aluminum or "premium" metal design, a fingerprint scanner on back rather than buttons, and a smaller 5.3-inch Quad-HD display. Then of course there's the removable battery, which is a big selling point. Lets get started.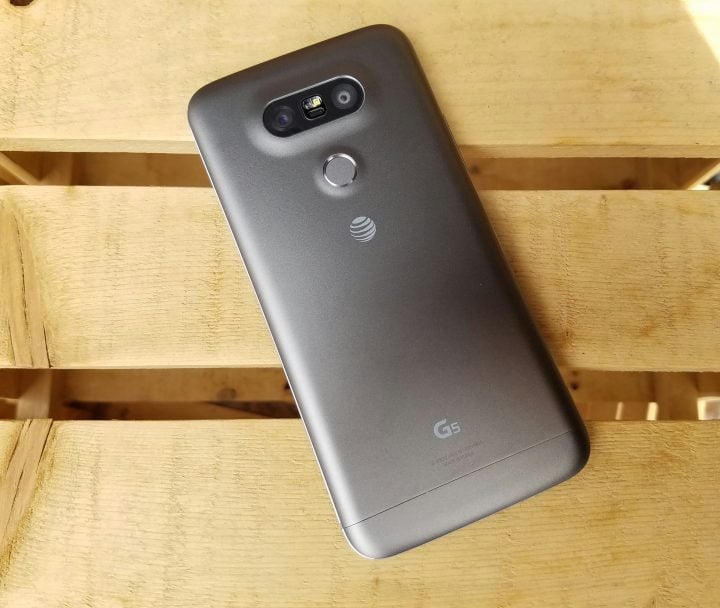 Last year the LG G4 finally was coming close to taking on Samsung. It had a beautiful design with genuine leather around back, a curved 5.5-inch screen, and a blazing fast f/1.8 aperture 16 megapixel camera. And while it didn't have what many would consider a premium build because of the plastic and leather, it felt great in the hand and had plenty to offer. It was one of LG's most popular phones to date.
However, in 2016 LG completely changed things yet again. The iconic buttons on the rear are completely gone, and moved back to the sides like most phones, and they've moved to a plastic-infused metal unibody design. It's more premium, but doesn't necessarily feel more premium. We now have two cameras on the back with a fingerprint scanner beneath it, and the entire bottom of the phone slides out. This allows for the battery to be replaced, or modular accessory add-ons. It's a bold new approach to a smartphone, but will it work? We're not sure yet.
As a quick recap before we get into what we learned and liked, the LG G5 has a smaller 5.3-inch Quad-HD display, a powerful Quad-core Snapdragon 820 processor with 4GB of RAM, 32GB of storage, a micro-SD slot, and the same 16 megapixel camera on back. However, it now has a secondary 8 MP wide-angle camera on back for improved lighting, focus effects, and very wide angle photos unlike any phone on the market. The battery is still removable, but like the screen, it's smaller than last year too. An odd choice when every other manufacturer is increasing battery sizes.
Unique Yet Unrefined Design
I have mixed feelings when it comes to the LG G5 design. It's clearly better than the LG G4 in terms of having a new unibody metal frame, and it's surprisingly lightweight. So much in fact that it actually doesn't feel as premium as it should. Compared to the Galaxy S7 or S7 Edge it feels very "plastic", not high-end as many would expect.
LG is using a new custom unibody aluminum that blends in the plastic antennas with the metal, to hide the ugly antenna lines that are famous on the iPhone. However, it just feels as if the entire phone is still made out of plastic.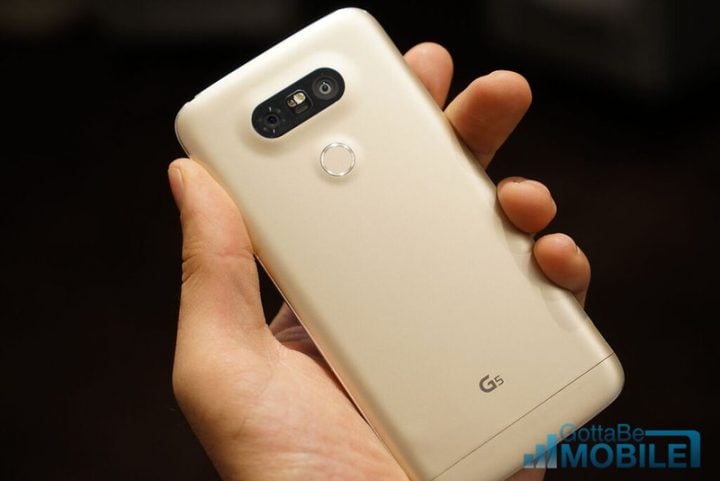 The front has a 2.5 curved glass up top, and a slight downward curve to the bottom chin as well, but then the back is rounded on all four sides. The front and back just don't look like the same phone, but it still looks pretty decent. Some love the look, others hate it, I'm somewhere in the middle.
In the end it all comes down to using the phone. And while the buttons aren't on the back anymore, no one will miss them as there's now a fingerprint scanner. It doubles as the power button, and works pretty good. Much better and faster in fact, than the LG V10. Then with the touch of a button, much like the clip of a gun, the bottom slides out and reveals the replaceable battery. It's pretty hard to slide out, and once it does the phone feels even cheaper. It's a nice idea, and power users will love the option. I'm just not sure how I like it.
Without rambling on too much about the design, in the end I'm already starting to dislike it after only 24 hours. Where the back meets the sides LG did this extremely thin chamfered or beveled edge, similar to what Apple and Samsung offer. Only it's too small, and very sharp. While holding it in your hand the metal edge catches on your palm, is rough and almost knife-like when trying to pick it up, and uncomfortable during use. I hold the phone in my hand with the bottom resting on my pinky finger for support, and even the bottom has that sharp edge. It almost hurts after a few minutes. There's simply no way I could ever use this phone without a case, just to get around these sharp corners.
Oh, and if you look at it just right, each corner under the display the phone is actually see-through. Where the bottom slides out, light bleeds through because there's a small gap or cracks in the design. The phone doesn't snap together tight. I noticed it while using the phone outdoors on a sunny afternoon. That doesn't give me a very good feeling when thinking about the quality of the phone. But that's just nitpicking. Or is it?
LG G5 Display
This year LG lowered the size of the display for the first time in years. Almost all other LG G smartphones had a perfect middle ground 5.5-inch screen. Not as big as the Note series, and bigger than the Galaxy S. This year though, they changed it and went down to a 5.3-inch Quad-HD display. It still has an amazingly crisp 2560 x 1440 Quad-HD resolution, and looks stunning, it's just a bit smaller.
Many users loved the perfect size, so the downgrade might not be for everyone. At the same time, big phones are becoming more and more the "norm" but many want something smaller. It's a little bigger than the Galaxy S7, for those who'd like the extra real estate, but not a phablet.
LG is using their Quantum HD display technology, and it looks pretty great. Colors are crisp and pretty vibrant, but not overboard like Samsung's AMOLED screens. It gets plenty bright, but is a little on the cold side with whites having a touch of blue, at least on my model.
Overall the screen is great, and many buyers will love. The smaller screen with this high resolution means images and text are extremely crisp. Viewing photos or watching movies is a great experience. We'll need to spend more time with it to comment further.
Fingerprint Scanner
One thing that must be mentioned is the fingerprint scanner. LG ditched the rear buttons from prior years in favor of a fingerprint scanner around back. The volume buttons are back to the side, on the left, and the power button sits nicely under the camera. One tap and it wakes the phone and unlocks it in seconds.
Rather than being indented like Google's LG-made Nexus 5X, it's actually raised up. Likely to make room for internals and the battery. It's still easy to press and find, and it sits perfectly where most users rest their index finger while holding the phone.
We still have the double tap to wake and sleep the screen, which remains one of my favorite features to date. If the phone is laying flat just double tap and enter a pin, rather than picking it up and using a fingerprint. It's a nice option to have.
Lastly, the fingerprint scanner is blazing fast. While it may not be as accurate as the Galaxy S7, iPhone, or the Nexus 6P, it's pretty good. It's also very fast and easy to setup. The LG V10 fingerprint scanner was surprisingly bad, and LG fixed it for the G5. It only takes 7-8 taps to setup, rather than 15 like Samsung. If the LG V10 fingerprint scanner was a let-down, the G5 will be much better overall.
Software, SD Slot and USB Type-C
The LG G5 is running Google's latest Android 6.0.1 Marshmallow, but covered in LG's usual overlay or software skin. It's much cleaner and simple to use than the LG G4, so that's a plus. Everything seems slightly faster, cleaner and more refined, which is a welcomed change.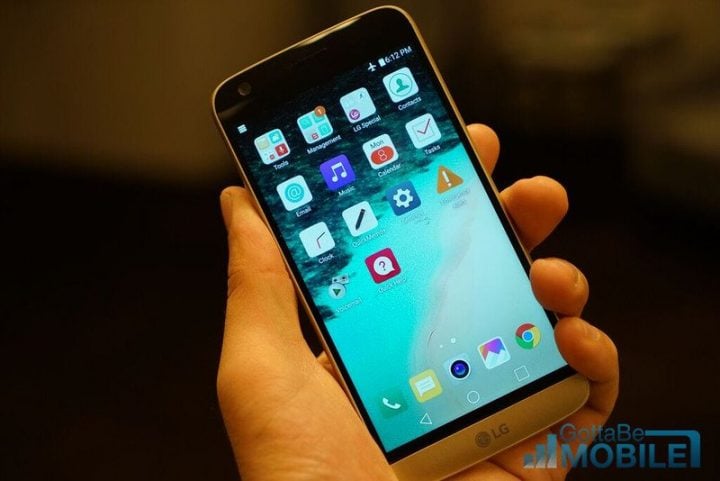 However, there's no application tray or drawer, like all Android devices. Instead everything is in folders on the homescreen like an iPhone. Android users are used to having an app drawer, and LG has confirmed an incoming update will return that option. For now, here's how to return the application tray to the LG G5.
Another great feature of the LG G5 and its display is the "always on display" feature. Similar to some Motorola phones or the Galaxy S7, the screen is on 24/7 with a dim, low battery mode that shows the time and date. It isn't customizable like Samsung, and this key selling point isn't enabled by default either. Likely because it takes about 1% of battery life an hour, costing users nearly 10% throughout a day. That isn't bad, but Samsung's method is more efficient. Enable the always on display with this guide.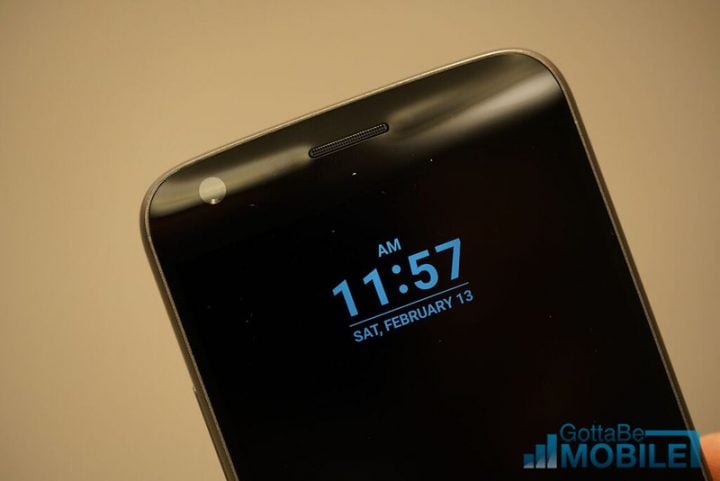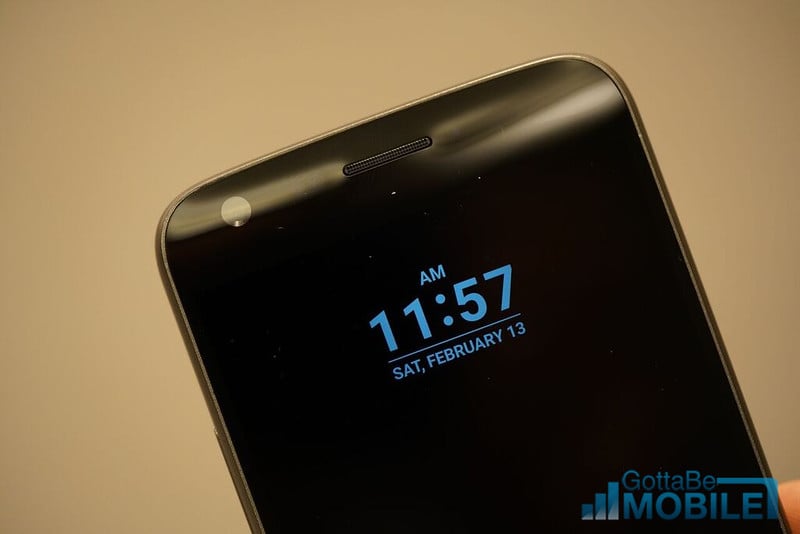 Going down from a 3,000 mAh battery over the past few years, to only a 2,800 mAh battery in 2016 is an odd choice. Every manufacturer is offering bigger battery options, but LG put a smaller one inside. Even the Galaxy S7 is 3,000 mAh, and the Galaxy S7 Edge is 3,600 mAh. It's nice to see LG kept the micro-SD card slot, allowing owners to add up to 200GB for more photos, video, apps and games.
Lastly, there's a new port on bottom. Rather than a micro-USB cable this features the new USB Type-C port. It's faster, reversible and can be plugged in both ways, and supports Quick Charge 3.0 technology. The LG G5 is one of the fastest charging smartphones on the market, so that 2,800 mAh battery isn't too big of a concern.
It goes from 0-80% in about 35 minutes, then slows down and trickle charges the last 20% to preserve the life of the battery. This is faster than the Galaxy S7 which uses Quick Charge 2.0, or adaptive fast charging. Users will love how fast it recharges.
Camera & Battery Life
In closing, we wanted to talk about the dual camera setup and battery life. LG kept the same 16 megapixel camera as last year, but added a second 8 megapixel camera for a little help. This allows for some of the widest angle photos of any smartphone, focus effects, and improved lighting.
It also has a fast f/1.8 aperture lens with laser auto focus, image stabilization and more. And while we haven't fully tested out all of the capabilities, it looks quite promising so far. However, with the camera app open things stutter and are choppy. Trying to move around to find the subject just isn't as smooth as it should be. The camera could use some updates to refine everything.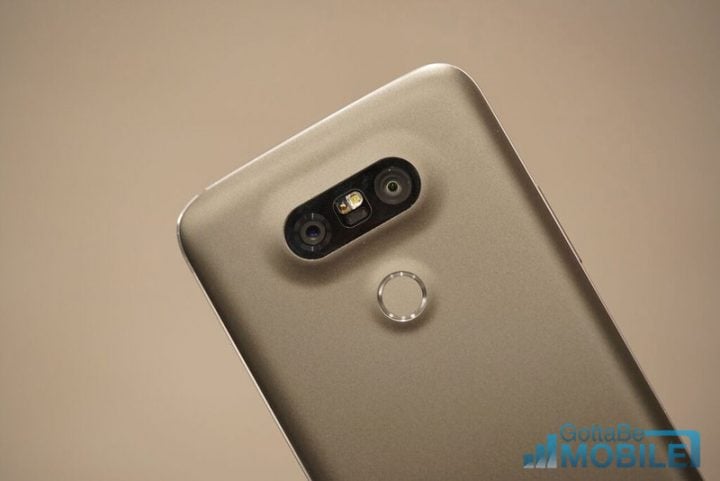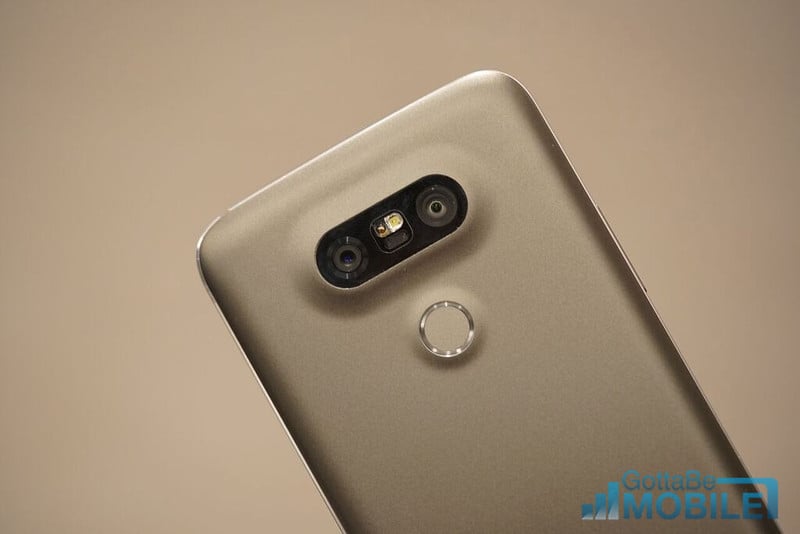 That said, the wide angle photos are surely impressive, and something most other smartphones can't offer. Landscape photography, the Pro mode, and other things all make this a great phone for those wanting an excellent camera. We'll need more time to comment on quality, and how it compares to the Galaxy S7 and its 12 Dual Pixel sensor.
Battery life has been mixed as well. Having a smaller 2,800 mAh battery is an odd decision, but it recharges fast and doesn't have to power as big of a display. Meaning it should be on par with the LG G4. So far we aren't seeing results that can match the Galaxy S7 Edge, but then again it has a huge 3,600 mAh battery inside.
In the end I'm a little torn with how I feel about the LG G5. It's a radical change in terms of what we expect from a smartphone. It has all the latest and greatest features, a metal design, excellent camera, fast charging, a removable and replaceable battery and expandable storage. Everything buyers want. It's the execution of it all I'm unsure about. This phone offers more than enough to make millions of buyers happy, but we'll need to spend a lot more time with it before sharing all of our thoughts in a full review.
15 Best LG G5 Cases to Keep Your Phone Safe
LG G5 Quick Cover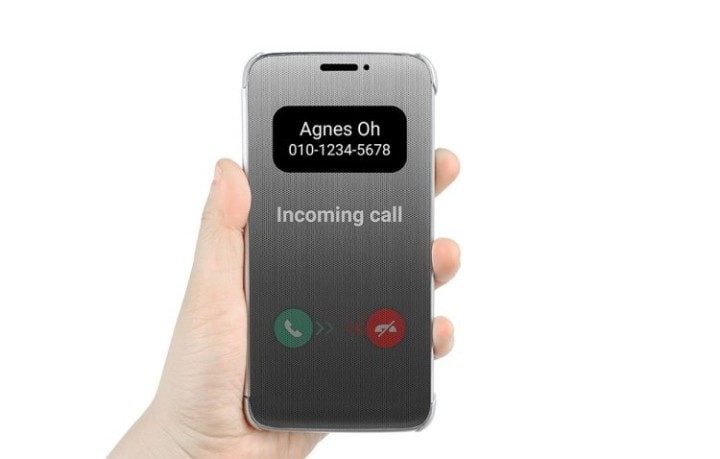 In typical LG fashion the company has announced and released an official "LG G5 Quick Cover" for its new smartphone. Similar to previous years it offers 360 degree protection, including a flap to protect the 5.3-inch Quad-HD display. This year though, the Quick Cover is touch-enabled. Meaning users can launch the camera, answer calls, get at-a-glance notifications, weather, date, time and more without ever opening the phone. The flip cover responds to touch just like the screen would.
Combining the new always-on display mode, with the touch-enabled Quick Cover, will be one of the easiest and best experiences available. Letting users interact with the phone without ever opening the case or exposing the phone, or its screen.
Users can expect the LG Quick Cover to be around $39.99 and maybe more, and if its like previous years, a wireless charging cover will be released at some point as well. We'll update with a link once it's available to buy.

As an Amazon Associate I earn from qualifying purchases.