LG G5: Release Date, Specs and Features
This is a detailed guide about the newly announced and coming soon LG G5 to help buyers understand all this phone has to offer, its specs, release date, and even its modular design featuring the world's first "Magic Slot" and all of the accessories that make the premium LG G5 unique.
LG's newest flagship looks similar to its predecessors at first glance, but this is a completely revamped smartphone made entirely out of metal aimed at taking on the Galaxy S7. The screen is smaller than previous years, but everything else has received huge upgrades. It's loaded with three cameras, tons of power, and lots of important new features that will make owners want the newest model as soon as possible.
The LG G5 was announced on February 21st and will be available in the United States sometime in March or April. Rather than release it months after Samsung's flagship phones like previous years, LG pushed for an early release in 2016 as it wants to take the Galaxy S7, iPhone 7 and more head on. With a beautiful new design, tons of options, and an excellent all-around device, the company is confident in the LG G5.
LG G5 Release Date
At Mobile World Congress on February 21st the LG G5 was announced and unveiled, but LG didn't share exact release date details. The company did say it will "be released simultaneously around the globe soon", and as soon as we know more we'll update with all the dates, pricing and more.
During the past few months we've heard reports of a late March release date, a rumor that has surfaced more than once. If LG wants to compete with Samsung and others, they'll need to release the impressive new LG G5 as soon as possible. Our sources indicate a release will "begin before the end of Q1 2016" but that it. Meaning it could be mid-March, or near the end of the month. The good news though, is it will launch everywhere at once, not internationally first, and then in the US. Expect all carriers in the United States to offer it as soon as possible.
LG has already opened up an LG G5 registration page where pre-orders will be available soon, and AT&T has confirmed they'll offer it in the coming weeks. We'll continue to update as more info surfaces. In early March LG released a statement confirming the LG G5 would be available in "Early April" but that's all they have to share thus far.
Update: That being said, this week news surfaced from what appears to be a reliable source confirming the US Cellular (and likely all US carrier) release date, pricing, and deals. Suggesting the LG G5 release date will officially be April 1st from US cellular and likely Verizon and others, priced at $639 or $26.50 per month for 24 months. Similar pricing as the Galaxy S7. We should know more in the coming days or sometime next week.
Design
For 2016 the LG G5 dropped down from 5.5-inches like they've offered for the past few years, and now employs a beautiful new 5.3-inch 2560 x 1440 Quantum HD display. And while screen may be smaller, it's the same 2k resolution display, which should offer an improved overall visual experience for users with more pixels and clear text in a slightly smaller screen. This also makes it easier to hold. However, the biggest change is in the overall design of the phone.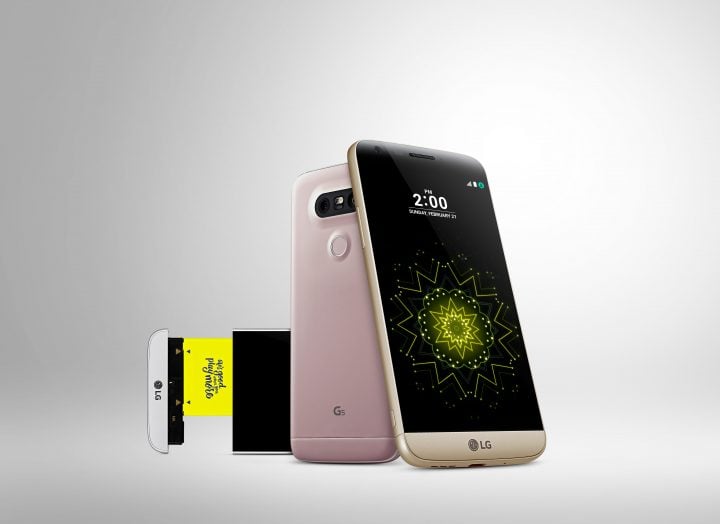 In an effort to take on Samsung, Apple, and other upcoming smartphone manufacturers this year LG ditched cheap plastics and went all aluminum. The metal LG G5 has a beautiful unibody shell that gives it a premium look and feel. What makes it special though, is this change didn't come with compromises in the design or features. It still has a removable battery, the micro-SD slot for user expandable storage, three cameras, a fingerprint scanner for enhanced security, and a front fascia that looks similar to all previous LG smartphones. It keeps LG's design identity while offering the best and most premium experience to date.
In 2015 Samsung went all aluminum, but removed the micro-SD slot and expandable storage, which led many to try the LG G4. Now this year LG has a similar stunning new premium phone, but kept all the features that are important to users.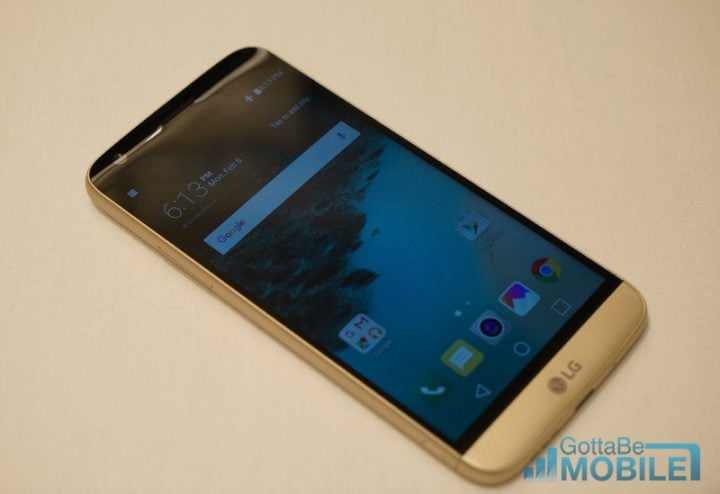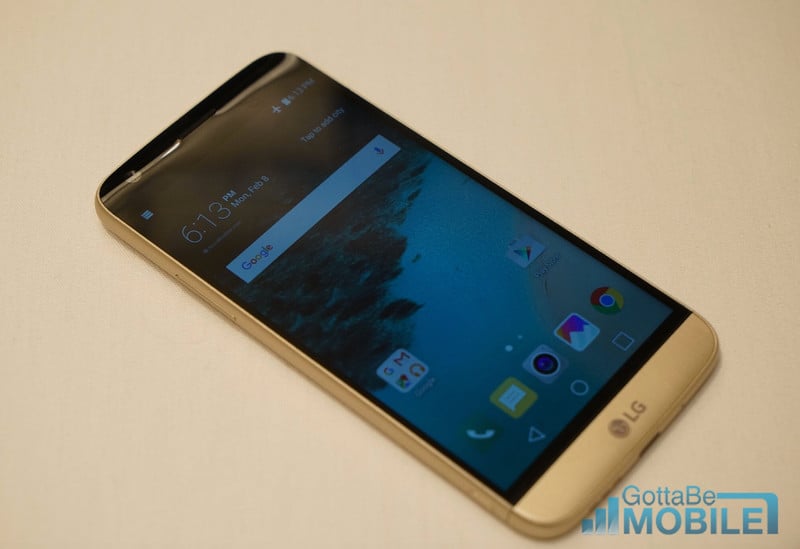 The metal unibody design came with a challenge to still give consumers what they want, said LG, and the result is the new Magic Slot that we'll talk about below. The LG G5 essentially has a modular design where the bottom slides out like a clip in a handgun to reveal a replaceable battery, and allows for extra accessories to snap in like the new LG CamPlus, and other options to enhance its functionality as a smartphone.
Around the metal frame are familiar ports like the 3.5mm headphone jack, an IR port for the LG remote control app to turn on a TV and more, the micro-SD and SIM tray, a bottom facing speaker, USB Type-C port for quick charging, and buttons on the right side of the phone.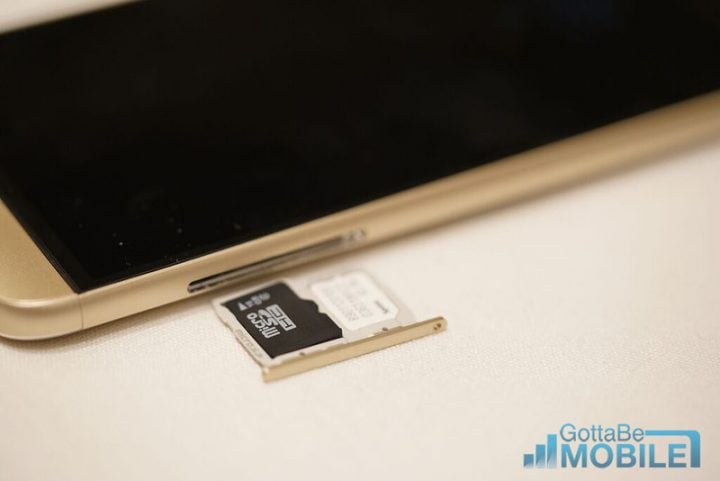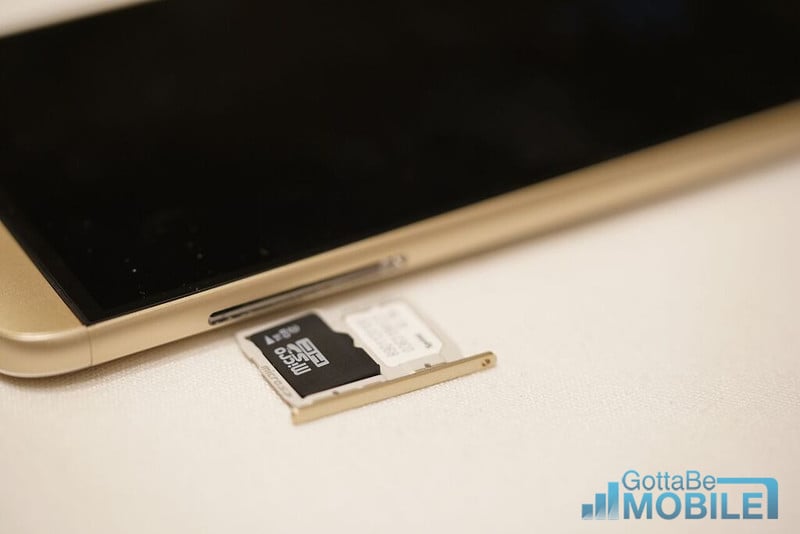 LG surprised the world with rear-mounted buttons a few years ago, but that's no longer the case with the G5. The back is reserved for the dual cameras and a new fingerprint scanner and power button, then the volume rocker has been put back on the side like most other phones. Overall it has a beautifully sleek and unique design.
According to LG the company used a new insulative antenna technology, so the aluminum unibody design is seamless around back, without the ugly plastic antenna lines we've seen from the iPhone, HTC and others that separates the metal frame.
LG G5 Specs
This phone will be one of the most powerful phones released in the first half of 2016, and is loaded with the latest cutting edge technology. From a powerful new Quad-core processor, three cameras and more, it's easy to see why LG is excited about this phone, and why buyers should be too.
LG G5 Specs
| | |
| --- | --- |
| Display | 5.3-inch 2560 x 1440 Quad HD Display |
| Processor | Quad-core Snapdragon 820 processor with 4GB of RAM |
| Storage | 32GB of storage, micro-SD slot for expansion |
| Rear Camera | 16 and 8 Megapixel Rear cameras, Optical Image Stabilization, Laser Auto-Focus |
| Front Camera | 8 Megapixel Front Camera |
| Battery | 2,800 mAh removable and replaceable battery |
| Software | Android 6.0.1 Marshmallow |
| Security | Fingerprint Scanner on back |
| Design | Premium All Metal Design |
| Connections | USB Type-C Charging Port |
| Extras | Magic Slot Modular Design, IR Port for Remote Control |
Inside is a faster and more powerful Snapdragon 820 Quad-core processor (better than the 6-core G4) that delivers improved performance, better battery life, enhanced camera capabilities, and some unique charging features. The Snapdragon 820 is more efficient, while also beefing up graphics for gaming or video editing. In fact, the Snapdragon 820's Adreno 530 graphics engine is 40% more powerful than last years models, and 40% more efficient. Meaning great battery life, and beautiful graphics for gaming. Adding 4GB of RAM allows for better overall performance and multi-tasking with Android 6.0.1 Marshmallow.
Around back the fingerprint scanner improves security, but is also the dedicated power bottom, like previous years. LG's famous double-tap on the display still turns on the screen, but most users can just touch the scanner to unlock and turn it on. Read on for more details about the fingerprint scanner, and all of LG's accessories.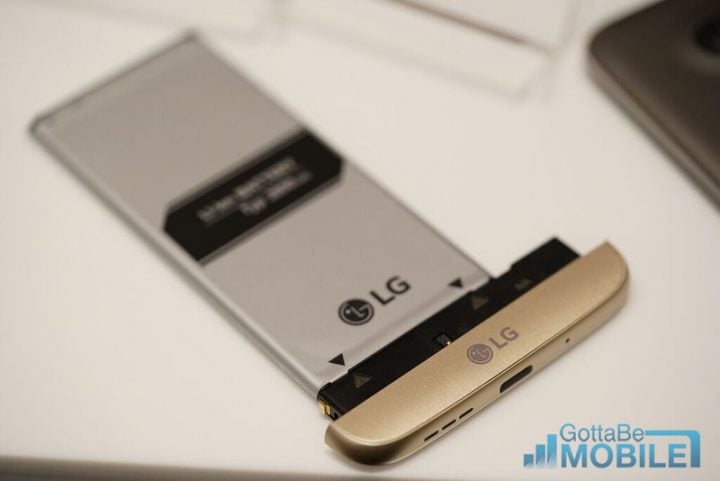 One noticeable downgrade is the smaller 2,800 mAh battery, instead of a big 3,000 mAh battery like the past three years. However, with a more efficient processor, the latest version of Android with "Doze" battery saving features, a replaceable battery, and the USB Type-C port for extremely rapid fast charging, this shouldn't be an issue. LG integrated a new "Low Power Location Estimator" chip that is nearly 42% more efficient at handling location-based apps. Like Google Maps, Facebook and more. This should also improve battery life.
With Qualcomm Quick Charge 3.0 and USB Type-C the LG G5 can recharge from 0-50% in less than 20 minutes, and fully recharge in under 70 minutes. Making battery life a non-issue when you combine everything above with a replaceable battery.
The new USB Type-C charging port is reversible so users don't have to mess with putting the plug in the right way, and can even recharge other devices with the G5. All thanks to USB Type-C. It also features a faster charging system that puts out 5.0 amps, rather than 2.4 amp output like older phones and regular micro-USB port or cables.
Read: Android 6.0 vs Android 5.1 Lollipop: What's New
Modular Design (Magic Slot)
This year in an effort to differentiate themselves from the competition, as well as deliver multiple key features while improving the design, LG came up with a modular design. They're calling it the "Magic Slot" we keep mentioning. Creating a metal smartphone with a slide-out design to access the battery, and add-on additional accessories that can transform the G5 into a digital camera, Hi-Fi audio device and more while keeping the design simple, elegant, and the removable battery in tact.
The magic slot was heavily rumored before the release date, but now we know exactly what it does. A click of a button slides out the entire bottom portion of the phone. Attached to it is the battery, which can be replaced in seconds.
The fastest way to recharge your phone, is to replace the battery. That benefit makes the G5 more versatile, and more useful." – LG Spokesman
During our limited hands-on time with the LG G5 the modular tray that ejects from the bottom was extremely snug. There's a tight fit so users won't need to worry about it being loose, while it's still easy to pop open and swap out the battery. The Magic Slot is primarily for the battery, but also allows the LG G5 to offer unique accessories unlike any other mobile smartphone. Which bring us to our next topic, all the accessories.
LG G5 Accessories
With the Magic Slot LG has opened the door for a lot of innovation. For now there's only a select few modules, but more will likely be announced later in 2016. LG has multiple optional accessories shown off today that work with the Magic Slot. Like the LG CamPlus, a new LG 360 VR headset, a new LG 360 CAM and more we've detailed in the video below.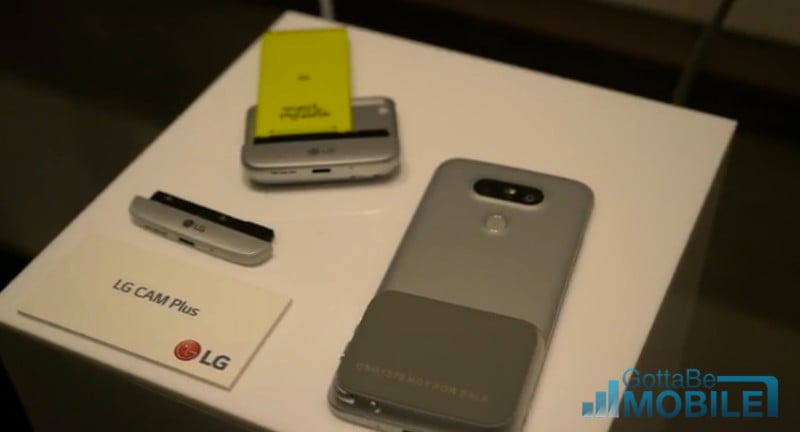 The LG CamPlus pictured above is a module, or part of the LG "Friends" accessory line that will debut with the phone. It slides in where the original was, adds a grip to give the phone a traditional camera feel, zoom wheel, camera shutter and recording buttons, as well as an extra 1,200 mAh of battery. Transforming the G5 into a digital camera and giving users more options than most phones available today. Buying the LG CamPlus and swapping it out using the magic slot will give users a fancy camera setup, and increase the battery to 4,000 mAh, which is more than most flagship phones available today.
LG's new Magic Slot will also host a slew of different modules to add more features to the phone for anyone who want them. The company revealed a Bang & Olufsen-designed DAC module for enhancing sound quality for audiophiles, which can act as a stand-alone Digital to Analog Converter. Like playing improved audio from a computer, tablet or other devices.
The "LG Hi-Fi Plus" Bang & Olufsen DAC accessory works with the LG G5, or by itself. This allows the phone to have improved audio playback unlike any other device, similar to the improved sound delivered in the LG V10 smartphone last year. This increases quality from 24-bit to 32-bit, which many audiophiles will enjoy. No pricing or release date was mentioned at this time.
There is also an LG 360 VR camera with two 200 degree 8 megapixel camera to capture VR video up to 4k resolution, which has another micro-SD slot for extra storage. This too, will attach to the Magic Slot, but we're not yet sure how after seeing the image below.
Multiple other accessories will all take advantage of this modular design as LG works with partners. Items like the Samsung Gear VR, HTC Vive Pre, or even Google cardboard all are leading the way in virtual reality. And in 2016 LG aims to tackle that as well, with their new 360 VR camera and headset which are part of the "LG G5 Friends" lineup of add-ons and accessories.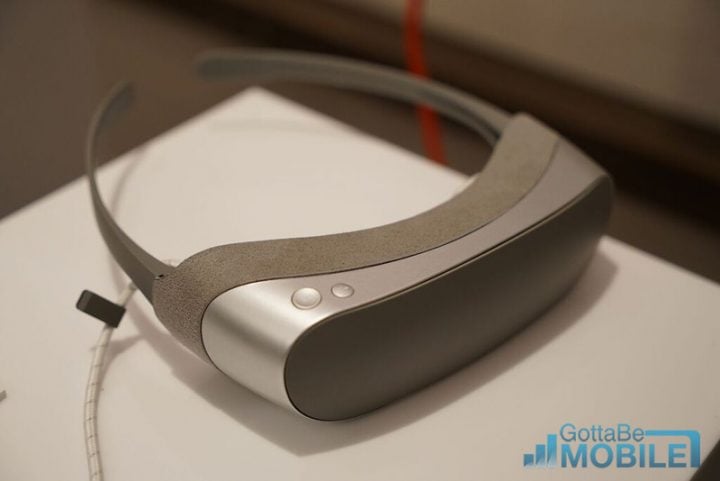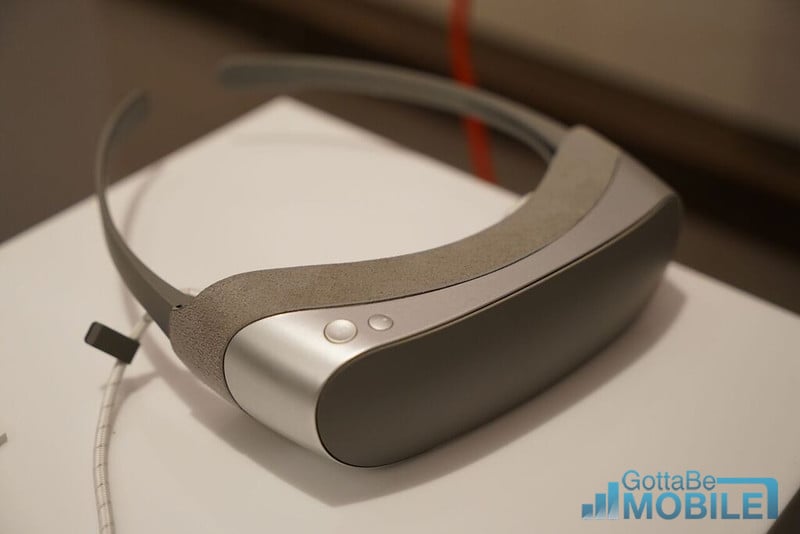 That said, the primary and most important aspect of the magic slot, aside from adding multiple different functions or accessories, is to enable a replaceable battery. Something millions of smartphone buyers love, and many miss from recent Samsung products.
Another accessory which will be part of an ecosystem of options for the LG G5 is called the LG Rolling Bot. It's part toy, part security camera, and loaded with features. The Rolling Bot acts like a Dropcam or home security camera, but can be controlled by the LG G5 similar to a Sphero or other toys available today.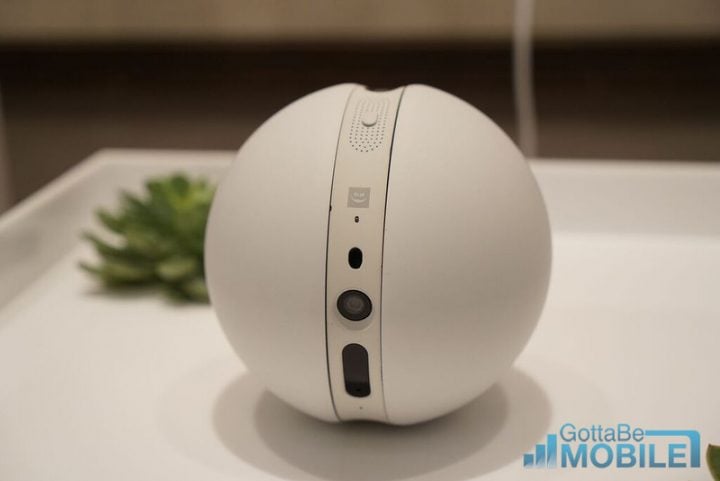 The LG Rolling Bot connects to a smartphone, tablet or computer via WiFi, and has a built-in speaker to talk to people or pets, an 8 megapixel wide-angle camera for home security, and an IR blaster to control a living room TV or entertainment system. It even works with select LG Air Conditioner units. Allowing owners to check-in on their home, turn on a TV so it appears as if someone is home while on vacation, and much more. It's pretty neat, and more details are shown in our video above.
A dedicated LG Friends app will be available in the Google Play Store to easily manage all of these add-ons, and we're also expecting a Bang & Olufsen set of noise-cancellation headphones called the LG H3, the LG Tone Platinum Bluetooth headset, and an LG Smart Controller that will control select drones later this year.
Always On Display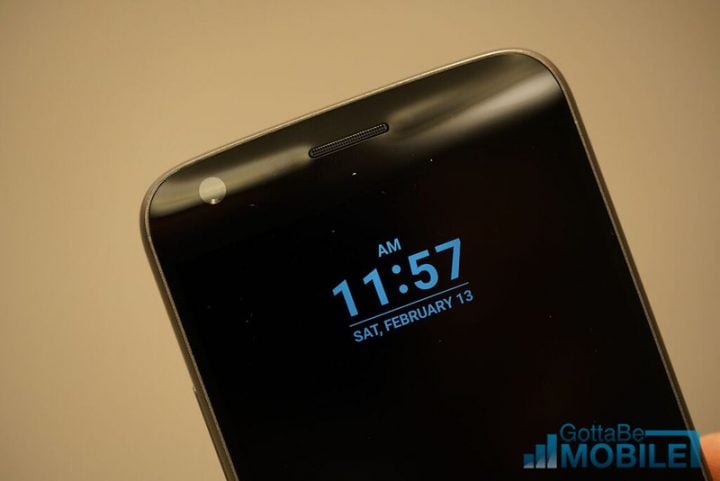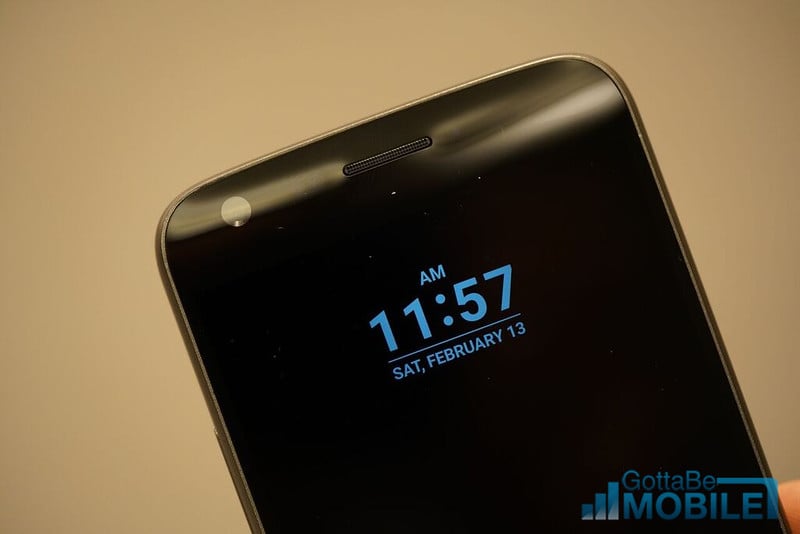 With the LG G5 the screen is now only 5.3-inches, but is had the same beautiful 2560 x 1440 Quad-HD resolution, as well as a new "always on" functionality. The small screen has stunning vibrant colors, crisp text with a lot of pixels in a smaller screen, and it looks great from any angle. The "always on feature" is a familiar lower-power mode to display the time, date, incoming notifications and more while the phone is off. Giving users detailed information without ever turning on the G5.
LG claims their new display driver allows the always-on function to use 0.8% of battery life per hour while displaying all of that information. That's less than 8% after an entire 8-hour work day. Here's a video explaining this in more detail, as well as how it works at night, in dark places, or while in a users pocket.
Initially rumors suggested the G5 could have two screens like the 2015 LG V10, which would be a secondary ticker display above the main screen. The features it offered are done using the new always on display technology. This is customizable in the software, and will give users information at a glance, without sacrificing battery life or having to turn on the phone and unlock it. New cases and additional accessories will work with the always-on display.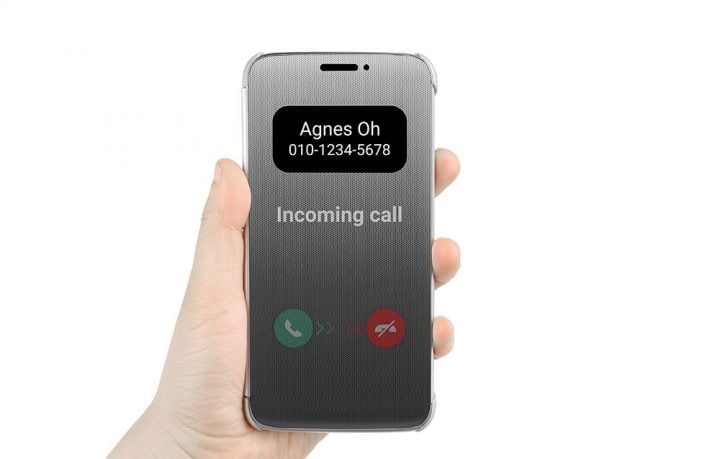 The LG Flip-Case or Circle case is a popular accessory many owners love. It displays information without turning on the screen, which now works with the always on mode, and the microfiber flip cover is touch-sensitive. Meaning owners can answer calls, turn on the camera and more without opening the official LG case. Keeping the phone protected, and using it at the same time.
LG G5 Cameras
A big part of the LG G series has always been the camera. They were one of the first to offer optical image stabilization on the LG G3, improved it with a better 16 megapixel camera and OIS+ on the LG G4 last year, and are taking that a step further in 2016.
The LG G5 has two cameras on back. A familiar 16 megapixel f/1.9 aperture camera with laser auto-focus, optical image stabilization+ and a 2-stage LED flash, along with a second 135 degrees wide-angle 8 megapixel sensor. These work together for great photos, improved lighting, and neat photography editing tools built into the LG software.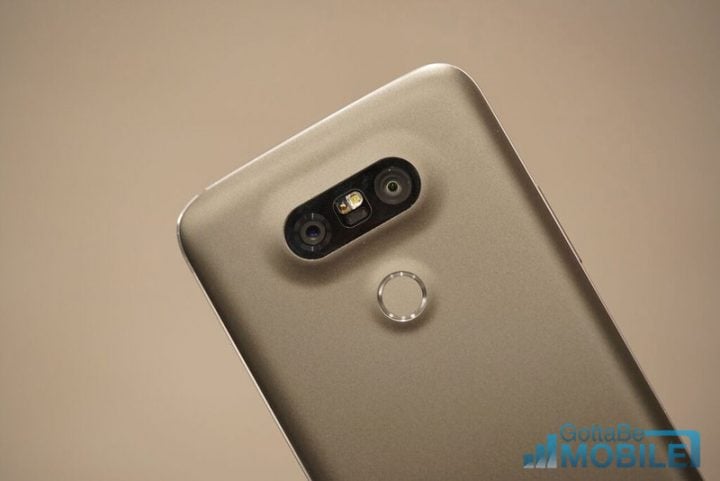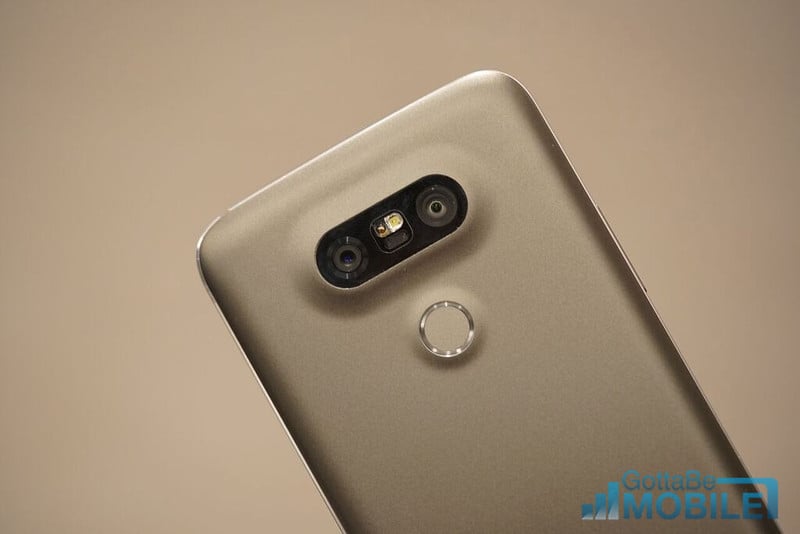 Two cameras allow for a much faster and more accurate auto-focus, changing the focus point after an image has been snapped, better lighting and HDR photo or video. This should be help with wide-angle photos of landscapes and much more. While Samsung, HTC and Apple took the route of 12 megapixel cameras with bigger sensors to let in more light, LG is using two cameras to achieve similar results. These should also work with better facial recognition, 3D photography and more, but will have to wait for a review to fully test this.
Around the front LG added an 8 megapixel wide-angle front facing camera with an improved auto focus. This offers excellent group or selfie photos, as well as a new auto-selfie mode as shown in the video above. The G5 instantly focuses on faces and automatically takes photos roughly every two seconds. Perfect for the millions of users who love taking selfie or group photos.
LG G5 Fingerprint Scanner
Not only does the LG G5 have an all aluminum design, three cameras, a beautiful sleek design and a removable battery, but they've also managed to fit a fingerprint scanner on back. Similar to the LG-made Nexus 5X or Google's Nexus 6P, under the camera is a the power button and fingerprint scanner.
We've yet to test this on the LG G5, so can't comment on speed, accuracy, or setup, but if it's anything like the LG Nexus 5X, it should be one of the best on the market. Faster and more accurate than the Galaxy S6 or Note 5.
The fingerprint scanner is slightly raised, rather than indented like we saw on Google's Nexus lineup, but that should make it easy to find and tap. Not to mention it's placed right where a users index finger naturally rests while holding the phone. It just feels right, and natural. Pick it up, tap the scanner and instantly unlock and use the G5. This will enhance security, make apps like PayPal more secure with fingerprint login, and of course Android Pay for wireless mobile payments. LG is reportedly working on their own wireless payment service to compete with Samsung or Android Pay, but it was delayed until later this year.
LG G5 Color Options
We don't have hand-made leather like last year, but the LG G5 still has great color options. Buyers will be happy to know the LG G5 will come in four beautiful brushed aluminum colors. Those being Titan Black, Silver, Gold, and Pink Gold. Below are all four LG G5 colors buyers should be able to choose from.
Last year the G4 was released in three colors, as well as multiple genuine leather removable backs for customization. This was popular, but not an option now they're using premium metal materials for the finish. It has a nice soft texture that isn't too smooth, so users won't worry about dropping it or losing their grip. LG is using a new microdizing process for the anodized aluminum frame, which is why the colors look almost too smooth.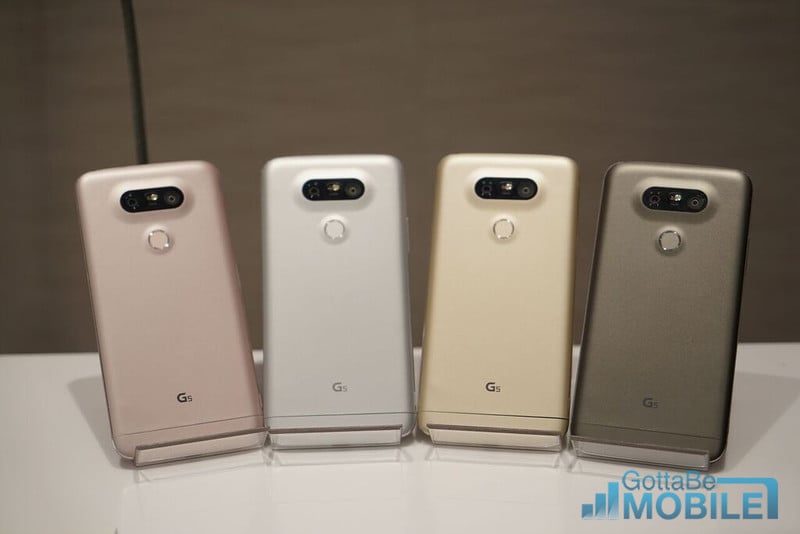 All four color variants look great in person, but Gold and the Pinkish Rose Gold have been increasingly more popular as of late, especially with the iPhone 6s. We're not sure if all carriers throughout the globe or the U.S. will offer them all, but we'll know more details as the release date nears. Expect carrier exclusives on select colors, like we've seen in the past.
U.S. Carriers
Demo models shown to the press during the LG G5 event were running on Verizon Wireless, but buyers can expect all four major carriers in the US to offer the G5. Not to mention smaller regional carriers. That means Verizon Wireless, AT&T, T-Mobile, Sprint and US Cellular, then eventually others like Cricket, MetroPCS and more.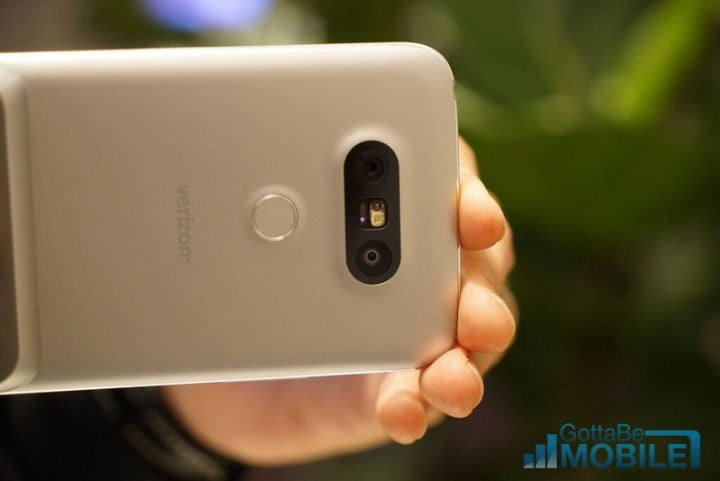 Last year with the LG G4 each carrier offered the phone on different dates, and it was released later in the US, after an international release. It will be available around the globe simultaneously this year, so stay tuned. AT&T is the first carrier to confirm they'll offer it, and more should come forward with release details, pre-orders, pricing and more.
US Cellular leaked information to Droid-Life, suggesting it will be available April 1st for $639 or about $26 per month. Stay tuned for more details.
The LG G5 is shaping up to be one of the best smartphones released in the first half of 2016. It has a great new design, a lot to offer with its unique Magic Slot, three cameras, and all the latest specs or features. It checks nearly everything off of the list. Combine that with Android 6.0 Marshmallow, and this should be a great smartphone for millions of users. The Galaxy S7 is already available, so LG needs to hurry.

As an Amazon Associate I earn from qualifying purchases.