LG G5 Review: A Great Idea With Too Many Flaws
The LG G5 is a unique smartphone, bringing a modular design and three cameras to the table, but there are too many flaws to call this a winning combination.
LG isn't afraid to try new things: from buttons on the back to two screens with the LG V10. The G5 could have been LG's best smartphone to date, and on paper it's appealing, but the phone simply doesn't live up to the promise.
At first glance it has everything buyers want from a phone: a premium aluminum design, big 5.3-inch Quad-HD display, fingerprint scanner, IR sensor for a remote control, micro-SD slot, USB Type-C and even a removable battery. Unfortunately, all the compromises needed to make the design a reality are very apparent after using this smartphone for a few weeks.
The LG G5 has nearly every box in the features and spec sheet checked, the latest and greatest technology, and expandable modules that no other smartphone can offer. The camera is very capable, and in the grand scheme of things, it is a pretty good phone. However, after making a surprisingly great smartphone with the LG G4 last year, the G5 feels like a step backwards and the flaws are too big to overlook.
In a year where Samsung and HTC have released their most capable smartphones ever with refined designs, bigger screens and better battery life, LG did the opposite. The G5 is smaller than last year, doesn't have as big of a battery as past models — or the competition — and is brought down by multiple little things that mar an otherwise well-rounded smartphone.
The LG G5 is available from all major US carriers, and around the globe. We've been using an AT&T model which can be yours for $22 a month or $688 outright.
What We Like:
Innovative all aluminum design
Removable and user-replaceable battery
Micro-SD for storage expansion
Excellent dual cameras on back
Future-proof USB Type-C port and extremely quick charging speeds
What We Don't Like:
Modular design is loose, only one module available in the U.S.
Very rough and unfinished design, feels rushed
Average battery life (smaller 2,800 mAh battery)
Dim display with unnatural colors and whites
Bottom Line:
It stakes out the perfect middle ground regarding its size, being 5.3-inches. It's bigger than the Galaxy S7 but not as big as some other phones, making it a good size for many. Add in the removable and replaceable battery, expandable storage and a unique camera experience, it's easy to see why so many buyers are interested in the G5. This phone has it all and does it all. To the point that there are a lot of little flaws and unfinished parts where it seems like LG tried to do too much at once.
The LG G5 is still a decent phone, all things considered. Throw it in a case and most of the design problems we'll discuss below aren't an issue, and the modular design means it has a lot of potential in the future. Being able to swap out the bottom with a bigger battery, camera grip, improve audio and more is certainly interesting, and transforms it into a lot more than just a phone. But is it all worth it? We're still not sure. Especially considering all we have is the promise that more modules are coming. The end result is a phone that's good, but not great.
LG G5 Design
I have mixed feelings when it comes to the LG G5 design. It's clearly better than the LG G4 thanks to a new unibody metal frame, and it's surprisingly lightweight. So much, in fact, that it doesn't feel as premium as it should. Compared to the Galaxy S7 or S7 Edge it feels like a plastic phone, even though LG has assured us it's metal.
LG is using a new custom unibody aluminum frame that combines the plastic and metal into one solid frame, which hides those ugly antenna lines that are famous on the iPhone. The result is a smooth back that's very simple, even though there's a little hump for the cameras, sensors, and fingerprint scanner. It's clean and simple looking. The problem is the primer over the aluminum frame is what we touch, which feels like cheap plastic.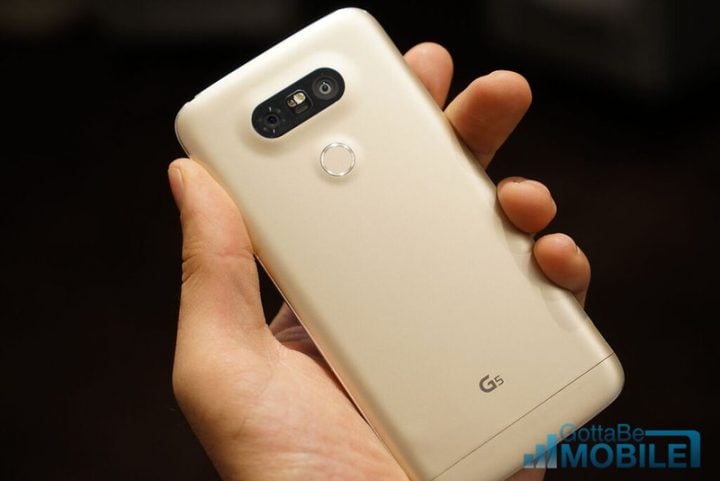 The front has a 2.5D curved glass up top that looks nice, with a slight downward curve to the bottom chin, but the back is different and rounded on all four sides. The front and back don't look like the same phone. The way the front glass curves into the body is smooth and elegant but I was quickly distracted from it after feeling the sharp edges where the back meets the sides. It doesn't have the same elegance and attention to detail as the G4, or other phones on the market.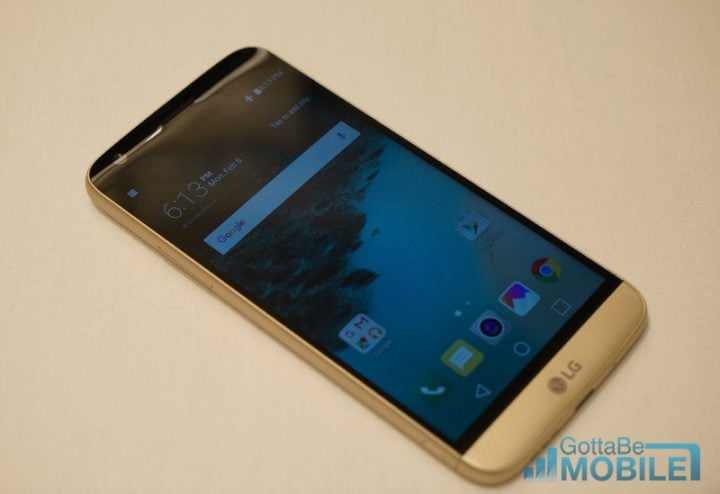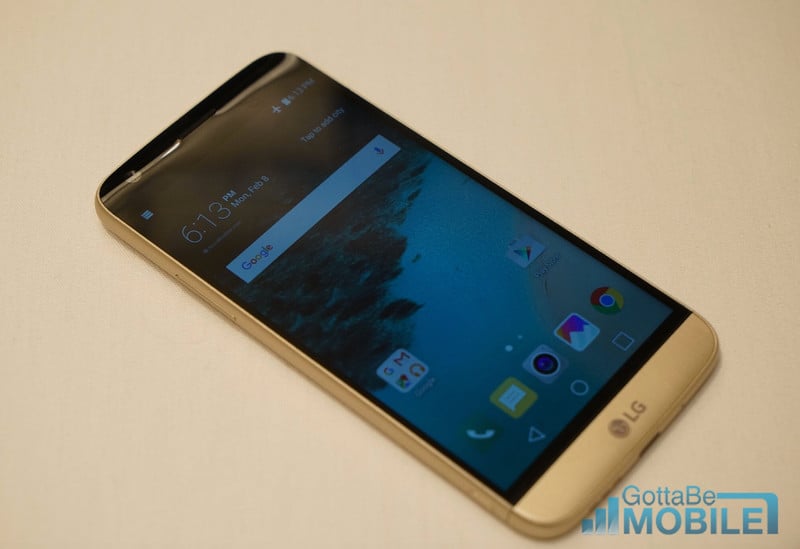 In the end it all comes down to daily usage. And while the buttons are no longer on the back, no one will miss them as they've been replaced by a fingerprint scanner. It doubles as the power button and works pretty good. It sits where we naturally rest a finger while holding the phone, making it quick and easy to unlock. Then, like a clip on a gun, the bottom slides out and reveals the replaceable battery. This is LG's selling point. We can slide the bottom out and not only replace the battery, but add additional accessories to transform it into much more than just a phone.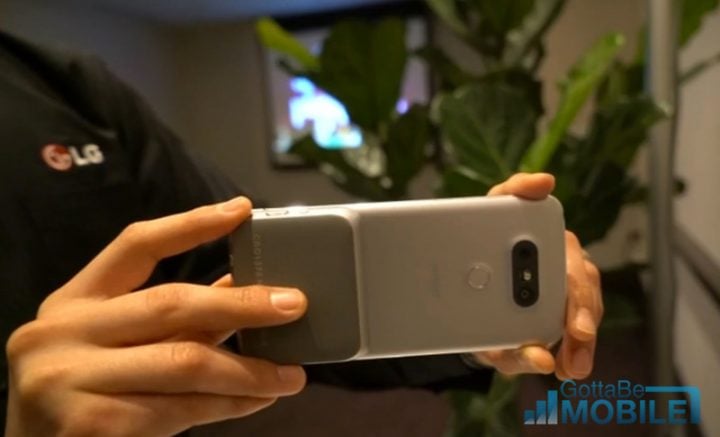 We'll talk more about the modules or LG "Friends" accessories in a minute, but the problem is that only one module is available in the United States. That is the LG CamPlus shown above. It arguably doesn't add much, while better modules like the LG Hi-Fi DAC aren't yet available. It's a big part of the phone, but buyers don't have much use for it yet, if ever.
The LG G5 fits between the Galaxy S7 and something like the Nexus 6P in terms of size. Add in the curved back to the size and it's pretty easy to hold and use. The rounded edges are nice, but there are finish and fit problems everywhere. There are flaws all over our review unit that will hopefully be addressed in later models. The manufacturing process needs to be refined as everything about it feels rushed.
Where the back meets the sides LG did this extremely thin chamfered or beveled edge, similar to what Apple and Samsung offer. Only it's too small and very sharp. While holding it in your hand the metal edge catches on your palm. It's rough and almost as sharp as a knife when I try to pick it up. While holding the phone in my hand the bottom rests on my pinky finger for support, and even the bottom has that sharp edge. So much that I feel like some sandpaper could go a long ways in making this phone more enjoyable to hold.
The little chamfered edge isn't just sharp, it also doesn't feel finished everywhere. There are small areas where we see plastic instead of the shiny silver metal, as if the process wasn't finished or LG is routing the antennas. There are uneven lines on the back metal housing of ours, suggesting the design process needs to be fine-tuned. On the right edge the SIM and micro-SD slot are in one tray, and this doesn't fit right, either. It goes in too far, leaving yet another sharp edge to catch on my skin, hand or fingers. Instead of a refined and premium device like Samsung and Apple offer, the LG G5 is more of a manufacturing prototype. Looking around the web we're not alone in our findings.
While I love LG's idea with the modular design, it too doesn't feel finished or refined. The eject button isn't the same color as the rest of the phone, and it doesn't snap back together tight and secure. There are actually gaps in the frame. Looking at it just right under the screen you can see through the phone. Where the bottom slides out light bleeds through because there's a small gap or cracks in the design. I noticed it while using the phone outdoors on a sunny afternoon, and see it often while browsing the web from the couch. The quality leaves a little bit to be desired. I'll say it again, this is a great design and idea with a few flaws, so we hope LG can work out.
That all said everything else is what we'd typically expect from a smartphone. A fast and accurate fingerprint scanner perfectly positioned on back, and protruding so its easy to find and tap. Volume keys on the left edge, an IR sensor and 3.5mm headphone jack up top, a single bottom speaker and the new USB Type-C port that's reversible and universal. LG did a good job with everything else and it comes together pretty good, aside from the rough edges. While we're here, those who want a good speaker should look elsewhere, like the HTC 10. The LG G5 bottom speaker is very loud and bass can be felt, but the sound quality is terrible.
It's worth noting that I tried another G5 in a nearby AT&T store and it felt much better than my model, so some may have a much better experience with this device.
LG G5 Specs
As we said above, the LG G5 is one of the best on paper. This phone is fast, fluid, performs great for daily tasks or gaming and runs the latest Android 6.0.1 Marshmallow software. It has top-tier specs across the board, and all the makings for a flagship smartphone in 2016. Featuring nearly everything the Galaxy S7 or HTC 10 have and then some: like an IR sensor that turns it into a remote control, removable battery, three cameras, a fingerprint scanner and more.
Here's the full spec sheet for those interested.
5.3-inch 2560 x 1440 Quad-HD IPS Display
Snapdragon 820 Quad-Core Processor with 4GB of RAM
32GB of internal storage, and micro-SD for storage expansion
Dual 16 MP (f/1.8) + 8 MP (f/2.4) camera, laser autofocus, OIS, LED flash, wide angle
8 MP front camera
Android 6.0.1 Marshmallow with LG UI Interface
Premium all aluminum modular design
Fingerprint Scanner, IR Blaster for remote control
2,800 mAh removable battery with USB Type-C port and fast charging
Always-On Display & more
LG G5 Display
The LG G5 has a pretty beautiful display, coming in slightly smaller than past years at 5.3-inches and a Quad-HD 2560 x 1440 resolution. It offers pretty good colors, bright whites, and good contrast and saturation. Obviously it isn't as vibrant as a Samsung AMOLED, but some prefer it that way. It's a matter of personal preference.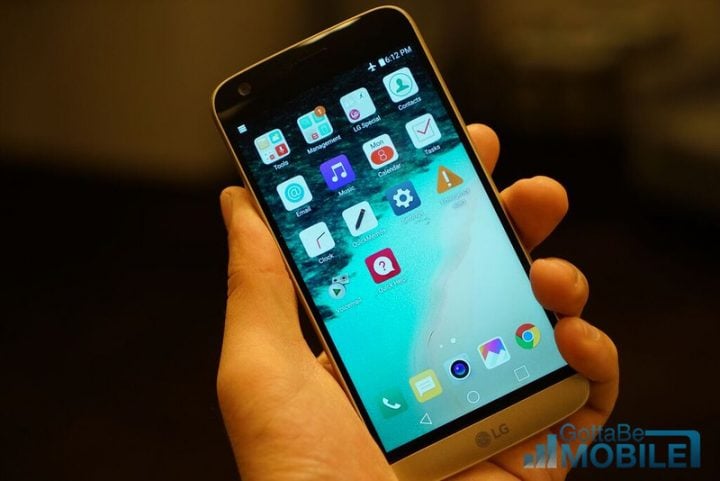 Past LG G smartphones all had a big 5.5-inch display with very small bezels thanks to the buttons being on the back. That isn't the case this year. For whatever reason LG dropped it down to 5.3-inches, and the modular design meant making compromises to the screen size, bezels, and the buttons had to go back to the sides. It no longer feels like a big immersive screen, although the size will probably be perfect for many.
If the Galaxy S7 is too small and the Nexus 6P or Galaxy Note 5 are too big, the LG G5 comes in at the perfect size.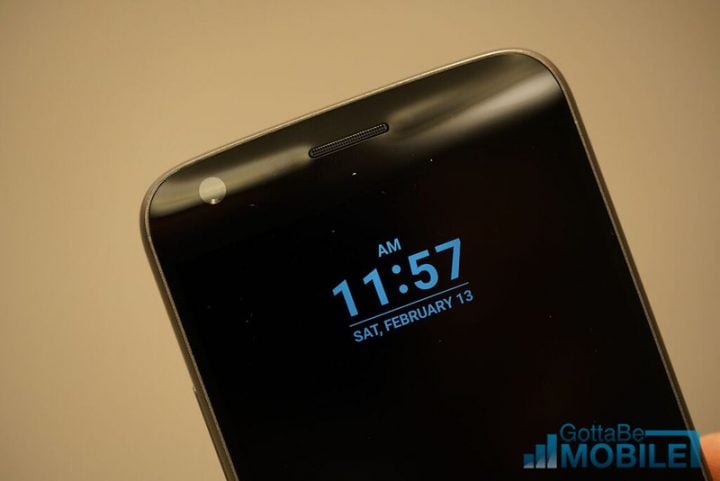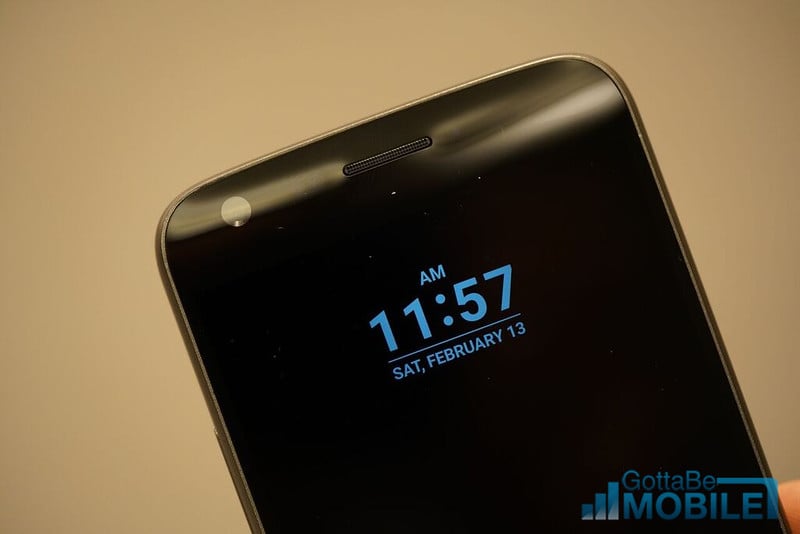 Overall the screen is bright, crisp, clear and has good viewing angles, but the auto-brightness mode was often too dark for my liking. That can easily be fixed by turning off auto mode. The display also doesn't seem to be as accurate as others, like the HTC 10, and white colors have a greenish blue tint. Where the Galaxy S7 seems on the warm and vibrant side, the LG G5 has cold colors that aren't as exciting. LG also debuted a new Always-On display mode that shows the time, date and notifications 24/7 that barely uses any battery life, but it's disabled out of the box. Here's how to enable that feature.
LG G5 Fingerprint Scanner
This year LG ditched the buttons on back and replaced them with dual cameras and a fingerprint scanner, a move that all smartphone manufacturers are making. Surprisingly the LG G5 fingerprint scanner is extremely fast, accurate, works nearly every time and is very easy to setup. Most likely it's the same scanner as the LG Nexus 5X, sold by Google.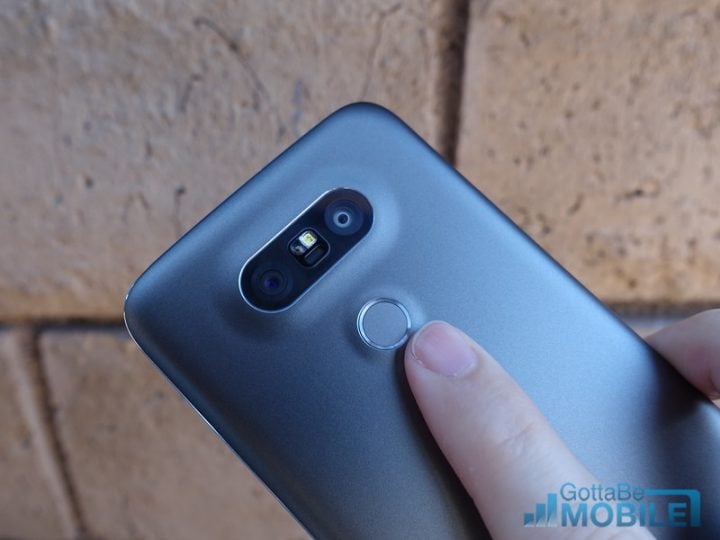 In late 2015 the LG V10 was the first LG phone with a fingerprint scanner, but it was a huge letdown. That isn't the case with the LG G5. It saves a fingerprint after 7-8 taps (instead of 13-15 on Samsung) and works great. It adds an extra layer of security, doubles as the power button, and adds features like Android Pay to the device.
Fingerprint scanners look to be a feature all phones will have in 2016 and LG started off great in this department. It's arguably one of the best on the market and is as fast or accurate as Samsung and Apple. We have no complaints from the fingerprint scanner and love the perfect location on back.
LG G5 Camera
If there was one area where the LG G5 really shines, it's the camera. The same could be said about the LG G4 last year, which is why the company kept the same impressive 16 megapixel camera, but added a second wide-angle lens for added function and features.
Snapping photos on the LG G5 is a breeze. Quickly double tap volume down and the camera instantly launches in 0.08 seconds when the screen is off. The 16 megapixel prime camera takes great photos, has a fast laser auto focus and optical image stabilization. The fast f/1.8 aperture means shutter speeds are great and low-light situations turn out pleasantly good. Most phones struggle if lighting isn't ideal, but the LG G5 does just fine.
However, to shake things up in 2016, LG added a secondary 8 megapixel 135 degrees wide-angle camera to the back. It instantly turns regular photos into awesome wide angle shots, great for landscape photography, all with the tap of a button (or by simply zooming out on a subject).
LG added a slew of pre-set modes, a full manual mode for truly impressive photos and the new "simple mode" produces some of the best results for average users like myself. It adjusted everything automatically, including auto HDR, and turned out good photos each and every time I clicked the button.
We have all the usual controls and options, as well as shooting modes. From the simple, to the more complex pro mode, then of course panorama photos and more. Both cameras turn out great results for Facebook and social sharing and there's even an option to shoot in RAW for those seeking even better results. LG may not have the best camera app on the smartphone market, but it's very powerful, customizable with shutter speeds and ISO levels, and nearly everyone can take good photos with ease.
Below are three photos from a SF Giants baseball game. The first one is the LG G5 shooting regular, the second is wide-angle which shows a lot more detail and is great for events and the third is the iPhone 6s Plus. The 6s Plus has Apple's best camera, but both photos from the LG G5 are vastly better. From better lighting, more detail and, of course, wide views of nearly the entire field.
The LG G5 camera has been pleasantly surprising, producing quality shots most of the time. However, the auto-focus isn't as fast as the Galaxy S7 and low light, while improved, could still be better. Here are more photos taken with the G5.
Everything from fast action shots, low light, to regular and wide-angle photos were surprisingly good. Occasionally the wide-angle photos didn't turn out very good, with buildings bending (like the last photo) and the edges don't line up. Some are fine, others aren't. The experience isn't consistent, but the G5 camera is still more than capable.  Switching modes or to wide-angle could be a little faster, but overall we don't have too many negative things to say about the camera.
LG G5 Software
Being an LG phone we don't have stock Android, but it's still a familiar affair. Running on Android 6.0.1 Marshmallow covered in LG's new user interface. The company has changed Android similar to what we've seen from LG, Samsung and HTC in the past. On the plus side almost everything is customizable, thankfully.
LG's new skin is similar to previous LG smartphones, but also very different. There are lots of white areas in every menu, which as we said above have a blue/green tint. It makes the screen quality more noticeable. We have the usual quick controls in the pulldown bar to quickly access WiFi, Bluetooth and other settings, and everything else most users are familiar with. This is an Android phone, it runs great and is fast and smooth full of animations and neat effects, but it does look much different than stock Android. LG changed everything.
One thing that was somewhat frustrating was the fact that LG removed the application tray or app drawer. Unlike nearly every Android device ever released, all the apps are scattered on the home screens or in folders. Owners can always download a 3rd party option from the Google Play Store. It's the same approach Apple takes, which was an odd choice by LG.
Read: How to Add an App Drawer to the LG G5
The pulldown bar is filled with shortcuts to settings, brightness controls, screen sharing and other things, and the AT&T LG G5 had DirecTV added and more. There are tons of apps and bloatware on the phone, changes to the size of the on-screen navigation buttons and other small tweaks.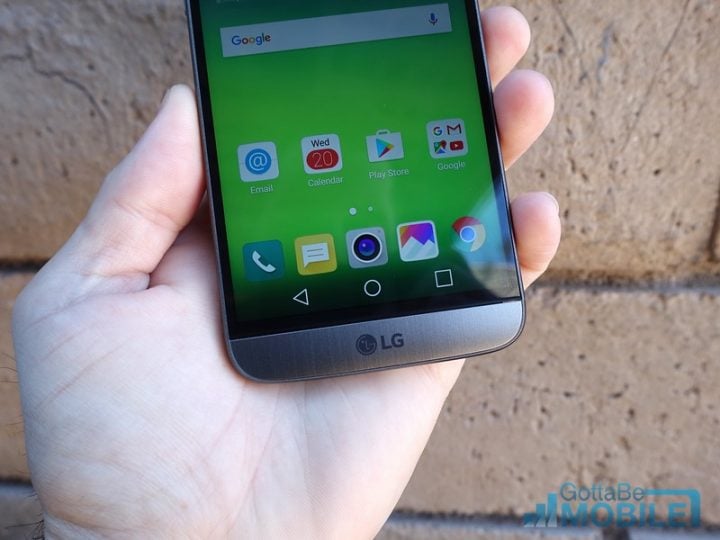 It's still the same Android we all know and love, but it might take some time to get used to all the differences. We do have most of Android 6.0.1 Marshmallow features, though, like improved permission controls, Google Now on Tap, Android Pay, Doze for improved battery life, easy screenshots, split-screen multitasking and much more. The software is smooth and fast with a lot of animation effects. We'd recommend users look through all the settings to see what the phone has to offer.
Read: Top 10 LG G5 Settings to Change
LG also offers a lot of tweaks or customization to most of the software, which is appreciated. We can change the location of the on-screen keys, the colors, the background gradient, swap out the keyboard for something on Google Play and more. While LG's skin over stock Android certainly isn't our favorite, we do enjoy the fact that customization is a large part of it. For whatever reason the keyboard is tiny in landscape mode, which is frustrating.
Personally we'd prefer the approach that Motorola or HTC is taking with Android, by complimenting it rather than just changing everything just to change it, but that doesn't mean the LG interface is bad. It's all personal preference, and many buyers love what LG brings to the table. At the end of the day the LG G5 is fast, powerful, customizable, and smooth with everything we love about Android 6.0.1 Marshmallow.
LG G5 Battery Life & Charging
In terms of battery life the LG G5 is somewhere in the middle of the road, but does surprisingly well considering the smaller battery. Like we mentioned earlier, LG opted for a 2,800 mAh battery rather than the large 3,000 mAh option they've used in prior years. While Samsung, HTC and everyone else is adding a bigger battery, LG went backwards.
At the same time, the screen is smaller and it has a more efficient Snapdragon 820 processor with Android 6.0.1 battery saving "Doze" features, so it's on par with the LG G4. That's not really a good or bad thing. Typically we'd prefer improvements, like the Galaxy S7 Edge lasting two days with a huge 3,600 mAh battery, but that's not the route LG opted to take.
That said, the phone still lasts throughout an entire day for the most part. Taking it off the charger at 8:00 AM and doing some light web browsing, phone calls, texts all day, Gmail and all notifications set to push which uses the most battery. I had heavy usage during the day with some casual gaming like Clash of Clans. Followed by some research on the NFL draft and my Packers. It held up well. It's not the best, but more than enough for most.
At the end of the day come 6PM I had about 45% charge remaining. Typically the LG G5 lasted about 12-14 hours on a single charge. Then of course I can always swap out the battery, which then means turning off the phone, adding the spare battery and rebooting the phone.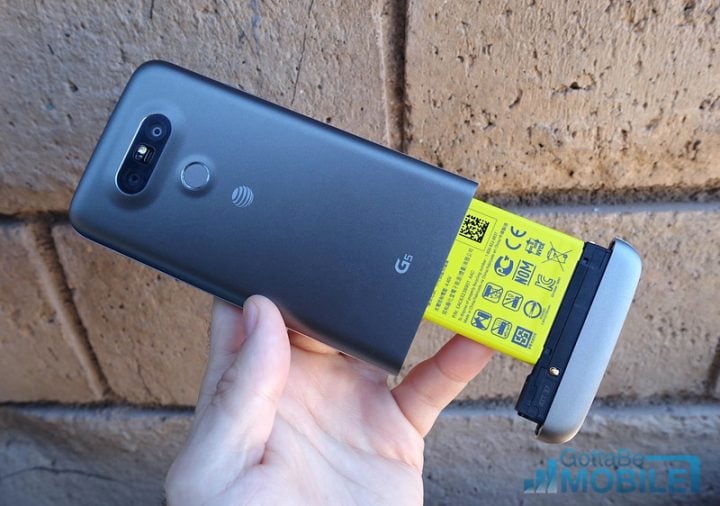 We would have preferred the same large 3,000 mAh battery LG used in the G4 and even the older G3, but this will suffice. Having a replaceable battery is a big deal these days and users will love that aspect.
Then, arguably more important is the new Qualcomm Quick Charge 3.0 technology inside the phone. So what does that mean? Let me explain. The LG G5 can recharge from 0-80% in about 35 minutes, which is extremely impressive. Then it trickle charges the remaining 20% to preserve the life of the battery. A quick drive home will give owners more than enough battery for an entire night out. It's crazy fast and amazingly convenient. It's my favorite feature.
However, LG put an older Quick Charge 2.0 charger in the box. Meaning it can recharge from 0-50% in 25 minutes, or fully recharge in nearly 75 minutes. This is still way faster than phones from a few years ago, and great, but we'd recommend all users get a certified Quick Charge 3.0 charger for other rooms in the house and their car. It's worth it. We're not sure why a faster charger wasn't included in the box, but it could be to prolong the life of the battery.
Don't expect the LG G5 to last 2-3 days, although very light users can easily make it over 24 hours and through some of the next day. Be sure to have a spare battery charged up or an extra charger laying around.
LG G5 Friends Accessories (Modules)
As we mentioned earlier, a big part of the LG G5 release is the Friends accessories or modules that attach to the bottom and its modular design. Early rumors called it the Magic Slot, although it's not all that magical.
During the announcement LG hyped up this neat and novel idea, but it's one that didn't come together very well. There is a lot of potential here, we're just no sure if LG (or 3rd party manufacturers) will make more accessories for it.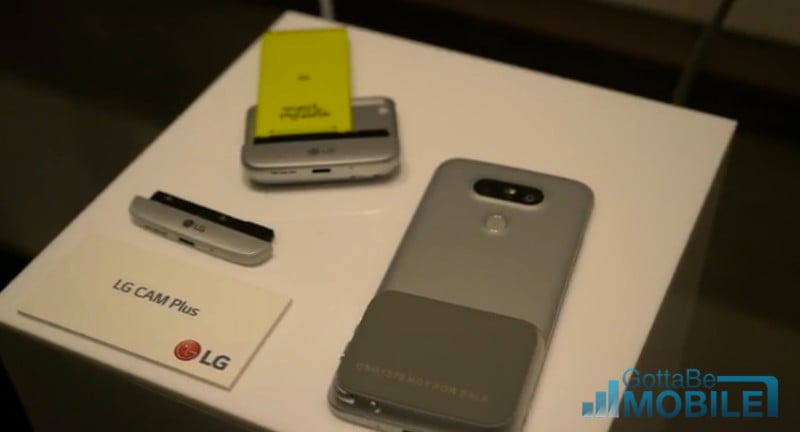 Right now there is the LG CAM Plus, an attachment that basically extends battery life and gives the phone a more usable camera grip. It features a zoom wheel that works with the wide angle lens around back, a dedicated shutter and record button, and that's about it. A nice addition, but not one that many will use often.
Arguably the better things are the 360 VR camera or the Hi-Fi DAC from Bang & Olufsen, but neither are available in the US. We're not sure they ever will be either. The result is an entire design around modular parts with only one available for customers to buy.
We have faith that LG is working on more modules and 3rd party manufacturers can probably build some neat stands, car docks, extended battery cases and other things that tap into the modular design, but for now the options are rather limited.
Final Thoughts
At the end of the day users are going to buy what they want, trust and are familiar with. Anyone who has enjoyed an LG smartphone will feel right at home with the LG G5. It's a good phone with all the bells and whistles, with more than enough power to make it surprisingly smooth and enjoyable.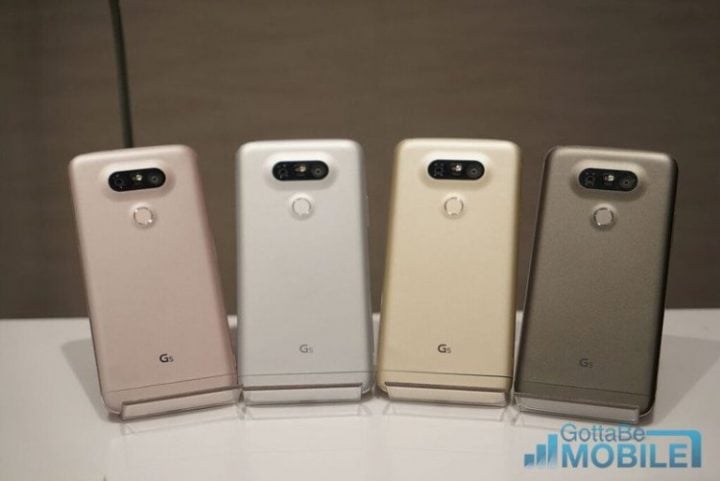 In a year where LG needed to really step things up a notch, they went with a bold new approach that may or may not pay off. The modular design means the LG G5 can and probably will get better over time, but as of right now the options are limited and it still feels very much like a work in progress. In order to stand out and differentiate themselves from other Android manufacturers LG tried something very unique. At times it works, others it doesn't. The end result is a really good phone that doesn't have enough refinement and polish to stand up to the competition.
On the flip side, the first Galaxy Edge wasn't that great, but Samsung built on the idea and improved it into what's now arguably the best phone on the market. The Galaxy S7 Edge. LG can continue this idea and build on it for future phones. Looking past the design hiccups and a few small complaints the LG G5 is fast, powerful, well-rounded and has a pretty excellent camera setup that most users will enjoy. Battery life could be a little better, but then again, that's what a replaceable battery is for.