LG G5 Setup Guide: 5 Steps to Get Started
The unique new LG G5 is now available around the globe and from all carriers in the United States. Out of the box LG's new phone is great, but below we'll go over a few helpful tips and tricks, as well as a setup guide, to help buyers get the most from the LG G5.
Equipped with a smaller 5.3-inch Quad-HD display, modular design and dual camera setup on the rear the G5 has a lot to offer. From setting up all the settings, adding an app drawer, enabling the always on display and more. There are a lot of things owners can do to improve the phone even more.
Read: How to Speed Up the LG G5 in Seconds
Right out of the box the LG G5 is fast, fluid, and works wonderfully but there are always a few steps you'll want to take. In just 10 or so minutes, this guide will get your new smartphone prepared for the future with better security, backup options, improved battery life, and much more.
Running the latest Android 6.0 Marshmallow with LG's skin on top, the phone is extremely fast. At launch it didn't have an application tray, but a recent update returned it. The first step we'd recommend is getting an app drawer, then proceed with the rest of our suggestions.
With the G5 owners have tons of settings, customization, relocation of the main navigate keys and other things. LG packed a lot into this phone, and sifting through all of the settings can be a daunting task. All owners should look through them and get familiar with the phone.
Better Security
An option that's been available on Android smartphones for years that many users don't employ, is a passcode or pattern on the lockscreen. However, the LG G5 ditched the rear buttons and added a fingerprint scanner. So our first step is adding a pin or password, as well as a fingerprint for added security.
Read: How to Enable the LG G5 Always On Display
Setting up a fingerprint is extremely easy and only takes a few taps in settings, a couple of taps of a finger, and we're all done. Below is a screenshot of where to do this, if owners skipped the process during the initial setup.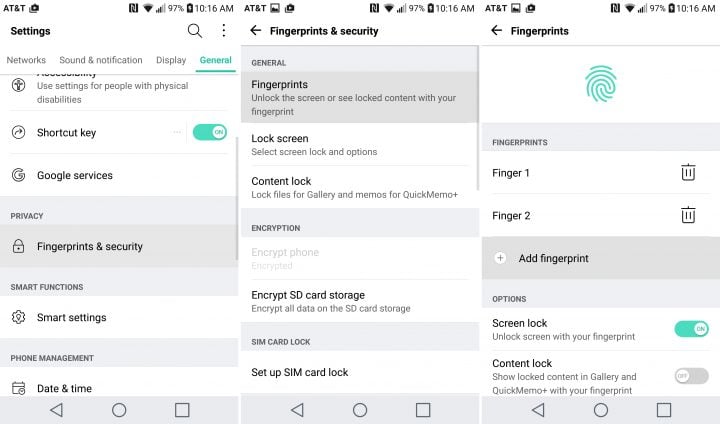 Head into settings > general > fingerprints > add fingerprint and setup at least one or two fingers. The button is on back, so we'd recommend both index (pointer) fingers for ease of use with both hands. The G5 requires owners to add a pin or second level of security as well, which is a good idea.
Backup & Restore
While we won't get into transferring from an old device to your new LG G5, we will explain a few simple steps you'll want to take to keep your new phone backed up and ready to go. Google's backup options will be brought up during setup, which we'd recommend most users agree to, but you can always control more backup & sync options in settings later.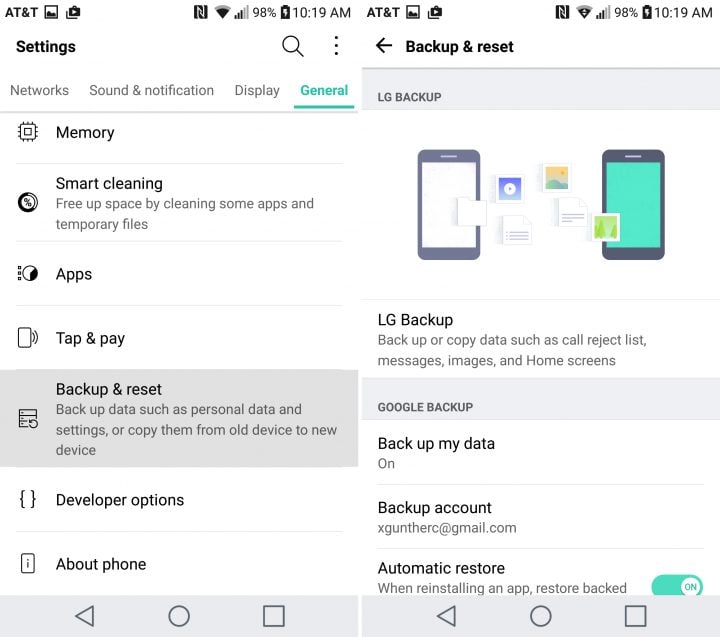 Settings > General > Backup & reset > Back up my data
Using the same steps as mentioned above you'll want to head into settings and scroll down to backup & reset. Here is where you can turn on/off Google's backup solution. It isn't an all-in-one solution, but will backup (and restore on a new device) your WiFi passwords, app data (and game saves) wallpapers, and other settings. This is extremely convenient. There's also a LG Backup option that will let you copy data, call reject lists, text messages, images, and even your home screen. An easy way to switch to a new phone if needed.
Users can also check or uncheck the restore option where Google will automatically restore any available settings or data from an app being reinstalled. This will restore your information if the G5 is lost or stolen
Read: How to Backup Android in 5 Easy Steps
Android Device Manager
Google offers a pretty good Device Manager and locator service of its own called the Android Device Manager. This is similar to FindMyiPhone, and works great. There's almost no setup once you download the app from the Google Play Store, then just let Android's device manager find your lost phone if you ever need to.
This is essential in case you ever lose your LG G5. You can access the ADM from another Android device, your tablet, or a PC to find a lost or stolen device, then track it down and recover that expensive smartphone. Even without it enabled, while logged into your Gmail account in Chrome just type "Find my Phone" in the Google search bar and it will find it's nearest location. Pretty neat little trick that Google released earlier this year.
The Android Device Manager has other useful features too. Owners can lock the G5, wipe out any smartphone to erase data in case of theft, or even make your phone ring at max volume if it's lost somewhere in your house, all using the Android Device Manager site from a PC, tablet, or another phone.
This is one of those small steps that many users overlook, but if you ever need it, you'll be glad you took the 2-3 minutes to make sure it was ready to go.
Set Mobile Data Limits
Another thing many owners never do, but will save money and headache, is set mobile data limits. Whether you have a 2GB data plan with AT&T or Verizon, or are on a family plan with T-Mobile sharing data across multiple devices, it's always smart to set limits. This way users can't go over, and end up with a huge smartphone bill at the end of the month. We've all been there, and it's extremely frustrating.
Settings > Data Manager > set the amount of data your carrier plan offers
Here you can set an outright data limit, or also a warning to let you know you're getting close, and to slow things down a bit.
This will ensure that once a limit is reached the phone will alert any user to stop streaming content, use WiFi, or simply take precautions to not exceed the monthly limit. It's something most owners don't do, but the ones that do are thankful once it saves them the trouble.
Improve Battery Life
One of the biggest impacts to battery life besides the big 5.3-inch display and having too many apps syncing 24/7, is Google location services. Whether your phone is always tracking you location to deliver weather updates, or you use Google Now and Google Maps for directions or navigation, this is a big drain on battery life. In Android 4.4 KitKat Google added a new location option which allows for more control here, and the battery saving option is your best route. I'm always surprised how much battery life this one simple setting saves.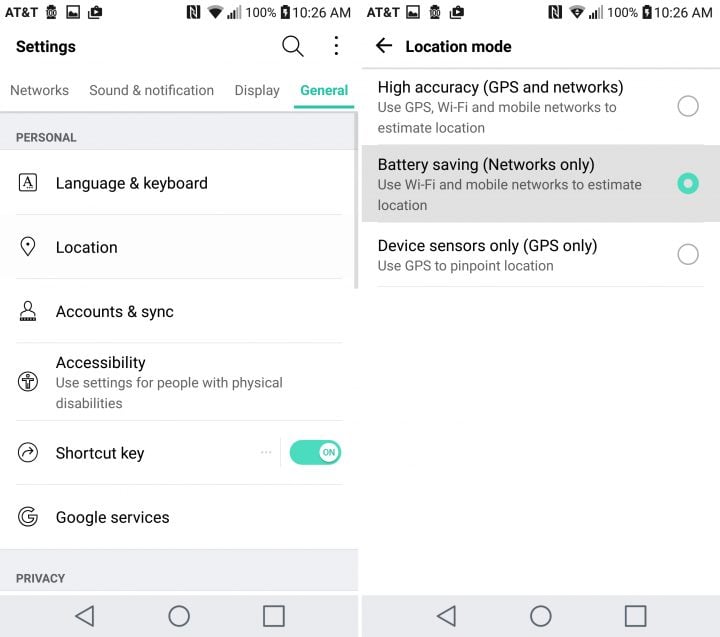 Settings > Location > Mode > Battery Saving
Battery saving mode turns off GPS, so turn by turn navigation may not be as accurate or need to be re-enabled, but for those who rarely use navigation, Battery saving mode is your best bet. This uses WiFi and your cellular network for location services, rather than the phone draining battery with GPS turned on.
Users can also head into settings > display > and lower the brightness to 40% or so, rather than automatic, which can also improve battery life and extend the phone usage into the next day without a charge. It's another good idea to see how often Facebook, Twitter, Gmail and other apps are syncing, and if too often, it'll keep waking up your device and lower battery life. The LG G5 has a smaller 2,800 mAh battery than last year, but appears to be about the same as past LG phones in this department. Another idea is to disable the always on display feature mentioned above. It drains about 1% per hour, if not more.
Final Steps
Of course owners will need to sign into a Google account and get all their contacts, information, and apps, but there are tons of other options you may want to consider. Google Now is an excellent option worth enabling. As it gives you information you may need, before you ask, as well as driving directions, hands-free voice controls, and much more. Google Now can be activated by sliding up from the bottom of the display.
Smart Settings is another feature courtesy of LG. This essentially will automate options like battery saver, WiFi, Bluetooth and other things to turn on or off based on location, time of day, or if you're in a vehicle. These save time, and battery life.
Read: 13 Official LG G5 Accessories
Here we only go over a few important steps you'll want to do when you first get the G5. After you've enjoyed it for a few days, are comfortable, head into settings and look through all the options, camera controls, remote control app and everything else this flagship phone has to offer. Don't forget to charge up a spare battery, and have it ready and waiting the next time you go out.

As an Amazon Associate I earn from qualifying purchases.