LG G5 vs Galaxy S7 Edge: What Buyers Need to Know
Now that both the Samsung Galaxy S7 and LG G5 have been announced and are coming soon, buyers are weighing all of their options and have a tough choice to make. Samsung's new and bigger 5.5-inch Galaxy S7 Edge has a lot to offer and a few key new features, while the LG G5 delivers a modular design and reinvents what a flagship Android phone can do. Here's how the two compare.
On February 21st LG took the stage in Spain and unveiled the modular and impressive looking new LG G5, then hours later the Galaxy S7 and a bigger Galaxy S7 Edge were both announced. Each phone is coming in March, and have a lot of buyers extremely excited.
Read: Galaxy S7 Release Date, Specs & Videos
Many Android users looking for a new smartphone in 2016 will have a lot of options. We've been comparing all the latest phones to the Samsung Galaxy S7, but arguably the two best phones available right now are the Galaxy S7 Edge, and the LG G5. Both have their pros and cons, all of which we'll explain below for those considering one or the other.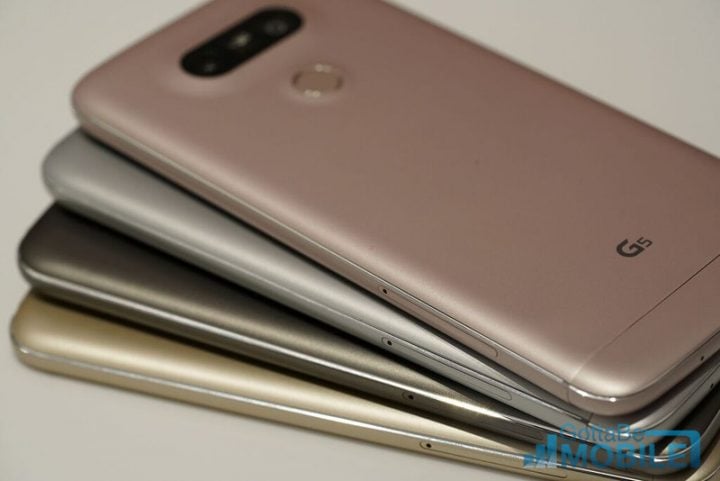 Last year the Galaxy S6 was released in April, and the LG G4 wasn't announced until the end of April and released a few months later. There was a big gap, which lead many to choose Samsung rather than wait. That said, many buyers switched to LG due to it having a removable battery, micro-SD slot and other key features that Samsung removed from the Galaxy S6 in an effort to deliver a premium all metal design.
For 2016 though, things are much different and both manufacturers upped their game in an effort to get consumers to buy their latest phone. The LG G5 integrated a similar beautiful metal design, without compromising on features, and Samsung's Galaxy S7 and Galaxy S7 Edge improved on all fronts and returned those key features that were missing from last year.
The result are two of the best phones around. They both have powerful Snapdragon 820 processors with 4GB of RAM, micro-SD cards, plenty to offer and great cameras. However, there are a few extremely big differences between the Galaxy S7 Edge and the LG G5, ones that all buyers should know before choosing one or the other. Lets get started.
LG G5 vs Galaxy S7 Edge: Display
A big aspect of any smartphone purchase these days is the size of the screen, and this is one area where buyers will have to make a tough choice. For the first time in nearly three years, and for reasons unknown to the public, the LG G5 is no longer a big 5.5-inch phablet. Instead, this year LG opted for a smaller 5.3-inch Quad-HD display, which also meant less room for a big battery, but more on that below.
Samsung did the opposite, and made the Galaxy S7 Edge bigger this year, rather than the same size as the regular Galaxy S like last year. As a result, here's what each phone offers in terms of the display.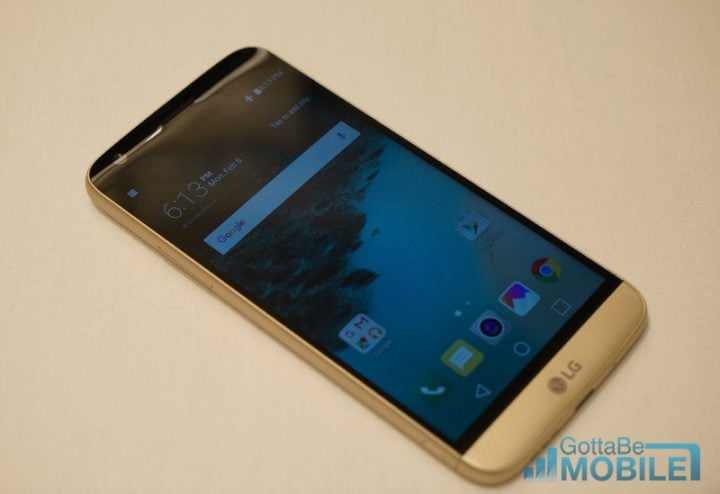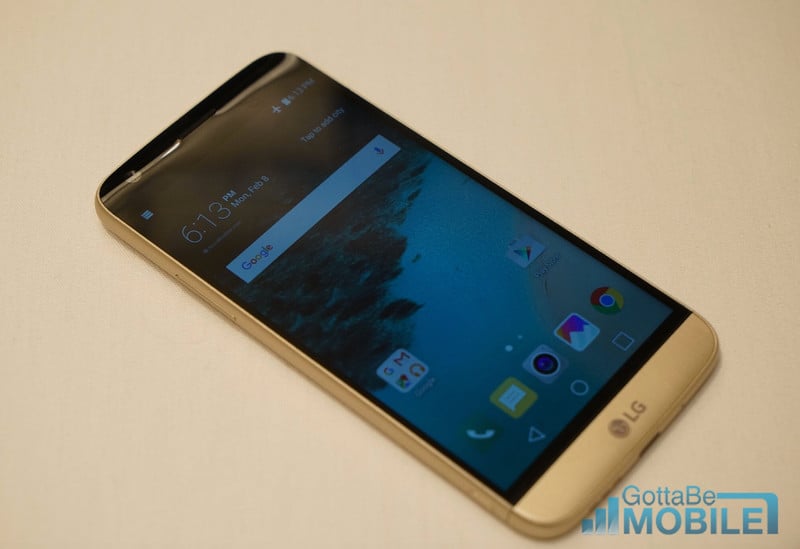 The Galaxy S7 Edge has a 5.5-inch curved display with a 2560 x 1440 Quad-HD S-AMOLED display. The LG G5 though, is slightly smaller and more portable being 5.3-inches. As a result users will need to decide if they want a big 5.5-inch screen or something smaller. Those with an LG G4 won't want a smaller screen, and those upgrading from a Galaxy S5 or Galaxy S6 may want something bigger than the LG G3, which makes the Galaxy S7 Edge perfect.
Samsung's positioned the Galaxy S7 Edge as the perfect middle ground. It's not as small as the Galaxy S7, but not as big as the Galaxy Note 5 or Galaxy S6 Edge Plus. Being 5.5-inches its right what many would consider the perfect size, and does it while offering extra features in the curved screen.
The LG G5 should technically look better as it has a smaller screen and the same amount of pixels, but Samsung's displays are always among the best on the market. Add in the curved glass, and it's easy to see why many would choose the Galaxy S7 Edge instead.
It all comes down to personal preference, but just know that the Galaxy S7 Edge is slightly bigger, curved, and beautiful. While the LG G5 is smaller being 5.3-inches, but is still an amazing phone with a brilliant Quantum HD screen.
Design
For 2016 Samsung decided to keep the same design as last year, and refine it. As a result the Galaxy S7 Edge looks very similar to last years phones, but has rounded edges on the back too, making it feel thinner in the hand, and easier to hold.
LG on the other hand, completely changed everything. Gone are the cheap plastic or leather materials, and the buttons on back are gone as well. Instead the LG G5 is made out of a new unibody aluminum frame with dual cameras and a fingerprint scanner on the back, and the volume keys moved back to the side like most other phones.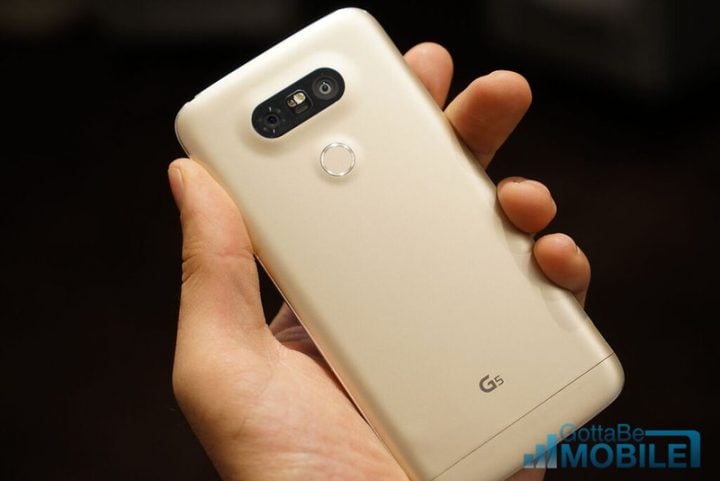 This year LG really stepped up the design, and wanted to offer a premium smartphone experience with no compromises. Something Samsung failed to do in 2015. As a result the LG G5 still has a removable and replaceable battery, a micro-SD slot, and can have lots of addition accessories thanks to a slide-out modular design on bottom. It's pretty unique, but we'll have to wait and see if it's worth the gamble.
Both phones are made out of premium metal materials, have a sleek finish, and look great. That said, there are some big aspects of the design users need to be aware of. The LG G5 is aimed at offering a replaceable battery and additional modular accessories with the "Magic Slot" shown above, to transform the phone into multiple different devices.
Samsung's Galaxy S7 Edge though, has a leg up. It's IP68 dust and water resistant, and can be submerged under nearly 5ft of water for more than 30 minutes with no problems. We doubt the LG G5 will survive a splash or drop like that, so it's one more thing to consider.
What's more important? A durable smartphone, or a replaceable battery? That's up to buyers to decide. Both phones have a micro-SD slot this year, but Samsung's still not letting users replace the battery. That said, with the Galaxy S7 Edge, you won't need to.
It's all about personal preference, features needed, and which screen size is right for you. That said, there are other notable differences we'll explain below.
LG G5 vs Galaxy S7 Edge: Specs
Both of these phones have some of the latest and greatest specs available for a smartphone. Powerful processors, impressive cameras, unique features and more. It's a tough call, and here's a detailed list of specs to help buyers make the right choice.
Galaxy S7 Specs

5.5-inch 2560 x 1440 Quad-HD Curved Display
 Qualcomm 820 Processor with 4GB of RAM (Exynos outside the US)
32 GB of storage with a micro-SD slot
New 12 "Dual Pixel" Rear Camera with f/1.7 aperture, OIS and more, 5MP front camera
3,600 mAh battery with Fast Charging, Wireless Fast Charging
Android 6.0.1 Marshmallow with TouchWiz
Fingerprint Scanner
IP68 Dust & Water Resistance
Always-on display feature
Flater Design (nearly no camera bulge)
more
Samsung's Galaxy S7 Edge has a bigger screen, a substantially bigger battery, more charging options and is IP68 dust and water resistant.
LG G5 Specs
5.3-inch 2560 x 1440 Quantum HD Display
 Snapdragon 820 processor with 4GB of RAM
32GB of storage, micro-SD slot for expansion
16 and 8 Megapixel Dual rear cameras, OIS, laser auto-focus and more
8 Megapixel front camera
2,800 mAh removable and replaceable battery
Android 6.0.1 Marshmallow
Fingerprint Scanner on back (buttons moved to side, not on back like prior years)
Premium All Metal Design
USB Type-C Charging Port
more
Moving to a smaller screen and aluminum design, and the fingerprint scanner, meant LG had to use a smaller battery. This is something many buyers aren't happy about, considering all previous releases had a 3,000 mAh battery inside. Yes it's easy to remove and replace, but it still won't last as long as the Galaxy S7 Edge.
LG is banking on buyers using the replaceable battery, add-ons like the LG CamPlus which extends the battery by an extra 1,200 mAh, and other things. Samsung's just delivered a well-rounded overall package that can do it all, and doesn't need additions. The LG G5 would have been a great match for the Galaxy S6, but this year Samsung improved every aspect, to where it's hard not to recommend the Galaxy S7 Edge over the LG G5.
Both phones features quick charging that can recharge the phone from 0-50% in under 25 minutes, but Samsung's got a much bigger battery. It also does fast wireless charging, giving buyers one more way to recharge the phone when needed. If you truly need a replaceable battery the LG G5 is a great choice, but on paper everything else is better with the Galaxy S7 Edge.
Camera
Another big area of concern for buyers is with the camera. LG and Samsung have lead the Android market in this department, and this year we'll have to try both before we comment. That's because each company took a completely different approach.
The LG G5 has the same 16 megapixel f/1.8 camera as last year with laser auto-focus, optical image stabilization+ and more, but added a secondary 8 megapixel wide-angle lens on back. The phone uses both to capture better photos, more lighting, focuses fast, and takes wide-angle photo or video. Early impressions have been favorable, and the G4 was great last year without the help of the second 8 megapixel camera.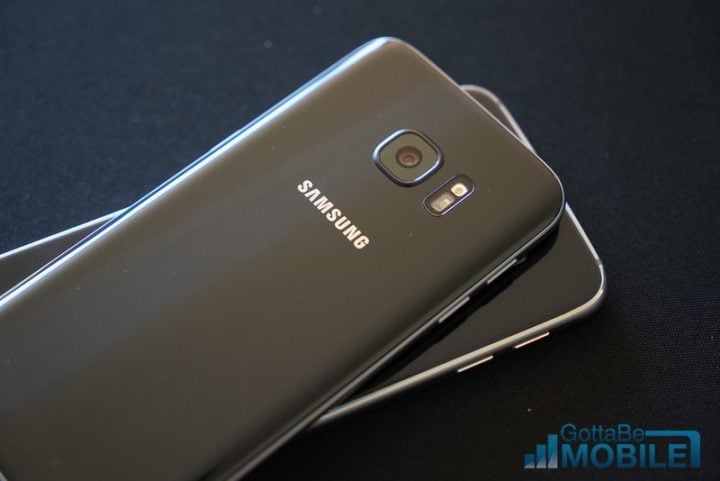 Samsung though, completely changed things this year. They ditched the 16 megapixel camera from previous years, and went down to a new but improved 12 "Dual Pixel" camera. This may sound worse at first glance, but that simply isn't the case.
The Galaxy S7 Edge camera is using a new technology with the huge Dual Pixel f/1.7 aperture camera to capture nearly 95% more light that traditional smartphone cameras, great for low light or indoor photos, and it uses nearly all 12 million pixels to auto-focus. The LG G5 uses about 5% of the megapixels and a laser auto-focus, which is also rather quick.
Both cameras have plus and minuses, but Samsung's already touting its camera as one of the best of the year. Early impressions of it are extremely favorable as well, claiming it's far better than the Galaxy S6, which was comparable or better than the LG G4 last year.
This is a tough choice, and we'll have to review both before we say more on the cameras. Samsung looks to be using some brand new impressive technology, while LG is sticking to a camera they know, and building on it to make it better.
Release Date
Both of these phones are excellent flagship Android smartphones, but Samsung does appear to have a leg-up on LG in a few different areas. Most notably the display, and battery life. At the end of the day though, it's all about personal preference, as everyone is different.
That said, the release date is also extremely important as well. The Galaxy S7 and Galaxy S7 Edge are available for pre-order as we speak, and will be released around the globe and from all carriers on March 11th. Earlier than the LG G5.
LG has yet to make an announcement regarding when the new LG G5 will be released, but we're hearing pre-orders will begin a week after the Galaxy S7 is released, on March 18th at places like Best Buy and carrier retail stores.
Samsung will be first to market, and if you need a phone right now the Galaxy S7 or bigger Galaxy S7 Edge are both great choices. However, those willing to wait for reviews, see what's good and bad about both, or need a removable battery will have to wait until later in March or possible early April before the LG G5 release date.
We don't have all the answers yet, still don't know when the LG G5 will be released, but above is plenty of information to help buyers make the right choice. Once you decide which phone is for you check out some official Samsung Galaxy S7 accessories, or some neat official accessories and cases for the LG G5. Those who pre-order the Galaxy S7 will get a free Samsung Gear VR, and most likely LG will have some incentives too, like last year. Stay tuned for more details, and good luck choosing your next smartphone for 2016.

As an Amazon Associate I earn from qualifying purchases.