LG Gx Leak Points to Galaxy Note 3 Competitor
It looks like the LG G2 isn't all the Korean company has planned for powerhouse smartphones, as we're seeing a leak today that points at a new device to rival Samsung's Galaxy Note 3. The LG Gx leaked this week in a Korean ad, and it could be what's next for the company.
Earlier this year the company released a 5.5-inch LG Optimus G Pro to compete with Samsung's Galaxy Note 2, and in most cases it outpaced Samsung's offering, even if it didn't sell as well. Fast forward to today and we have a 1080p 5.7-inch Note 3, and possibly the Optimus G Pro successor coming in as the LG Gx, spotted by AndroidBeat. We call it a successor because it looks nearly the same, although we could still see an LG G Pro 2 next year.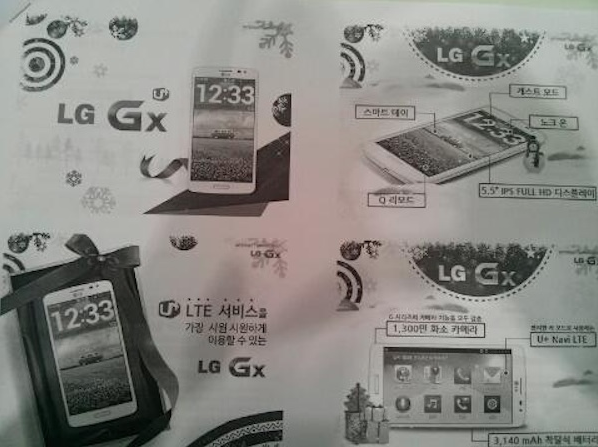 The device above is being labeled the LG Gx, and comes with specs nearly identical to the Optimus G Pro, only with a few small bumps to be more competitive with the Note 3. You'll enjoy the same 5.5-inch 1920 x 1200 full 1080p HD display, and the design looks the same (no buttons on the back) and that's all. The rest has been improved to help make this device rival any and all competition.
According to the flyer you'll have buttons on the front again, rather than on back like the company's newest LG G2, which could be a sign they'll go back to the original button design. The leak mentions a Snapdragon 600, but also 4G LTE-A, which currently is only available on the quad-core Snapdragon 800. Which means it'll likely have the same Snapdragon 800 with 2GB of RAM as the current flagship LG G2 and Nexus 5.
Read: LG Nexus 5 Review
The leak goes on to mention a battery coming in at 3,140 mAh, which is decent, but not much bigger than the LG G2's 3,000 offering, yet they'll have much more room to pack in a larger battery. If the flyer is legit we also spot some holiday themed packages with bows, so we could be seeing this device arrive in time for Christmas.
If not this year, most likely a CES 2014 debut in early January or MWC in February is when the new LG Gx will hit the streets.

This article may contain affiliate links. Click here for more details.