LG Introduces New Smart Cover Cases for Optimus G Pro Smartphone
Apple had popularized the idea of the smart cover for its iPad tablet where magnets placed discretely in the cover flap and the tablet itself can activate the screen when the cover is opened or turn off the display when the cover is closed. The idea has been adopted by Microsoft on its Surface Touch Cover and Type Cover and now LG is implementing the smart cover concept on its new Quick Cover case for the Optimus G Pro smartphone.
The Quick Cover looks like some the Samsung Galaxy S3 and Galaxy Note 2 Flip Cover Case, but when opened LG's Quick Cover will also activate the display.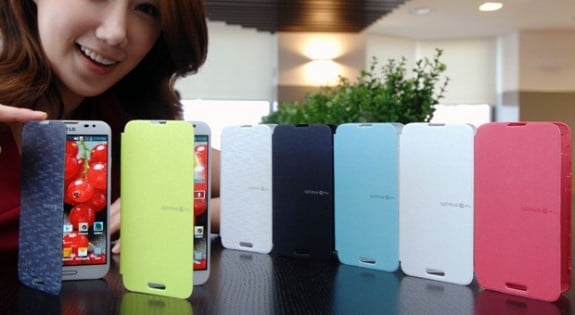 The Quick Cover right now will come in a number of different colors, including black, white, blue, lime green, pink, and a metallic blue variant.
The covers retail from about $36 to $40, and it's unclear when they'll be coming to regions outside of South Korea.
We have yet to see a Quick Cover in person, so we don't know how much heft it will add to the Optimus G Pro. The nice thing about the Samsung Flip Cover is that it replaces the rear battery cover. So rather than adding bulk to the rear of the phone, it replaces the battery cover and then the cover wraps around to the front surface to offer protection for the display. It's unclear if the Quick Cover will be similar in concept to Samsung's design, or if it will snap onto the rear battery cover, adding some additional bulk.
According to Engadget, it looks like NFC and wireless charging will be compatible with these Quick Covers.
The LG Optimus G Pro is expected to be arriving in the U.S. as well. LG has not given specifics as to when that will happen–the company says it is arriving Q2 in North America–nor which carriers will support the device. Currently, Sprint Nextel and AT&T Mobility are offering the Optimus G version with the 720p HD display. The Optimus G Pro will have a full 1080p HD display. LG is offering a 5-inch variant in Japan and a 5.5-inch variant in South Korea of the same phone.