LG Lucid 2 Headed to Verizon as Free Smartphone
Verizon is launching a version of the LG Lucid with user interface changes and a price tag aimed directly at overcoming what the carrier perceives as large barriers to smartphone ownership. The device will be free with a two-year service agreement, starting April 4 on Verizon's website.
The LG Lucid 2 will be an exclusive for Verizon. According to CNET the device will feature a 4.3-inch qHD IPS display, a 1.2 GHz dual-core Snapdragon processor, 1GB of RAM, 8 GB of on-board storage and wireless charging. However modern its hardware is, Verizon is choosing to talk up what it plans to be the real selling point of the product instead: the Lucid 2 will ship with a customized version of Android 4.1.2 "Jelly Bean", designed to make the switchover from feature phones with limited capabilities to a full-fledged smartphone easier on subscribers. This Starter Mode, as Verizon is calling it, also comes at a very low price for users looking to get more features from their mobile device while not breaking the bank.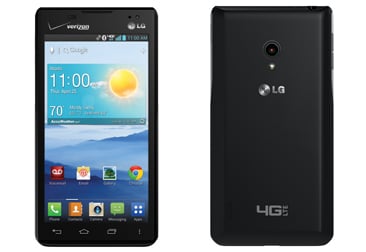 Users will be prompted to choose between Starter Mode and Standard Mode the first time they use the Lucid 2. Starter Mode will use predefined home screens to make it easier to find the most-used apps and contacts. Standard Mode will act in much the same way as an LG smartphone running Android does today. Users can switch from Starter Mode to Standard Mode when they become more comfortable with the Android.
The LG Lucid 2's predecessor, the LG Lucid, was also aimed at attracting first time smartphone buyers. In our LG Lucid review we found that its $79.99 price tag, solid battery life and access to Verizon's latest generation 4G LTE data network made it an attractive deal.
Read More: LG Lucid Review
First-time smartphone buyers on Verizon do have other low priced alternatives to the LG Lucid 2. The Samsung Galaxy S3 is available for $19.99 through Amazon Wireless and Windows Phone inclined users can pick up the Nokia Lumia 822 from Verizon's website for free. Like the Lucid 2, both are 4G LTE capable.

As an Amazon Associate I earn from qualifying purchases.