LG Miracle Windows Phone Poses for the Camera
Back at the end of December, a device called the LG Fantasy, a Windows Phone without a known destination, leaked out in the wild. That same phone, with a new name in tow, has leaked out again today in a couple of new photos. Ladies and gentlemen, meet the LG Miracle, a Windows Phone without a known destination. Same phone, same specifications.
Let's delve into those specs for a second, shall we?
The LG Miracle is expected to arrive with a four-inch WVGA NOVA display, 8GB of on-board storage space, a 1GHz Snapdragon processor, a VGA front-facing camera, a 5MP rear camera, an HSPA radio – No 4G LTE, folks, and it should arrive with Microsoft's Windows Phone 7.5 Mango operating system on board.
Not bad.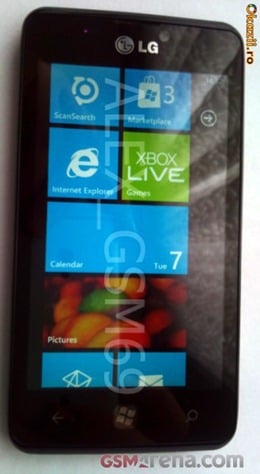 What's more is that it will have Near Field Communication (NFC) capabilities which means you should be able to use it with mobile payment services like Google Wallet.
So that's the LG Miracle save for two big pieces of information. One, its announcement/release date. And two, the carrier or carriers that it will be headed to.
To answer question one, we fully expect LG to announce this phone alongside a number of other phones at this month's Mobile World Congress in Barcelona. And to answer the second question, not a clue.
If we had to guess, we'd say that T-Mobile might be in the running considering the device's HSPA+ radio, but then we'd have to throw AT&T in there as well. And hey, considering these photos leaked on a Romanian site and MWC is a European trade show, we may never see it land in the U.S. at all.
Luckily, if you're interested, we'll know more later on this month.

This article may contain affiliate links. Click here for more details.