LG Nexus 4 To Ship On October 30
British retailer Carphone Warehouse already shows a product page for the LG Nexus 4 where it says the smartphone will ship by October 30.
The Carphone Warehouse page lists the LG Nexus 4 as free with a £31 per month fee. According to The Verge the Carphone Warehouse inventory says the phone will cost £389.95 without a SIM. That translates to about $629.18 for the phone without a contract, which is about the same cost as an iPhone 5 unlocked. The price coud change when the new Nexus phone hits the U.S. shore.
The page for the LG Nexus 4 also confirms that it will run Android 4.2. The website calls Android 4.2 Jelly Bean, but doesn't say what's different between 4.1 and 4.2. In the specifications section, however, the site says the phone will have Android 4.1.2 and not Android 4.2.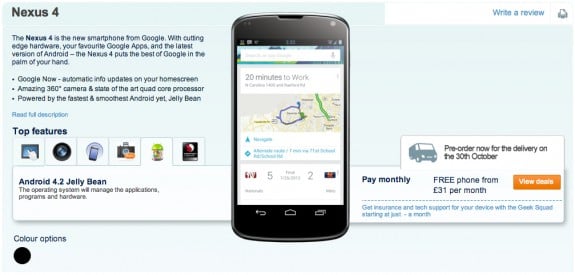 The listing also confirms the LG Nexus 4 will have a 4.7-inch 1280×768 display, a 1.5GHz dual-core Snapdragon S4 processor, and NFC. The phone will also feature an 8MP rear-facing camera that can shoot 1080p video and an unspecified front-facing camera.
Google will announce the LG Nexus 4 on Monday, October 29. It's not clear when the phone will go on sale in the U.S., but if the phone will ship on October 30 in Europe, it will likely ship in the U.S. relatively soon after the event as well.
The last Nexus phone, the Samsung Galaxy Nexus, first came to the U.S. as a Verizon phone and was later offered through the Google Play Store. Google could opt to put the phone up on the Play Store before waiting for carriers to release the smartphone. Several users complained about Nexus experience on Verizon last year, as the carrier held up updates and disable features like Google Wallet.

As an Amazon Associate I earn from qualifying purchases.