LG Optimus L7 Headed to U.S. as LG Venice for Boost Mobile
It looks like the mid-range LG Optimus L7, which was originally announced earlier this year at the Mobile World Congress show, may be headed to the U.S. The phone is now rumored to be arriving on U.S. prepaid carrier Boost Mobile and may be called the LG Venice.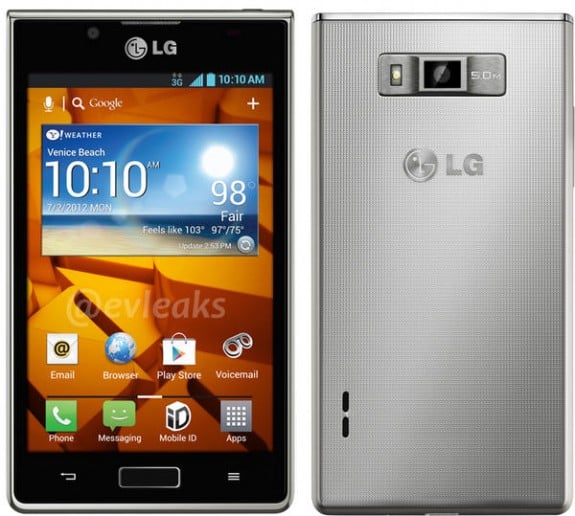 Images of the device's front and rear of the device were posted on Twitter by user @evleaks. Though the phone's hardware remain unbranded at this time, the image of the screenshot on the front of the device shows some Sprint-related icons. As Boost Mobile is a wholly-owned prepaid brand through Sprint, this makes sense. The device was shown with Mobile ID (akin to Sprint ID), Email, and Voicemail icons that resemble those on Sprint's Android devices.
The LG Optimus L7 boasts an attractive and stylish design and modest specs to hit a lower price without requiring users to sign a contract. The device was announced with Android 4.0, a 1 GHz single-core CPU, a 4.3-inch WVGA resolution IPS display, 512 MB RAM, 2.4 GB internal storage, micro SD card, and 5-megapixel rear camera along with a front-facing camera.
Right now, it's unclear when the LG Venice will debut on Boost Mobile's network. It's also unclear if this will become an affordable or free smartphone on contract through Sprint's post-paid network as well.
We'll have to wait for an announcement from LG and Boost if these leaks pan out to be true.

As an Amazon Associate I earn from qualifying purchases.