LG Optimus G Pro Coming To AT&T May 10 For $199.99
The LG Optimus G Pro will come to the U.S. as an AT&T exclusive on May 10 for $199.99 on a two-year contract.
AT&T announced pre-orders for the phone will start on Friday, May 3. All users who pre-order the phone will get a free Quick Cover black folio case, which replaces the back panel of the smartphone and protects the front of the phone.
The LG Optimus G Pro on AT&T is the same phone that LG introduced in Japan and Korea in the past few months. The phone features a 5.5-inch Full HD IPS display with a pixel density of 400ppi (lower than the HTC One, but higher than the iPhone 5). Inside the phone has a quad-core 1.7 GHz  Snapdragon 600 processor, the same chip that's inside the HTC One and the Samsung Galaxy S4.
LG's new phone also features a 13MP rear-facing camera and a 2.1MP front-facing camera. Like the Galaxy S4, the phone lets users record video using both cameras at the same time.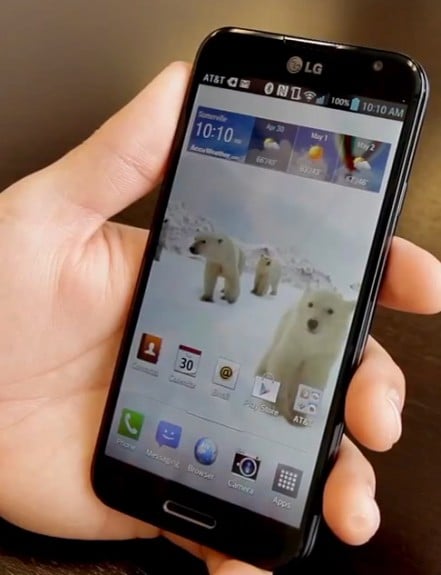 In fact, a lot of the features of the LG Optimus G Pro are also found on the Galaxy S4. Both phones have options to view multiple apps on the screen at once, both have IR sensors to act as a universal remote and both feature relatively large batteries. The LG Optimus G Pro uses a 3140 mAh battery, while the Galaxy S4 uses a slightly smaller 2600 mAh battery.
The LG Optimus G Pro also has a unique feature called VuTalk which lets users talk on the phone and simultaneously write on a virtual notepad. The feature is great for users who want to collaborate on notes while talking on the phone, but both users need the Optimus G Pro in order to use it. With an AT&T exclusivity, it might be hard to find other people with the phone, especially with other big-name phones available on multiple carriers.