LG Optimus Vu II Phablet Offers Modest Improvements Over Original
As Samsung is readying the launch of its second-generation Galaxy Note II phablet, which boasts more broad changes and upgrades–at least from the perspective of the U.S. Note on AT&T and T-Mobile USA, rival South Korean smartphone-maker LG is also preparing the launch of a second-generation Optimus Vu dubbed the Optimus Vu II. However, according to leaked specs for the second-generation Vu phablet, the Vu II won't offer as radical of improvements as the Note II did over the first-generation counterparts.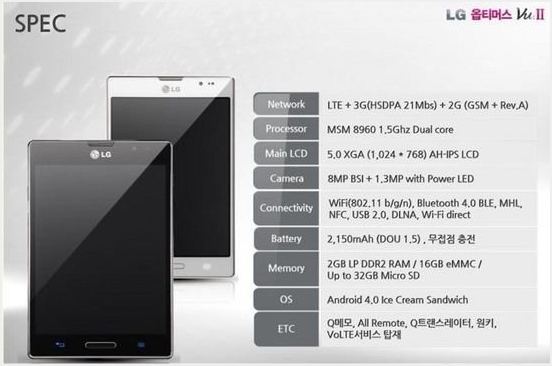 According to Phandroid, leaked specs reveal that LG will keep the same 5-inch display with a resolution of 1024 X 758-pixel, which gives the device a more 'square' form factor and makes the Optimus Vu II feel wider in the hands than the Note II's 16:9 1280 X 720 resolution display. The Optimus Vu II will have the same display size and resolution as the original.
The processor will be a dual-core Qualcomm Snapdragon S4 processor that's capable of supporting either a 4G LTE. The device will have 2 GB RAM, matching the RAM on Samsung's device, along with NFC support, an 8-megapixel rear camera, and slightly larger battery.
Previously, the Optimus Vu II was also rumored to launch with a consumer-grade infrared port to allow the device to function as a touchscreen remote control for home entertainment systems and TVs.
The Vu II will launch with Android 4.0 Ice Cream Sandwich.
Thus far, LG has not announced the device and it's unclear when the Vu II will launch. In the U.S., the original Vu was launched on Verizon Wireless' 4G LTE network as the LG Intuition 4G.

As an Amazon Associate I earn from qualifying purchases.