LG Preps Revised Optimus Windows Phone 7 Device with Pre-Loaded Mango
LG is preparing a revised version of the company's Optimus 7 handset. According to the WiFi Certification Forum, the new LG E906 may be a revised version of the company's current Windows Phone 7, but the new handset would come pre-loaded with the new Mango software update.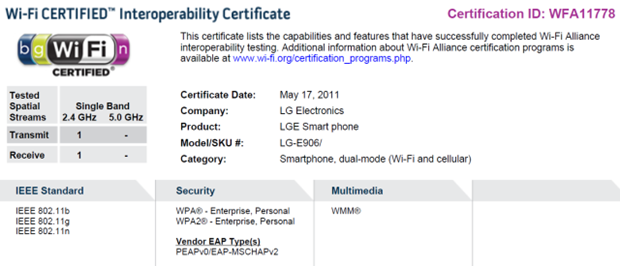 The LG E906 was previously spotted in May with a browser user agent of IE9, indicating that it would be a Mango handset. The device was also spotted at the Bluetooth Special Interest Group (SIG) for Bluetooth certification and shows that the device will be a world-wide GSM smartphone release.
Currently there is no additional details about the handset and it is unknown whether LG will keep the same internal components or if the company will refresh the processor to use a newer variant of the Snapdragon chipset. It's also unknown is the new LG E906 will also support a front-facing camera for video chat.
When released, the device may face competition from Samsung's Windows Phone 7 variant of the Galaxy S II along with the HTC Eternity. Additionally, Nokia will also be joining the Windows Phone 7 arena with its own portfolio.
Via: WMPU

As an Amazon Associate I earn from qualifying purchases.