LG Revolution Becomes Latest Verizon 4G Smartphone to Drop in Price
Prices on Verizon's 4G LTE smartphones continue to fall and this time it's the LG Revolution's price tag that has been cut and this time it happened over at Big Red itself and not at one of the usual retailers.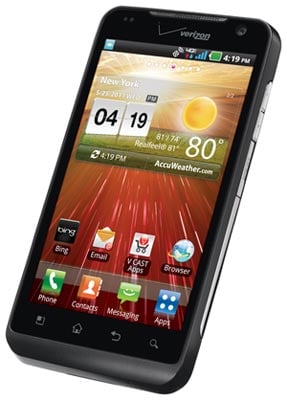 The Bing-powered phone has dipped to $199 through Verizon which is still a laughable price tag considering both Wirefly and Amazon are offering it for much cheaper. Wirefly is currently offering it up for $50 on-contract along with $25 for use on the Android Market while Amazon is offering it for a flat $50.
Of all the current 4G LTE smartphones, the LG Revolution is certainly the least appetizing and honestly, that's saying a lot considering how little I like the Droid Charge and the HTC ThunderBolt. The ThunderBolt has finally gotten a little better but to be honest, it's probably too late to recommend it to anyone.
So, if you want to overspend for a smartphone that already lacks luster and will look even worse when the Motorola Droid Bionic arrives in August or September, then you can find Verizon's offer here.
Via: Droid-Life

As an Amazon Associate I earn from qualifying purchases.