LG Teases Event, Optical Image Stabilization for Optimus G2
Based off the video teaser the company showcased this past weekend for its event in New York City next month, it's possible that optical image stabilization technology could be making its way to the LG Optmius G2.
LG added the teaser to its YouTube page this past weekend as part of its effort to promote the event that will be taking place on August 7th. A picture of the accompanying invitation sent to AndroidCentral includes the tagline "Great 2 Have You," a likely hint to the company's upcoming Optimus G2.
The video begins with a person holding up what seems to be a camera phone as they walk around and maneuver around the hordes of traffic and cars in New York City. Throughout the video, signs carrying the message "To me, you are perfect. From G," is everywhere including sidewalks, street corners, billboards and as a title on a book. Eventually the holder of the camera tilts the device down and jumps, possibly hinting at technology that helps users deal with the distortions that come along with sudden movements and capturing pictures and video.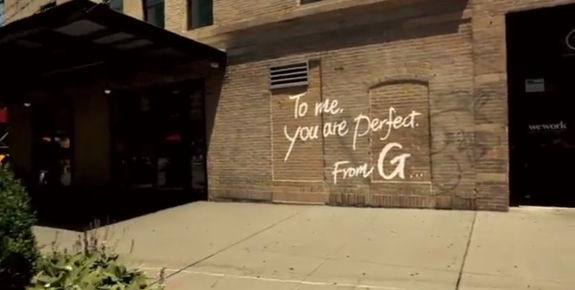 Optical image stabilization allows cameras to compensate for motion by having the camera's sensor be suspended in place. Though not totally new, Nokia already includes the technology in its high-end devices like the Lumia 925, Lumia 928 and Lumia 920, building that technology into its upcoming Optimus G2 flagship would go a long way towards helping LG stay current with the latest hardware trends.
Read: LG Optimus G2 Rumored to Be Multitasking Powerhouse with 3GB of RAM
Staying current with camera optics is key to keeping consumer focus away from the Nokia Lumia EOS that's expected to be showcased at this week's Nokia event. That device will likely include a 41 megapixel camera sensor in addition to the optical image stabilization technology of other high-end Nokia devices.
If the Optimus G2 is to compete, it'll need the latest camera technology LG can find. The Optimus G2 will likely feature 3GB of RAM and software enhancements that LG will hopes will make it more user-friendly than smartphones from other manufacturers.
Even if today's invitation and video doesn't outright confirm that optical image stabilization is built into the Optimus G2, they do nail down a date for when users will be able to get their first official glimpse of the device. Rumors had indicated that LG would be showing off the device in August, aligning with the New York event.

As an Amazon Associate I earn from qualifying purchases.