LG Unveils New X120 Netbook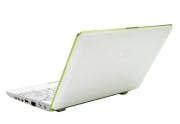 LG seems to be making a big splash at the Mobile World Congress in Barcelona. In addition to talking about handsets they are also unveiling plans for what many are saying is a very stylish new Netbook, the LG-X120.
The LG-X120 comes with 3G HSPA and of course the usual Netbook features we can just about recite from memory. The press release talks about an instant on feature they call Smart-On, as well as a USB connection technology they call Smart-Link.   Smart-Link allows you to connect via USB to another computer to share files and resources, such as an optical drive.
Here's the press release:
Barcelona, Spain, February, 16, 2009 – LG Electronics, a worldwide technology and design leader in mobile communications, today announced the launch of its smart and stylish new netbook, the LG-X120. With 3G HSPA connection and compact, portable design, users can be connected anywhere, at any time.


Easy connectivity is the LG-X120's strongest asset. With its 3G HSPA connection and 160GB hard drive, LG-X120 is a powerful portable computer that can be used anywhere. Thanks to the easy-to-use Smart-On interface, the netbook loads its simple Smart-On screen in only five seconds. Just one click of an icon offers access to the most frequently used applications, including its MP3 player, Photo Viewer and internet suite.


With Smart-Link technology and a simple USB cable, LG-X120 connects to regular computers to share files or install new applications, easily accessing data even from the computer's CD or DVD drive. An advanced security function allows users to safely share files while connected to other devices, without compromising important information.


Easy mobility in a stylish design is the LG-X120's other important asset. This netbook's soft textured, classic white exterior blends well with any style, while lime or pink detailing add a splash of color. The cover's matt surface resists fingerprints and scratches, and its compact size and curved edges make it the perfect companion no matter where it goes. Weighing in at just 1.2kg, the LG-X120 is lightweight and easy to carry. In addition, improved battery life, at 3.5 hours for the 3 cell battery and 7 hours for the 6 cell battery, means more time to work or play on-the-go.


LG-X120 was specifically designed to provide enhanced functionality and convenience with smarter features, packing a powerful multimedia punch. The netbook offers a 1.3 megapixel webcam for video chatting or conferencing, while LG You-Cam software allows users to get creative with unique photo snapshots. SRS WOW HD and TruSurround XT bring stereo effect sound to music and video. The screen's LED Backlight delivers a high-resolution picture that is clearer and brighter, which is not only easier on tired eyes but saves energy, too.


LG-X120 will be available in March in Europe and will be showcased from February 16 — 19 at the 2009 Mobile World Congress in Barcelona, Spain.