LG Viper: Parentisms, Apps for Parents (video)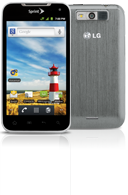 LG is giving away a handful Viper 4G LTE phones as part of its 'Parentism' campaign. We've put together a video demonstrating how parents can use the LG Viper to make life easier and to get more done during their limited waking hours.
The LG Viper is the first phone to run on Sprint's new 4G LTE network. This network is significantly faster than older networks, which means you can quickly download apps, stream videos and place video calls on the go.
The LG Viper has a 4″ display, which is bright enough to use outdoors. It sports a 1.2GHz dual core processor to keep things moving along. Most importantly, users can install any Android app on the LG VIper to personalize it to meet their needs. You can learn more about the LG Viper here.
If you want to win a LG Viper of your own, simply Tweet your favorite 'Parentism' with the hashtag #Momism between May 7 and May 11.
In the above video I demonstrate several Android apps I've found extremely useful since becoming a dad last year.
Forget Your Wallet? No Problem! 
The LG Viper comes with Google Wallet pre-installed. Once activated with a payment card, you'll be able to pay merchants by tapping the LG Viper on the keypad rather than using a credit card.
Use Your Voice
One thing I love about Android phones like the LG Viper is that I can get a lot done with my voice. This is especially handy when I'm wrangling my son with one hand and using my phone with the other. Need directions or need help finding information? Just tap microphone symbol and speak naturally.
Box
Parents take a lot of photos and love sharing them, but it's not always the best idea to share the most private ones with wide audiences on social networking sites like Facebook. LG's struck a deal with Box.net that provides each Viper user with 50GB of free storage. That's more than enough capacity to upload each and every photo and video of your kids and share them privately with friends and family. Whatever users upload to Box is instantly accessible on all of their computers and mobile devices.
Shop Instantly with Amazon.com
Babies go through a ton of supplies and multiple trips to the store each week can get old. I use Amazon's mobile app to refill on everything from baby food and diapers to Red Bull and office supplies. All you need to do is scan a barcode and tap the screen a couple of times to place your order. This app is especially useful if you subscribe to Amazon Prime, a service that provides unlimited two-day shipping and overnight shipping for just $2.99 per item.
MyAssist
MyAssist is a service that helps subscribers with day-to-day tasks like researching products, buying gifts and making travel plans. This week I've used MyAssist to buy mother's day gifts, find a rental car in Hawaii and more.
This giveaway is sponsored by LG

This article may contain affiliate links. Click here for more details.