LG Windows Phone 8 Devices Possible at MWC 2013
It seems you just can't keep a good smartphone manufacturer down. After more than a year of silence from LG on its plans for Windows Phone, we may finally see the manufacturer return to building devices that showcase Microsoft's latest mobile operating system: Windows Phone 8.
While talking to the Korea Times, a senior executive at LG mentioned that the company would:
"..Release quite a number of new Optimus devices this year and LG also has some new smartphones in the works, that will run Microsoft's Windows Phone 8."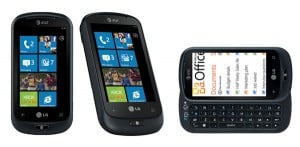 This statement comes just after the maker of appliances and smartphones talked up a "new series" of mobile devices, and just before the world turns it eyes toward Mobile World Congress, the biggest mobile devices show of the year. MWC kicks off February 25.
If true, this would mark the first Windows Phone we've seen from LG since it launched the LG Quantum back on November 8 of 2010. That device shipped with nearly identical specifications to other Windows Phone 7 devices of that day, including a 480 x 800 display and a 1GHz processor making its slide-out QWERTY keyboard the only stand out feature of the device. Its similar specs and thickness when compared with contemporaries made it hard for the device to stand out from a crowd that included HTC's HD7 and the Samsung Focus. Since then LG has been absolutely quiet about its plans for Windows Phone making the possibility of the firm's return all the more exciting.
The timing of all this is also interesting as well. Knowing LG's past with Windows Phone, it makes one wonder why they'd choose now to debut a line with the operating system. This past year saw the launch of not one but two flagships for the platform that features interactive Live Tiles, Nokia's Lumia 920 and HTC Windows Phone 8X. It could be that firm's success with the highly-rated, impossible to procure Nexus 4 has emboldened it to take on Microsoft's handpicked manufactures head to head in a battle for platform supremacy.