Life On-Line: Is That a HighWire You're Walking or an Umbilical Cord?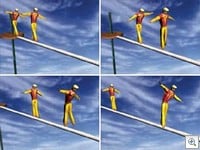 As the mobile world creeps closer and closer to an always on, always connected state, every now and then something pops up that gives me pause. Usually the precipitating incident is a failure somewhere down the line. This morning on Twitter I was watching Chris Brogan wonder (and seek advice) about the utility of Skype. He got quite a few responses. Good friend Marc Orchant chimed in with this one:
Skype is my primary communication tool. It's my office number (SkypeIn), IM and video conferencing tool. It saves me big $$$
Within a few minutes of seeing that post, word began trickling out that Skype was suffering some problems and that it looked like a 12—24 hour outage. Just as intriguing, when Twitter slows down or goes offline for a bit, you can almost feel all sorts of Twitterholics twitching nervously around the globe.
Our office here has also been experiencing all sorts of weird on-line behavior recently and we've tracked it down to Comcast doing some unannounced work on the network. It has been disruptive and has cost us quite a few man hours given that our staff is at the moment is scattered among three different locations during a renovation period. One of our banks that we do business with is also making some changes to their on-line infrastructure and that has also brought about some disruption. It is amazing how quickly we become accustomed to on-line access once we adopt it. It becomes like turning on the water. We always expect it to be there.
On any given day if you follow the news you'll see stories that can also make you wonder about that Always Connected Utopia that everyone seems to strive for. Whether that news be about Network Neutrality issues or ISPs wanting to throttle back access for certain types of content. And goodness knows we've seen companies like Verizon working to rewrite the English Language when it comes to words like unlimited.
So, it makes me wonder. Certainly nothing mankind has ever designed is or will be perfect. And an always connected way of working won't be either no matter how many safeguards you build into a system. There will be failures, both mechanical and human. (Skype is stating that today's problem is a software issue.) Try as I might to steer our tiny little organization into a more connected workforce and presence, one or two failures somewhere can cost us big time and at times I wonder if that risk outweighs the savings we plan to see by shifting some of our strategies to an on-line approach.