Lifeproof Nuud for iPhone 5 Review
The Lifeproof Nuud for iPhone 5 is a iPhone 5 case for those who hate using screen protectors, but also hate it when their phone gets water damage.
The concept Lifeproof Nuud is simple: protect the iPhone 5 from water, dust and drops while keeping the screen bare (hence the play on "nude" in the name). The result is a great iPhone case that's even better than the original Lifeproof Fre for iPhone 5.
Like other waterproof cases, the Lifeproof Nuud snaps around the iPhone 5, covering every hole and port on the phone. The case does add a bit of bulk, especially on the bottom of the device, but the case is still surprisingly thin for what it does. With the case on the iPhone 5 feels about as thick as and iPhone 4S.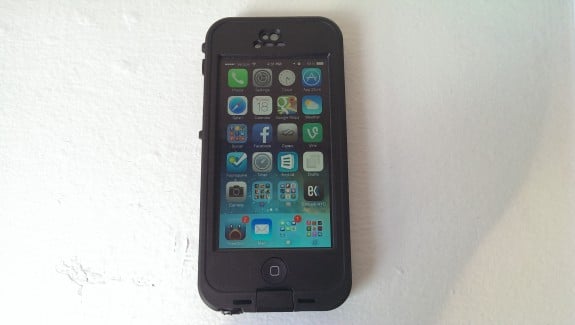 The front of the case is all black (Lifeproof also offers the case in white) with a rubberized grip on the sides. The back is all clear plastic so users can see the two-tone back of their iPhone and the Apple logo. It looks much better than a cut-out window to those just the Apple logo on the back of the phone.
In addition to leaving the screen bare, Lifeproof made a few minor changes to the Nuud that make it a better case. The home button is now a separate piece from the rest of the case, making it much easier to press.
The screw that protects the headphone jack is also improved with a small piece of plastic that keeps it attached to the case when it's removed. That means users no long have to worry about losing the screw when they put headphones it. The screw is still removable for those who don't want it hanging from the case.
Of course, all the changes are useless is the case doesn't live up to Lifeproof's claims, and we can confirm that it does. After using the iPhone 5 in the rain with the Lifeproof Nuud, it still worked perfectly. Water droplets can cause inaccuracies in using the touchscreen, but that's not the fault of the case.
While having a bare screen on a waterproof case may seem silly to some, we really enjoyed using the Lifeproof Nuud. It's a big improvement over the Lifeproof Fre, and easily one of our favorite waterproof iPhone 5 cases. Sometimes its just nice to not have anything between your finger and the screen, even when underwater.
The Lifeproof Nuud is available now for $89.99.

As an Amazon Associate I earn from qualifying purchases.