Lightning Cable Not Working? iOS 7 May Be Blocking It
Users upgrading to iOS 7, the latest version of Apple's mobile operating system, could be in for more than just a new interface. According to early reports Apple is using the release to disable some third-party Lightning cables.
The third-party Lightning cables in question, according to 9to5Mac, have stopped working because they were never actually certified by Apple. Unlike the USB micro standard that nearly every other smartphone manufacturer uses, devices and cables connecting to and iPhone or iPad with a Lightening port require certification from Apple before going on sale.
iOS 7 is able to identify these un-certified cables because of a small chip that Apple requires Lightning cable manufacturers to include inside every one of their cables. For now, users who don't have an officially sanctioned Lightening cable will get a notification popup every time they attempt to use that cable with their device saying "This cable or accessory is not certified and may not work reliably with this iPhone" (or iPad, if that's what was plugged in). Reports of the iPhone 5 not working with third-party Lightning cables first surfaced on Reddit this past week.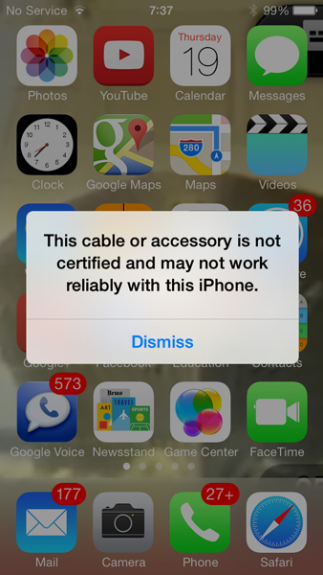 As Apple's Lightning standard is fairly new, only users with an iPhone 5s, iPhone 5c, iPhone 5, iPad mini, and last generation iPad, who have purchased cheap cables from less than reputable sources, will be effected. Reportedly, some cheap third-party cables are still working, even after the update to iOS 7. It's possible those cables are using the compromised Lightning cable authentication chips that surfaced last October, following Apple's original announcement of the new cable and port standard.
Read: Cracked Lightning Cable Chip Could Lead to Cheaper iPhone 5 Cables
Thankfully, users looking for cheaper alternatives to Apple's $29 Lightning to USB Cable do have a few good sources to look to. Amazon's Basic Lightening to USB Cable should still work just fine, and only cost users $13.99.
Every new iPhone and iPad comes with a Lightening to USB Cable inside the box, including the iPhone 5s and iPhone 5c, which go on sale tomorrow at 8 a.m.