Liliputing Reviews the Asus Eee PC 1000H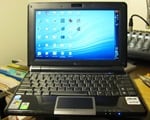 We've heard a lot about the Asus Eee PC 1000H and it is certainly proving to be a popular Netbook. From everything I've seen and read, if I was in the market for a Netbook, it would most likely be the Netbook I'd spring for. Brad Linder at Liliputing has put together a stellar review of the Asus Eee PC 1000H that covers just about everything you'd want to know. The great perspective here is that he's been using it for about three months, so there's not much he hasn't experienced about the Netbook.
Definitely worth a read.

As an Amazon Associate I earn from qualifying purchases.