Linda Epstein and the TabletPC2.com Holiday Gift Guide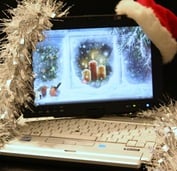 OK, now Christmas can begin. It doesn't really start for me until Linda Epstein produces here annual Holiday Gift Guide on TabletPC2.com and she's once again done a fantastic job of assembling an plethora of Tablet PCs, mobile phones, accessories, and goodies.
As always this list is full of wonderful photography and great selections. Linda has all sorts of categories, including one for purchases under $100. All in all there are over 160 products from 75 vendors on the list, and to keep you coming back for more she'll be adding new sections from now until December 9th.  This has got to be a lot of work and it is fantastic that Linda does this each year. Well done.
Check it out here.

As an Amazon Associate I earn from qualifying purchases.