Linda Epstein Reviews The Franklin Wireless USB EVDO Modem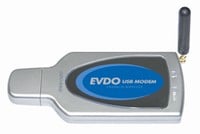 Linda Epstein at TabletPC2.com has put together a review of the Franklin Wireless USB EVDO Modem: CDU-550. I just spent my first real mobile weekend using EVDO service (using my PPC 6700 as a modem) and let me tell you it does make a huge difference in productivity. So if you're looking to get an EVDO edge (no pun intended Cingluar) you might want to check out Linda's review, in which she names it TabletPC2's product of the month for November 2006. As usual she's got good pictures and a complete list of specs. Here's the link. And by the way, stay tuned to TabletPC2.com for it won't be long before Linda puts together her usual great Christmas List for Santa which is always a treat. Here's a link to last year's. It will be interesting to see what makes it on the list this year.

As an Amazon Associate I earn from qualifying purchases.