Linda Epstein Reviews The HP tx1000 Entertainment Tablet PC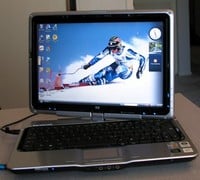 Fellow Tablet PC MVP Linda Epstein has posted a review of the HP tx1000 Entertainment Tablet PC on Tablet PC2.com. In case you don't recall, this Tablet PC is powered by the AMD Turion 64 x2 Dual-Core chip. Her review confirms my suspcisions from my limited experience with it at CES. It is an intriguing convertible device but the inking experience leaves something to be desired. That said, it looks like HP has created a convertible Tablet PC aimed at those who don't rely on the inking features and has focused on creating a portable entertainment center.
Linda does her usual through job of covering the unit soup to nuts and has illustrated the reveiw with a bevy of pictures. Check it out at TabletPC2.com.

As an Amazon Associate I earn from qualifying purchases.