Linda Epstein Reviews The Toshiba Tecra M7 Tablet PC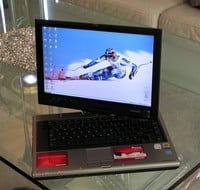 Linda Epstein at TabletPC2.com has posted a very thorough review of Toshiba's Tecra M7 Tablet PC. Filled, as usual with Linda, with great pictures and great facts, this review covers quite a bit of territory. She hasn't tried Vista on this Tablet PC yet, but promises to soon, along with promise to update her findings. That will be worth seeing. Her conclusion, the Tecra M7 offers something for everyone. Check out the review here.

As an Amazon Associate I earn from qualifying purchases.