Linda Epstein's 2007 Tablet PC List For Santa
When I was a kid, my sisters and I used to get really excited when the Sears Christmas catalog would arrive at our house. So much so that we'd fight over who got to look at it first. Nowadays, I eagerly anticipate and get excited when Linda Epstein publishes here Annual Holiday Gift Guide. It has become a great tradition and you can tell Linda puts a lot of love and work into it.
The 2007 List for Santa is a treaure trove of of goodies that will make any geek salivate. She's included over 100 products from more than 65 vendors ranging from Tablet PCs and UMPCs to software to digital cameras to cell phones. And, as usual, she's done some amazing photography. If you're shopping you want to check this out. If you just want to drool Linda's List will get you going. I wonder if next year's list will include a category for MIDs?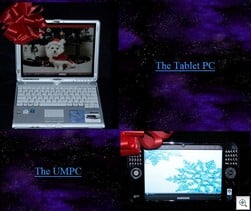 This article may contain affiliate links. Click here for more details.