OS X Lion Available July 20th for $29.99, What You Need to Know
Apple's quarterly earnings call Tuesday included a confirmation of the rumors that OS X Lion 10.7 will officially launch on Wednesday. Our sister site posted the rumor that it would be released via the Apple Mac Store at 8:30 AM EDT. This is the first time that Apple released a major point number update for OS X for download instead of through the traditional means of an optical disk.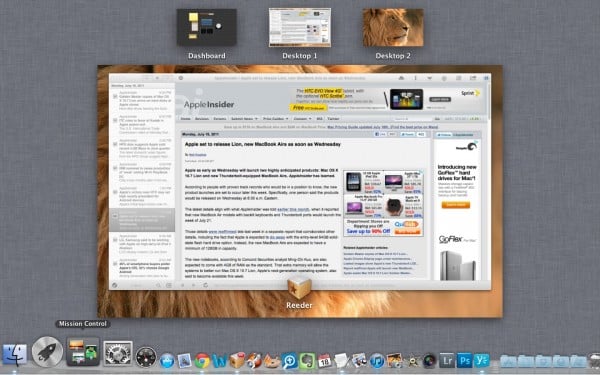 Lion adds and fixes a number of features. Significantly, it borrows a number of iOS features.
Here are some of the new features you can expect in OS X Lion (10.7).
Find My Mac – help recover your lost or stolen MacBook
Multitouch gestures – using the trackpad to control most of the interface
Full screen apps – no more menus to clutter the screen in apps
Mission Control – all of your tools on one screen clickable to access quickly and switching fast (see first image above)
Mac App Store – download new apps and get updates easily
LaunchPad – iOS style app icons in a grid view with folders just like your iPhone (see image just above list)
Resume – opens an app to the point where you last left off so you don't have to reopen your file, picture or video
Auto-save – don't have to hit the save button
Versions – a file is saved with each change automatically and you can go back to any point
Air Drop – sharing on a network between Macs is made easy
Mail – conversations is threaded email
Here is Apple's in-house video explaining the above list of new features.
https://youtu.be/tq2enQYTrbU
For those who plan to update, read our guide for preparing for Lion. It covers important things like the following:
Run Software Update from the Apple Menu especially if you do not have the Mac App Store installed on your system yet
Clean up your Mac by removing unnecessary files
Run Time Machine to back up your entire system for quick restore after updating in case there is a catastrophe and you lose important files
Set up a Mac App Store account
Get a USB flash drive so that you can make a clean Lion install disk
Each of these is covered in detail in the post.
If you would like to do a clean install, like many power users do when a major new operating system update is released, then check out our guide to using the new OS X Lion Migration Assistant. With it you can quickly restore all of your files and applications as well as most of the operating system settings from the following:
Time Machine backup
Another hard drive or SSD with an equal or older OS X version number
Another Mac through Firewire or a network connection
In Lion you can even transfer files from a PC using the assistant. It won't transfer applications or system settings since they are incompatible.
Finally, check out the unofficial chart of apps that are compatible with OS X Lion at Roaring Apps. For example, you will learn that McAfee Security 1.0.0 Patch 1 (915) does not run properly in Lion.
Be sure your most important or favorite apps will run on the new version of OS X before you upgrade or buy a new computer with the OS.
If you are planning to buy a new Mac, it would be a good idea to at least wait until tomorrow and more likely the end of the month. Rumors abound that Apple will release an updated MacBook Air tomorrow. All new MacBooks and desktop Macs will come with Lion pre-installed after 10.7 is released.
The new release will only be available in the Mac App Store for users of the latest version of OS X Snow Leopard for $29. Only Intel Macs running at least an Intel Core 2 Duo or higher processor will work with the new version of OS X.